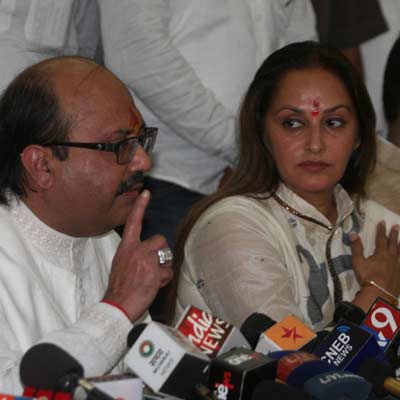 Actor-turned-politician Jaya Prada along with her political mentor and former Samajwadi Party leader Amar Singh announced that would be joining Rashtriya Lok Dal in a meeting today.
Amar Singh will be contest for the Lok Sabha elections from Fatehpur, while Jaya Prada wil contest from Bijnor in Uttar Pradesh.
Party leader Ajit Singh welcomed the duo into the RLD fold. However, confirming his support to the UPA government he also added, "We will continue our alliance with UPA. If we wanted to support NDA, we would have made the move a long time back."
Talking at the event, Amar Singh stated, "Development in UP is not possible without dividing it."
He also added, "I respect Sonia Gandhi, but I was offered a seat by Ajit Singh first and I could not turn him down."
On relations with BJP and Rajnath Singh, he pointed out, "Rajnath Singh is my friend. In politics there are ideological differences, it isn't a gang-war."
Singh and Jaya were expelled from the SP for indulging in anti-party activities and denting its socialist image.
Later, Singh formed Lok Manch and contested for 360 Assembly seats in UP in 2012. However, he could not win the elections.
On the other hand, RLD, which is headed by Ajit Singh, will contest 2014 General Elections along with the Congress. The party will contest from eight seats where Congress will not be fielding any of its candidates. The seats include Baghpat, Kairana, Bijnor,Nagina, Amroha, Hathras, Mathura and Bulandshahr.