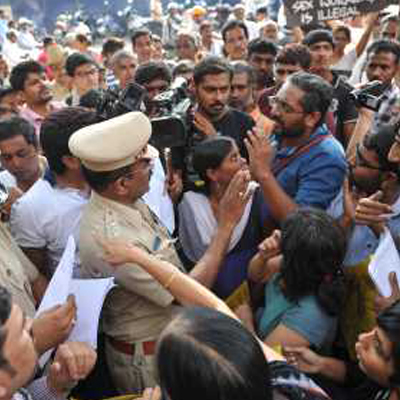 Muslims in Tamil Nadu staged protests against communal riots in Sri Lanka, where three persons were killed and around 150 were injured last weekend.
Protesters in Chennai shouted slogans and attacked posters of Sri Lankan President Mahinda Rajapaksa with brooms before being taken into custody by the police. They demanded a halt to the atrocities against minority Muslims.
"We should not be treated like this in any part of the world," said Bashir Ahmad, one of the protesters. Shops and homes owned by Muslims were set ablaze and vandalised in violent clashes in Sri Lanka.
Mobs shouting anti-Muslim slogans and hurling gas bombs and stones advanced towards Muslim majority areas where men were protecting a mosque. The police imposed curfew in the affected areas to prevent further violence.
Buddhist radicalism has been on the rise in Sri Lanka, just as it has been in Myanmar. It is often believed that the Bodu Bala Sena is supported by Rajapaksa as well as his brother and Defence Secretary Gotabaya Rajapaksa, although both have denied any link.
Previous attacks by the Bodu Bala Sena have gone unpunished, and hardline monks are still operating in many parts of the island nation.