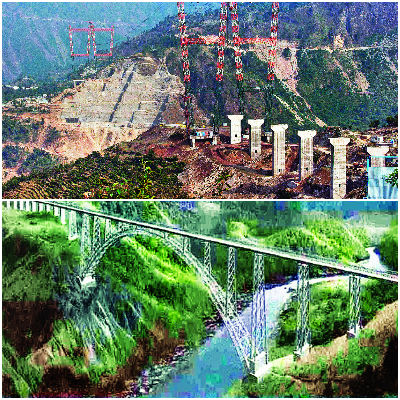 Come 2016, Jammu and Kashmir will house the world's highest railway bridge on the mighty Chenab.
Built at the height of 359 meters from the river bed level, the bridge will surpass world's current tallest railway bridge (275 meters) over the Beipanjiang in China's Guizhou province.
Constructed at the cost of Rs512 crore near the Salal Hydro Power Dam, the Chenab Bridge is part of second leg of the Udhampur-Srinagar-Baramulla rail link.
"Its main arch span will be 467 meters while its total length will be 1315 meters. There will be 17 spans in this bridge and it will have a total steel fabrication of 25000 metric tonnes," said RK Rana, public relations officer, Northern Railways.
An engineering marvel, the bridge is expected to be 35 metres taller than the Eiffel Tower of France.
"It will withstand a wind velocity of 220 kilometres per hour at the deck level. The bridge is being built in the seismic zone V. The slope along the Katra side back is 35-50 degrees while the Qazigund side bank is vertical to sub-vertical," he said.
Indian Railways have sought the help of experts from various countries in building the world highest railway bridge.
"In addition to the indigenous experts of Research Design Standards Organisation of Indian Railways, Konkan Railway corporation, National Institute of Rock Mechanics Kolar, IIT Roorkee and IISc, Banglore WRI, Trichi, experts have also been drawn from outside India," he said
Rana said the erection scheme of the bridge is a project in itself where two pylons of about 130 meters and 100 meters height will be raised on either side of the river and an auxiliary crane consisting of self propelled equipment will run on the carrying ropes across these pylons.