Army Chief Gen Bikram Singh is taking stock of the situation.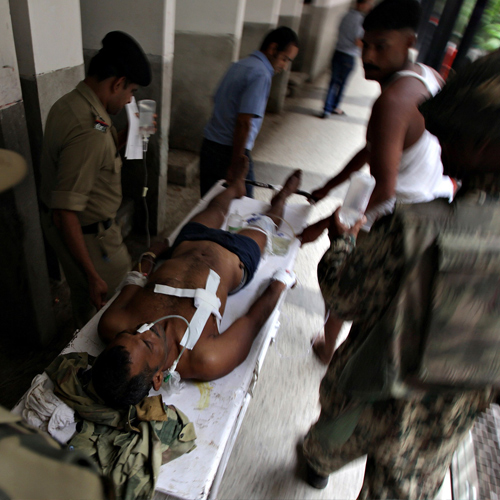 In an audacious and provocative attack, Pakistani troops entered Indian territory along the Line of Control in the Poonch sector in Jammu and Kashmir late last night and ambushed a patrol killing five Indian soldiers.
Pakistani security officials denied any involvement in the deaths of Indian soldiers on the disputed and heavily militarised border in Kashmir.
"There was no indiscriminate firing from our side," one security official told Reuters.
Another official, who also spoke on condition of anonymity because he was not authorised to speak to reporters, denied there had been an exchange of fire on the border between the nuclear powers. "There was no such incident whatsoever," he said. "There was no firing on the border."
Pak envoy summoned
India summons Pakistan Deputy High Commissioner; lodges strong protest over killing of its soldiers at the LoC in Poonch sector.
AK Anotny promises action
Defence minister AK Antony speaks on LOC firing in Parliament, " We strongly condemn the incident. The army is fully ready to tackle such occurrences. We're ready to take all steps to protect the LOC."
He said that the attack on Indian soldiers carried out by about 20 heavily armed men dressed in Pakistani military uniforms.
Additional Directorate General of Public Information for the Indian Army tweeted at 2pm:
Ensuing firefight, 5 Indian Soldiers were Martyred & 1 Soldier injured. #JKOps

— ADG PI - INDIAN ARMY (@adgpi) August 6, 2013
Pakistan Mujahideen behind the attack
According to sources, 15-20 Pakistani soldiers of 101 Mujahideen Regiment, aided by a few terrorists, attacked the Sarla post on the Indian side of the LoC.
Lok Sabha adjourned till 2pm after uproar over killing of five jawans at Pakistan border. #Parliament

— dna (@dna) August 6, 2013
Rajya Sabha adjourned thrice after uproar over #Telangana issue and killing of Indian soldiers by Pakistani troops. http://t.co/YkK63Gr59h

— dna (@dna) August 6, 2013
Is Congress with Pakistan or India? questions BJP's Yashwant Sinha
"Is the Congress with India or with Pakistan? They should come clear on it," Yashwant Sinha told the Lok Sabha.
"Since January, there have been continuous attacks.. our Army, this Parliament, this country has the strength… we should respond back in the same way," he said.
Sinha also demanded that Prime Minister Manmohan Singh make a statement in the House.
Narendra Modi has called the killing of five Indian soldiers by Pakistani troops a "dastardly ambush".

— dna (@dna) August 6, 2013
Death of Indian soldiers unacceptable: Narendra Modi

The issue rocked Parliament with members in both Houses demanding a strong response from the Government. Both the Lok Sabha and the Rajya Sabha were adjourned till noon.
In the Lok Sabha, BJP and SP members raised slogans protesting the killing of five Indian army soldiers by Pakistani troops today.

— dna (@dna) August 6, 2013
Defence sources said the Pakistani soldiers, numbering about 20, intruded into the Indian territory past midnight and ambushed the patrol party at the Sarla post on the Indian side of the LoC.
A Subedar and four jawans of the 21 Bihar Unit were killed in the attack which took place at around 2 AM, the sources said.
The attack took place 450 metres from the LoC on the Indian side, they said.
Five Indian soldiers were killed, the sources said.
What is government doing to stop border attacks: Mulayam
Samajwadi Party leader Mulayam Singh Yadav demanded that the government inform parliament about the steps it was taking to stop repeated intrusions across the border by China and killings of Indian soldiers by Pakistan.
"We want to know what the government is doing to thwart such attacks," he demanded.
"Pakistan and China may have some secret understanding... Why is China intruding repeatedly on our border. Both China and Pakistan have come near our borders. The whole house is concerned for the country's security and unity," he said to loud thumping of desks."
Yadav also said that India's first prime minister Jawaharlal Nehru had been "deceived" by China and that he could not withstand the "dhoka" (betrayal) of the 1962 war with China, which India lost.
"China made fools of India and deceived us, Nehru could not withstand the deception and died," he said and added that China is "practising deception" by its friendly overtures and was not to be trusted.
He reiterated what he has said earlier that China is preparing to attack India and has created a plan for it with an eye on Himachal Pradesh and Arunachal Pradesh, which they claim as their territory.
'If Pakistan wants better ties with India then this is not the way': RPN Singh on Indian soldiers' killing
Minister of State for Home RPN Singh on Tuesday said if Islamabad wants better ties with New Delhi, then this was not the way to go about it or achieve it. "It is an extremely unfortunate incident. If Pakistan wants to have better relations with India, I think this is not the way to have a better relation. I cannot comment on the whole issue because I myself have just come to know about it this morning. I think the defence ministry and the foreign ministry will be equipped to give statement on this," Singh told media here.
Don't hold talks with Pakistan: BJP on soldiers' killing
The BJP said India should not hold talks with Pakistan in the wake of the killings of five Indian soldiers by Pakistani troops in Jammu and Kashmir's Poonch district.
Bharatiya Janata Party (BJP) leader Shahnawaz Hussain said: "Talks with Pakistan should not be held if even one bullet is fired on the border... You can't have bullets being fired on the border and our soldiers being killed, and then hold talks side by side."
"The government should say there will be no talks, which will act as pressure on Pakistan," he told NDTV news channel.
He was speaking after BJP leaders met Lok Sabha Speaker Meira Kumar and demanded that the government make a statement in the house.
"We should be allowed to speak. Yashwant Sinha should be allowed to speak on the matter," said Hussain.
Chief Minister Omar Abdullah tweeted:
These incidents don't help efforts to normalise or even improve relations with Pak & call in to question the Pak Govt's recent overtures.

— Omar Abdullah (@abdullah_omar) August 6, 2013

Was briefed early this morning about news that 5 of our soldiers had been killed on the LOC. My heartfelt condolences to their next of kin.— Omar Abdullah (@abdullah_omar) August 6, 2013
Army Chief Gen Bikram Singh is taking stock of the situation, Army sources said in Delhi.
The incident could cast a shadow on the resumption of the Indo-Pak dialogue process. Prime Minister Manmohan Singh and his Pakistani counterpart Nawaz Sharif are slated to meet in New York next month on the sidelines of the UN General Assembly session.
The dialogue process was put on hold following the beheading of an Indian soldier and another soldier's body found mutilated following the January 8 attack by Pakistani troops in the Poonch sector.
Both Houses of Parliament were adjourned till noon after opposition protested the killing of five Indian Army soldiers
Kill 50 in Pakistan to avenge 5 Indian soldiers' deaths: Shiv Sena

A senior Army officer told PTI that one Indian jawan was also injured in the latest Pakistani attack, triggering tension along the borderline. The injured soldier has been admitted to a hospital.
"A party of six jawans was on routine patrolling between fencing and the post, when Pakistan troops attacked them by opening firing near Sarla battalion post area along LoC in Poonch district during pre-dawn time," he said, adding that the Pakistan Army had violated the ceasefire agreement.
The deceased jawans belonged to 21 Bihar Regiment post at Sarla forward area along the LoC in Chakan-Da-Bagh sector of Poonch.
Giving details, the officer said the patrol had lost contact with the Army unit around 0115 hours, close to the time of the attack.
"We sent a patrol to the area around 0530 hours today and found five jawans dead with gunshot wounds. One was injured and he is in utter shock," he said.
The bodies have been brought back to unit area, he said.
Asked whether Pakistan's Border Action Team (BAT) was involved in the attack, he said it was carried out by the troops of 2 PoK Brigade, which is deployed in that sector.
The officer said all the jawans have died of gunshot wounds and there was no beheading or mutilation of bodies.