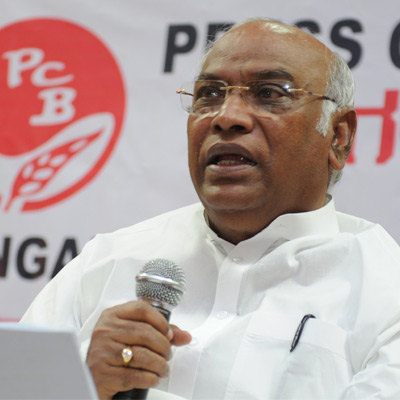 Guess who is in the motorman's seat as the railway ministry gets ready for the interim railway budget on February 12?
It is not rail minister Mallikarjun Kharge, who prefers to spend more time in his constituency Gulbarga. Instead it is his private secretary Rajendra Kataria, a 1996 Karnataka cadre IAS officer and son-in-law of Haryana sate Congress leader Phool Chand Maulana.
Kataria's family connections helped him stay close to the corridors of powers, serving his cadre for only five months, in the past seven-and-a-half years. He also juggled with controversies related to allotment of land to the Rajiv Gandhi Trust and indictment by the Punjab and Haryana high court in a matter related to alleged victimisation of a whistle-blower.
On Tuesday, he held discussions with newly-appointed advisor to the railway minister and former railway board chairman Vivek Sahai as Kharge was busy with the interim budget.
Kataria started of as an assistant commissioner in the Karnataka land revenue department and served his cadre till June 2006. As part of inter-cadre deputation, he joined the Haryana government as a deputy secretary in June 2006. It was during his Haryana stint that he got into the good books of Delhi's political biggies.
It was during his regime that land was allotted to the Rajiv Gandhi Trust, which has UPA chairperson Sonia Gandhi and Congress general secretary Rahul Gandhi as members, in Gurgaon's Ullawas village.
Since 2006, Kataria has served for only six months in his parent cadre from October 2011 to March 2012. When asked about the leeway, Kataria said: "There is a provision of waiving off the cooling off period between two deputations if you are posted as a personal staff of a central minister." This helped him cut short his cooling off period in Karnataka and return to Delhi. This means he would remain with the Centre for a period extendable up to seven years from 2012.
His family connections helped him stay in central deputation. Haryana CM Bhupinder Singh Hooda wrote to the PM asking him to extend Kataria's deputation when he finished his term in 2010. In March 2012, Kataria was appointed as private secretary to Mallikarjuna Kharge, then the labour minister. He moved with Kharge to the railway ministry.
In the past, a whistle-blower was allegedly victimised for unearthing a scam in the education department in Kaithal district. The Punjab and Haryana high court confirmed this and terminated the services of a judge, Ashwani Kumar Shori, saying that instead of finding out Kataria's role in the scam, Shori shifted the focus on the whistle-blower. Kataria didn't respond to dna's queries.
So what next in the railway ministry? Kataria is helping Kharge with the interim budget. About Kharge being an absentee minister, Kataria said: "He is an MP as well. He has to look after his constituency."