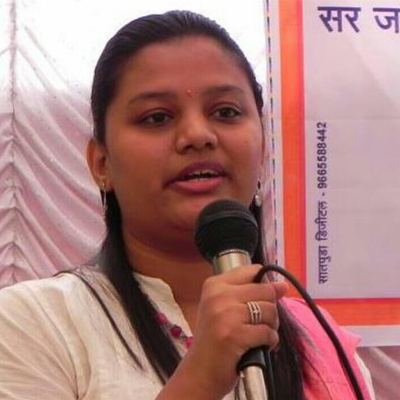 Dr Heena Gavit (26) is one of the youngest members of Parliament in the new Lok Sabha. Elected from the district of Nandurbar in Maharashtra, Heena Gavit of the BJP defeated her opponent with a margin of over one lakh votes. The Congress had never lost in Nandurbar since Independence.
In an exclusive interview with dna, Ms Gavit talks about the tribes of Nandurbar, dynastic politics, development and the Modi-wave.
What made you join the BJP?
My constituency is adjacent to Gujarat, and it is the last district in North Maharashtra. I have closely observed the development and the reforms that were implemented by the BJP in Gujarat, which greatly impressed me. This is one of the reasons why I chose the BJP. The party carries out its plans very efficiently, in a much better way than other parties. I chose the leadership of Narendra Modi because the youth wants change, and I am part of the youth.
Is it easy for the youth to get involved in politics if they have no family background in politics, no parents or uncles vouching for them?
To become a good leader, political backgrounds are not important at all. Take the example of Modiji. He comes from a very simple background, and today he is the Prime Minister. In the end what matters is your 'appeal'. You could be from the most powerful family or from the simplest one, but if you don't appeal to the people, you won't get votes. I do not believe in dynastic politics. If I have to give an example, I'll give my own. My father is a former minister from Maharashtra. You will hear a lot of people saying that I won only because my father had a name in Nandurbar. All these talks do not matter on voting day. The people choose, not political families.
The youth has played a major role in deciding the future of the country. What message do you have for the young people interested in becoming politicians?
The time has come when communal politics no longer brings votes with itself. My message: if you think you have ideas for change, plans for development, and if you stand for inclusive growth, you should take an initiative and join a party or politics. I hear a lot of cynicism among the people, especially the youth. It is easy to point fingers and blame someone. What would really help if people start getting involved directly.
People look at you as a young, female leader. A lot has been said about the participation of women in Indian politics. Why do you think is there a lack of young female politicians in India? And what can be done to combat this?
Gender discrimination is one of the biggest problems in our country. Women are just, fair, and are as capable as men when it comes to politics. And I'm speaking out of experience. Women are not taken seriously or are seen as the weaker parts of the society. That has to change as soon as possible. I am a woman. I am a doctor. That must say something about my capabilities.
Many tribes in your constituency are dependent on the Satpura mountains, but the Satpuras are losing a lot of forest cover. How are you going to ensure that the forests are protected, and the needs of the tribes met at the same time?
The people of Nanburbar (dominated by the tribes) are extremely poor. They have no stable jobs, their houses have no electricity. They have no choice but to depend on the trees and the forests to meet their daily and basic needs. This has led to the massive degradation of the forests of Nandurbar. What we can do is, with the help of the Forest Department, each village should be allocated a specific area, where people can be taught how to plant trees and vegetation that they use regularly. This will help reduce their dependence on the natural forest. Even if every villager plants one tree, I think it should be enough to make a difference. And this does not apply only to Nandurbar. I believe this should be done in all hilly and forested areas that support a population.
Who is your political idol and why?
My father Vijay Kumar Gavit is my inspiration in everything I do. He has served in the government for almost 20 years, along with serving the society as a doctor. He took up all this after seeing the sad state of the people of Nandurbar. He wanted the people to get everything they deserved, everything that the government promised them. He is my direct inspiration for joining politics, and becoming a doctor. Seeing him work for the people and fulfilling his role of a good doctor as molded me into the person I am today.
Could you share what plans you have in mind for Nandurbar?
Malnutrition: The first thing I must make mention of is the malnutrition that is prevalent in Nandurbar. Due to the absence of local small scale industries, and hence jobs, the parents of young children have to travel tens of kilometers in search of jobs. This leads to the small children being left alone, and hence receiving only two meals a day. This can stunt the growth of the children, since they require more that three meals a day. We must ensure that there is an availability of employment for people near their homes. The mothers should be able to feed their children on time.
Roads and connectivity: When I was touring my constituency, I had a specific village to visit. Midway, the car stopped and I was informed that we had reached. But I couldn't see any houses around. A local man pointed out to a deep valley and said that the village was situated there. I was informed that we had to crawl the rest of the way. How must the people be surviving, cut off from good facilities? If there are no roads, how will help reach them? Roads are on top of my agenda.
Education: Where there is education, there is progress. Even basic education makes a difference. In my constituency, there are schools and institutions, but they are not good enough. Some old people in Nandurbar still think Indira Gandhi is alive in Delhi. They are so removed from what's happening on the country, that they are living in the past. Literally. Know-how and knowledge has to reach the interiors.
Manikrao Gavit of the Congress was aiming for a tenth straight victory from Nandurbar, but you beat him. One may wonder, why did he have such support, for so many years, if he didn't bring about any development?
Before Manikrao Gavit, my paternal grandfather of the Congress was the MP. He was very popular among the people of Nandurbar, especially the tribes. A lot of work was undertaken under him. He also brought Indira Gandhi to Nandurbar, and she interacted with the people. This led to the Congress getting a lot of support in the region. Hence in my opinion, Manikrao Gavit was not the main focus, the Congress was. But people have realised that it is time for change. Which is why the BJP won this time.
Do you think you got elected just because of the Modi-wave?
My win in Nandurbar was a combination of a few things, but yes the Modi-wave is definitely a major reason. The people of Nandurbar have directly see the change in Gujarat, since we are situated so close to the state. They were confident that anyone under the leadership of Narendra Modi would be capable of good things. But I also won due to another factor. The people know me, on a personal level. Before I was a part of any political party, I used to tour Nandurbar, holding health-camps. This led to direct conversations and interactions. There is no lack of communication, and the people were impressed by my dedication.