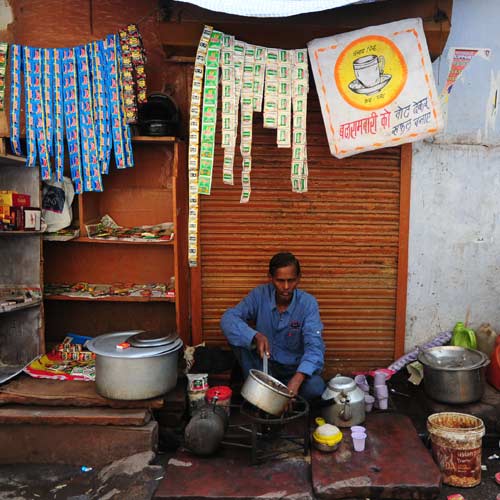 Balram Bari has largely gone unnoticed for last 25 years as a candidate. He has contested 16 elections so far. This year he contesting against Union minister Kapil Sibal from Chandni Chowk.
Bari, a veteran of many electoral battles, sells tea on the roadside in Gandhi Gali near Fatehpuri in the walled city. He has contested 16 elections including Lok Sabha, Delhi Assembly and municipal corporation since 1989 except the 2012 civic polls when the seat was reserved for a woman.
This year is his taking on Sibal, Delhi BJP's president, Harsh Vardhan and former journalist and Aam Admi Party candidate Ashutosh.
Forfeiture of security deposit too has failed to deter him from contesting. His best performance came in the last general elections when he bagged 344 votes against sitting MP Sibal from Chandni Chowk. This time he is hoping to get over 1,500 votes. In 1991 he had contested Lok Sabha elections from New Delhi seat against BJP stalwart LK Advani and Congress candidate and Bollywood actor Rajesh Khanna. "I used to be a Congress worker before I decided to contest election independently. Fighting an election gives me the opportunity to know people and for people to know me," said Bari. Before starting selling tea in 1998, he used to sell vegetables.
His tea stall also serves as his election office. Apart from the door-to-door campaigning he used to meet people at his tea stall to hear their problems.
Local residents come to Bari with civic problems like a choked sewer or spilling of garbage. Bari writes down the address and promises a solution and took it to authorities concerned. "I make sure their issues are resolved soon. All the officials in the area know me and listen to me," he says.
His priority as elected member would be to solve issues related to traffic, choked sewers, lack of potable water in Chandni Chowk. "I have made seven promises but my priority will be to sort out the traffic mess if I am elected. I will also try to ensure unemployment allowance to the unemployed in the area," he added.