Railway Minister Mallikarjun Kharge Wednesday has presented interim rail budget for the next fiscal in what will be his personal first and the last such exercise for the United Progressive Alliance (UPA) government.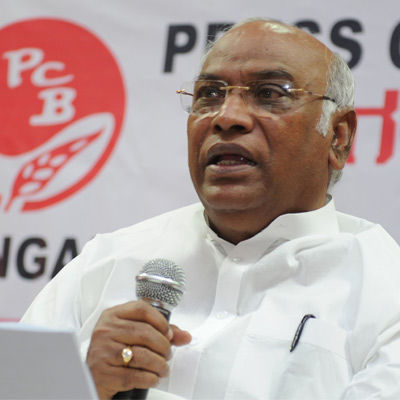 Railway Minister Mallikarjun Kharge Wednesday has presented interim rail budget for the next fiscal in what will be his personal first and the last such exercise for the United Progressive Alliance (UPA) government.
The minister, who has been holding the railway portfolio only for the past eight months, spoke of the role played by the railways in India's social and economic development and the lack of physical and financial resources to carry this mandate forward.
"It is time we take a note of the investment and other urgent needs of the railways," he said.
As per reports, He will not change basic passenger fares but may announce some new trains and measures to improve services in the interim railway budget to be presented in parliament on Wednesday, just a few months before the general elections to be held by May.
This will be Kharge's maiden budget and the last railway budget of Prime Minister Manmohan Singh-led United Progressive Alliance (UPA) government during the current term of the Lok Sabha.
However, sources told IANS that the government may announce some adjustments in fuel subsidy that might lead to marginal reduction in fares.
Railway Minister Kharge is likely to have passenger safety at the top of his agenda. Among the measures that are likely to be announced are installation of fire safety systems, more use of fire-retardant material in the coaches and further implementation of Train Collision Avoidance System.
A Business Standard report points out that since he became Railway Minister Kharge has done little to change policy at Indian Railways. It's unlikely to change with this budget.
Budget copies arrived at Parliament at 7:30 am. Mallikarjun Kharge will not bring about reduction in basic passenger fares in the interim budget tomorrow but is likely to make adjustment in fuel adjustment component so that impact on fares is minimum in an election year.
Railway Ministry sources said it will be a growth-oriented budget and not a deficit one despite fall in earnings. This will be Kharge's first rail budget.
While freight earnings are short by about Rs 850 crore, the decrease in passenger revenue is about Rs 4000 crore.
Kharge is likely to announce measures for better amenities and safety for passengers while at the same time undertaking steps to improve the fiscal position.
The announcement of running 20 premier trains on dynamic fares as a step to arrest the fall in passenger revenue is likely to be made.
The interim rail budget will also focus on electrification of more routes so that dependence on diesel is less. Railways are likely to take up about 1500 km route for electrification in the next fiscal.
Currently, only about 24,000 km is electrified out of the total 65,000 km route. In his first budget presentation, Kharge will talk about the progress and development work undertaken by the national transporter in the last ten years.
Since Lok Sabha elections are around the corner, there are demands from many zones and MPs for new trains and Kharge has conceded to some demands.
As a result, survey of new lines, extension and increase of frequency of certain train services are also to be announced in the vote-on-account statement. The vote-on-account is likely to mention the expeditious work on coaching complex for maintenance facility at Gulberga.
On the mega project front, Kharge will mention the speedy work on dedicated freight corridor and work sanction on the 66 km long Mughalsarai and Sonnagar link as part of the project. Kharge has expressed serious concern over falling revenue and categorically asked officials to undertake all possible steps to arrest the further fall in earnings in the recent General Managers meeting.
The minister is also likely to address the issue of fire mishaps in trains in the recent past by rolling out plans for anti-fire measures in some trains. Beside, he is expected to focus on more passenger-friendly measures like installation of upgraded real-time train information system at stations and operation of automatic ticket vending machines at many stations.
The Railway Minister is likely to refrain from announcing any populist measures given the financial condition of the national transporter. While the working expenses have gone up by about Rs 5,000 crore during April-December period, the revenue earnings have decreased by over Rs 4,000 crore.
Though Railways have set a target of reaching 38% of total cargo traffic in the 12th Plan, the cargo share of railways is expected to fall by two to three percent this year. There is also a fall in passenger bookings during April-December period which is a cause of worry for the national transporter. Kharge, perceived to be a reformist, has taken many bold steps to increase the revenue like allowing fuel adjustment component in passenger and freight fares, increasing Duronto fares and revising Rajdhani catering charges.
"The railways minister can offer to reduce this financial burden on passengers by promising to make the rich passengers pay for the poor," sources said.
Earlier in the day, Kharge said that his interim budget for the next four months would be presented in Lok Sabha adding that it will also outline what his ministry has done in the past ten years.
"We are going to present the Railway Interim Budget for 2014-15, under which for the next four months whatever can be done, and what we have done in the past ten years will be outlined," he said.
"Once it is presented everyone will know what the railway ministry has proposed from its side. The details will be spelled out only on the floor of House," he added.
Kharge plans to hold out promises of a possible reduction in train fares while presenting the ministry's vote on accounts.
Interim budget speeches of outgoing railway ministers are usually silent on policy matters or mega projects.
But Kharge intends to ask for financial provisioning for the construction of more than 500-km of new lines worth more than Rs. 3,500 crore, while announcing the launch of a 66-km corridor from Mughalsarai to Sonnagar on the Dedicated Freight Corridor project, sources said.
Late last year, the railways introduced the dynamic system on one train on the Delhi-Mumbai route – with the experiment having shown encouraging results. Plans for the launch of 20 additional premier trains are likely to be announced by Kharge on routes connecting Mumbai-Amritsar; Pune-Howrah and Pune-Patna.
The railways minister will also seek funding approval for three new line projects in four politically important states including his home state of Karnataka.
These include the 252.50-km long Gadag Wadi new line costing Rs. 1,922.14 crore in the South Western Railways; the 97.17-km long Pir Painti-Jasidih like costing Rs. 915.96 crore and the 165-km line to connect Ajmer-Nasirabad and Sawai Madhopur at a cost of Rs. 873.71 crore in the North Western Railways.
"These projects are unlikely to create any controversy, since they were announced in earlier budgets," an official said.
No increase in rail fare and freight has been proposed in the Interim Rail Budget for 2014-15.
Presenting the Budget in Parliament today, Railway Minister Mallikarjun Kharge announced 72 new trains, extension of three trains and increase in frequency of three trains.
The Minister announced that there will be no more unmanned crossings. A Rail Tariff Authority has also been announced. A number of measures for safety and security of passengers like portable fire-extinguishers in coaches and induction based cooking in pantry car have been proposed in the Budget
The Budget presented today envisages investment of Rs. 64,305 crore as against Revised Estimates for 2013-14 of Rs. 59,359 crore. Anticipating a healthier growth of economy, the freight traffic target is proposed at 1,101 million tonnes, an increment of 49.7 million tonnes over the current years' revised target of about 1052 million tonnes.
The Gross Traffic Receipts have been projected at Rs. 1,60,775 crore . Working Expenses have been proposed at Rs. 1,10,649 crore, which is Rs. 13,589 crore higher than the Revised Estimates for the current year
Highlighting the passenger friendly initiatives of Indian Railways, the Minister said the success of e-booking of tickets has surpassed all expectations, and now train movements can also be tracked online to find the exact location and running. Besides, 51 Jan-Ahaar outlets for sale of Janta Meals have been set up; 48 passenger escalators have been commissioned at railway stations and 61 more are being installed and air-conditioned EMU services will commence in Mumbai area by July 2014.
He said that Investment in Railways is being stepped up by partnership with the private sector.
"PPP projects related to rolling stock manufacturing units, modernisation of railway stations, multi-functional complexes, logistics parks, private freight terminal, freight train operations, liberalised wagon investment schemes and Dedicated Freight Corridors are in the pipeline. Apart from attracting private investments from domestic investors in rail sector, a proposal is under consideration of the Government to enable Foreign Direct Investment (FDI) to foster creation of world class rail infrastructure," he added
Reiterating Railways' commitment or safety and security of passengers, he said several measures have been and are being taken for its further strengthening. Manning or elimination of all unmanned level crossings has been taken up and planning for induction of indigenously developed Train Collision Avoidance System (TCAS) and provision of Vigilance Control Device (VCD) in all electric and diesel locomotives is being introduced.
He said that a Comprehensive Fire and Smoke Detection System is on trial on two rakes of Rajdhani Express trains. This will be extended to all major passenger trains. Provision of portable fire extinguishers in AC coaches, Guard-cum-luggage break vans, pantry cars and locomotives. Introduction of electrical induction based cooking appliances in replacement of LPG in pantries is being taken up
With a view to improving aesthetic ambience along the track close to the approach of major stations, Kharge announced creation of 'Green Curtains' at Agra and Jaipur stations on pilot basis. He said that bio-toilets have been introduced in about 2,500 coaches. It is proposed to increase the coverage progressively
Kharge said given the promising trend of loading, the target has been scaled up to about 1052 million tonnes from the budget target of 1047 million tonnes and freight earnings targets revised to Rs 94,000 crore.
He announced that an independent Rail Tariff Authority is being set-up to advise the Government on fixing of fares and freight.
Highlights of interim railway budget 2014-15:
Following are the highlights of the Interim Railway Budget 2014-15 presented in the Lok Sabha by Railway Minister Mallikarjun Kharge:
- 17 new premium trains to be introduced
- Rs.19,805 crore budgetary support needed for the fiscal 2014-15
- Electrification of 4,556 km railway line was completed against a target of 4,500 km
- Target of doubling gauge was also surpassed: 2,227 km was completed against a target of 2,000 km
- Seeks approval of spending for first four months of fiscal 2014-15
- Railway services to expand to hinterland and frontiers of India
- To start train services for Vaishno Devi shrine to Katra in Jammu and Kashmir
- Setting up 11.2 km tunnel in Jammu and Kashmir
Parliament adjourned as parties tear the railway budget bill:
The storm over Telangana today derailed the presentation of the Interim Rail Budget 2014-15 with Railway Minister Mallikarjun Kharge being forced to cut short his speech in Lok Sabha because of turmoil.
With tempers running high on the issue of bifurcation of Andhra Pradesh, a clash was averted between a supporter and opponent of Telangana due alertness of some leaders.
The Well of the House looked a battle ground on Telangana issue with members from Andhra Pradesh cutting across party lines converging there.
In an unprecedented action, four Union Ministers from Seemandhra trooped into the Well demanding a united Andhra Pradesh.
Ministers K S Rao, D Purandeshwari, Chiranjeevi and K Surya Prakash Reddy were in the Well while Minister M Pallam Raju and Kruparani Killi were seen supporting them by standing in their seats.
Alertness of JD(U) leader Sharad Yadav, Saugata Roy of Trinamool Congress and Jagadambika Pal of Congress helped avert an ugly situation as M Jagannath (Cong) and N Sivaprasad (TDP) moved aggressively towards each other.
Jagannath, a supporter of Telangana, was angry over Sivaprasad's action of tearing some papers, apparently concerning the bill on separate state.
They were, however, not allowed to come closer by alert members.
YSR Congress chief Jaganmohan Reddy also joined the protesting Seemandhra MPs in the Well.
This could be perhaps the first occasion when the Railway Minister was forced to lay on the table his budget speech which was taken as read.
The House witnessed further trouble after AIADMK and Trinamool Congress members stormed the Well alleging discrimination against their states - Tamil Nadu and West Bengal - respectively.
Rahul promises more before the budget:
Congress vice-president Rahul Gandhi's interaction with the railway porters, just a day ahead of the interim rail budget is a sign that the present government is leaving no stones unturned to reach out to every section of the society in their last lap before the Lok Sabha elections as reported by One India.
In an effort to listen to the woes of the lowest working class in the country, especially in a crucial domain like that of the railways, Rahul spoke to the porters, the trackmen and the gangmen, promising to resolve their problems.
Although Rahul Gandhi was clear about his intentions to include their views and opinions in the manifesto, it is believed that the rail budget and Rahul's meet was not a mere coincidence.
The meeting is likely to play a support to the interim budget for the railway, which is a stand-by solution to the people's problems till the new government is formed. Incidentally, one cannot make announcements in an interim budget as it is not the final one to be followed, but a temporary set up for setting targets and backing revenues till the new government is formed.
On the complaints of gangmen and porters regarding odd working hours, Rahul Gandhi emphasized on the "basic minimum rights" for these men. He said that the Coolies should have a right to health and that their treatment should be borne by the railway authorities if they are injured during work. "I promise you that I will do whatever I can to help you," he said.
Also read: FULL TEXT: Speech of railway minister Mallikarjun Kharge introducing the Railway Budget 2014-15
With inputs from IANS, PTI and ANI