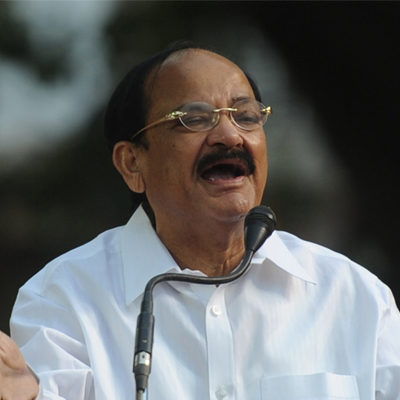 Union Parliamentary Affairs Minister M Venkaiah Naidu on Sunday said Lok Sabha Speaker Sumitra Mahajan is having a look at all past conventions and precedents before deciding on the method to choose a Leader of the Opposition. He also said that she is consulting with experts on the issue.
"The leader of the opposition status is within the purview of the honourable speaker of the Lok Sabha. The government has nothing to do with that. There are certain precendents, conventions, and also there were directions issued by the first speaker of the Lok Sabha. The speaker is studying all these aspects, consulting with experts and will take a decision at the appropriate time, " Naidu said. He also advised the Congress Party and its supporting parties to stay calm.
"I don't know why the Congress is getting agitated and its new found friends like Nitish Kumar, and all are getting agitated. There is time, whatever needs to be done, we will follow the precedents. We will also understand the spirit of the speaker's directions on Rule 120 and 121, and then take an appropriate decision, which is left to the speaker, which we have made absolutely clear," Naidu added.
Naidu also quoted the prime minsiter's speech in the parliament to remind the Congress that it does not have numbers to stake a claim for the post of Leader of the Opposition. 'The prime minister has made a right statement in parliament. The Congress Party do not have the requisite numbers of one-tenth to get automatic recognition for the Leader of the Opposition's position. If the people have not voted it, then one cannot blame the BJP. The issue is with the speaker, and the honorable speaker is studying all the aspects. Unnecessarily trying to blame the BJP in between is very unfair. Its better the opposition parties wait for the decision of the speaker," he said.
Naidu also went back in history to say that there have been many occasions when there was no Leader of the Opposition, and asked Congress to explain as to why the rules should be bent for it.
"The Congress will be one of the opposition parties, but the LOP issue is a realm of the speaker. I do not want to make any comments. There was no Leader of Opposition during Jawaharlal Nehru, Indira Gandhi or Rajiv Gandhi's time. When Rajiv Gandhi was the prime minister, the Telegu Desam was the largest opposition with 31 MPs. But for the reasons best known to the Congress Party, they did not give recognition of Leader of Opposition status to the TDP at that time, before asking the present government. Whatever decision the honourable speaker takes we will all follow that," Naidu said.