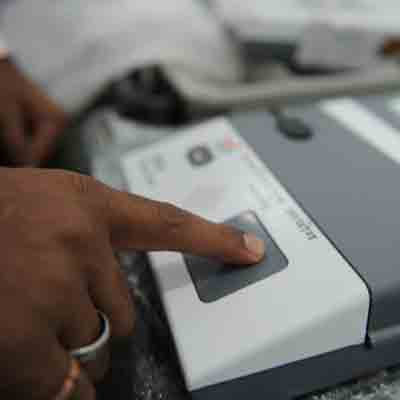 Around 62% of the electorate voted in the second phase of polling in six Lok Sabha seats in Jharkhand on Thursday amid Maoist violence that left five persons, including 4 CRPF men, injured.
"Around 62% polling was recorded in the second phase for six seats," Chief Electoral Officer PK Jajoria told a press conference here.
Polling was held in Ranchi, Giridih, Jamshedpur, Singhbhum (ST), Khunti (ST) and Hazaribagh seats under strict security and helicopter surveillance.
The electoral fortunes of 106 candidates were sealed in EVMs.
Prominent among them were Lok Sabha Deputy Speaker Karia Munda of BJP, Jayant Sinha, son of Jaswant Sinha, former Team India Manager Amitabh Chowdhury of JVM(P), former deputy chief minister, Suresh Mahato of Ajsu party and former Union minister Subodh Kant Sahay of Congress.
A CRPF patrol was attacked by Maoists who exploded two landmines at Lalpania near Maoist-affected Jhumra Hills in Bokaro, CRPF (26th Battalion) Commandant Sanjay Kumar said.
Three CRPF men, Pratap Singh, Surendra Kumar and PC Mandal besides driver Ranjit Kumar were injured.
Maoists fired on another CRPF patrol at Tulbul village injuring one of the men and a brief encounter took place before the ultras retreated.
A pressure cooker bomb was recovered near a polling booth in Maoist-hit Saranda forest range of the state, an hour before polling began in the Singhbhum (ST) constituency, Superintendent of Police, N K Singh said.
A report from Giridih said that the Maoists exploded ten bombs at separate places in the Giridih Lok Sabha constituency.
Maoists also blew up a stretch of railway lines between Dania railway station in Bokaro under the South Eastern Railway disrupting train services, Bokaro Superintendent of Police, Jitendra Kumar Singh said.
A polling agent of a political party, Bubraj Tudu, died near Booth Number 143 in Bokaro, Giridih constituency's Returning Officer Uma Shankar Singh said.
The first phase of the polls was held in four constituencies on April 10. The third and last phase would be held on April 24 in four seats----Dumka, Raj Mahal, Godda and Dhanbad.