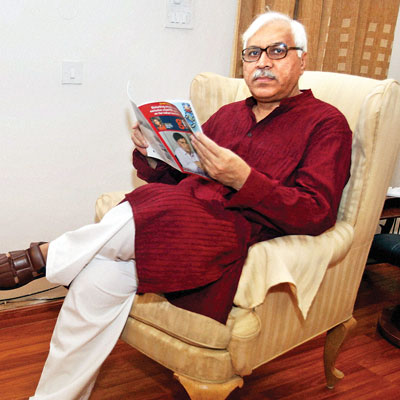 The poll season is not even halfway through and the election commission has already seized Rs219 crore in cash — that is enough to fund 500 primary schools in a state for a year.
Former election commissioner SY Quraishi told dna about the various means used by political parties to transport such "illegal" or black money to fund the polls. Paying electricity and water bills of voters, giving currency notes to buy liquor, transporting money in ambulances and even tying up with local shops to provide free liquor to voters are among the methods adopted by parties.
"There are at least 40 such ways... Political parties play a cat and mouse game with the election commission," he said. Quraishi has penned down these methods in his book, The Undocumented Wonder, The Making of the Great Indian Election. The book is slated for release during the elections.
"Every election season we hear about parties and candidates using innovative ways to distribute money and commodities to woo voters. I have tried to bring together 40 such ways that I witnessed during my tenure as the chief election commissioner."
Quraishi assumed charge as the 17th CEC on July 30, 2010. He held the position of election commissioner since June 30, 2006.
The most common goodies on offer are money, liquor bottles, LPG cylinders and food packets. "We have come across instances where candidates pay electricity and water bills, and organise mass feasts." In small towns and rural belts films are publicly screened to entice voters.
Also, candidates tie up with liquour shops. Voters are usually given ten rupee notes, bearing a particular serial number, which they can exchange for a bottle of liquor.
Months before elections begin, the commission starts monitoring large monetary transactions in banks. "We depend on our official intelligence and keep tabs on all such transactions," Quraishi said.
Despite all checks, the problem stills persists. So who is to blame? Quraishi said it was the prolonged legal procedure. "As EC we get an FIR registered in such seizures. Then it becomes the duty of the judiciary to act on these cases. The cases drag in courts for years." He said there was not a single case to date where action has been taken.
"Forget the police or judicial action... The UP government, led by the Samajwadi Party, passed an order to withdraw all such cases registered by the EC. We had to move the high court to stop states from taking such decisions."
In the last section of his book, Quraishi has given five-point solution. He suggests state funding of political parties. "Let the state give Rs100 for every vote that a political party gets. It will end the poll mafia and put a check on black money that is circulated during elections."
Also, Quraishi said every penny spent by political parties should be accounted for. "An independent auditor should look into their accounts and poll spends and the details of funds raised should be up on the party website."