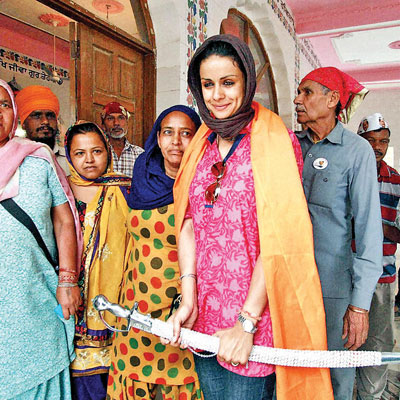 AAP's campaign style differs. Teams of two to three AAP volunteers walk across to roundabouts, take up positions on the green, and holding up a longish flex banner with the pictures of Arvind Kejriwal and Gul Panag, they flash the victory sign and smile and nod and wave at vehicles with people in it who take the traffic roundabout. No shouting slogans, no blaring songs penned for the occasion.
Note: This is an evening time exercise, which begins around 4pm and lasts till the last rays of the sun are consumed by enveloping dusk. At the sector 38 roundabout, three AAP men pick up an spot and do their thing. All three look like it's been three days since they had taken a shave. One of them is older than the other two. The youngest is a businessman. The one older than him is a writer. The eldest is a director.
They are wary of the reporter walking up to them.
What are you doing, making all those gestures, dna asks them. "We're making our presence felt. We're smiling at the people, telling them it's a fine day. We're connecting with the people," says the businessman, a clutch of AAP caps in a bunched fist.
He's curious about dna. Curiousity satisfied, he says, "We're doing well, People see hope in AAP. Our main plank is still corruption. We're promising the electorate an alterative."
The writer and director smile. Their feet are encased in sports shoes.
In fact, sports shoes are the favourite of campaigners irrespective of party. Arun Jaitley in Amritsar was an exception. Vinod Khanna had sports shoes on, and so did AAP's Daljit Singh. The two ladies from Bollywood contesting the Chandigarrh seat are not expected to sport sports shoes. That wouldn't be sporting, not to the voting public. At least Kirron Kher doesn't believe in deglamourising electioneering; and Gul Panag, who made a snide remark on Kirron's age, wouldn't do anything that will Kher the upper foot...oops upper hand!
In Chandigarh, the two ladies were the first one to get set and on the mark. Congress candidate with taint Pawan Kumar Bansal stepped in a little late in the day; and he stays there, lagging behind in campaigning. But then, he's an old warhorse with hidden resources. The Congress' rant here is same as it's in a hundred constituencies across India, "UPA's Achievements". It's a matter of conjecture if the ploy succeeds in Chandigarh..
Meanwhile, Kher has placed herself as the No.1 contender. She's in Centre Court, and the final is between Kher and Bansal, say BJP workers. The local media is solidly behind Kher and going by the rhetoric and headlines Kher has already taken her green leather seat in the Lok Sabha.
Add to that the fact that Kher has been laughing a lot over the last two days. On Sunday, two Bollywood stars were in Chandigarh, one of them her hubby Anupam Kher and the other, Anil Kapoor the 'Nayak'.
Anupam exacted a sworn promise from all married women he met that they would vote for Kirron Kher or else their husbands would... Told about this, Kirron couldn't control her laughter for a full three minutes.
Local papers ran a picture of her laughing.
As for Anil Kapoor, he cited "family" reasons for travelling all the way to this UT, only to seek votes for Kirron Kher. "She's a family friend for 36 years, she and Anupam. I made this trip only for her," he said.
The thousand odd who heard him hung on to what he said. A hundred-odd got his autograph.
Voting in Chandigarh is on April 10. On Sunday night the city was sealed tight, with 128 checkpoints round the city perimeter. That didn't help much. Men in a Fortuner drove it straight into a Honda City and then almost ran over an inspector of the Chandigarh police. The officer is sort of Dabbang-like. He pulled out his gun and fired twice at the Fortuner. It's showtime in Chandigarh, folks. —