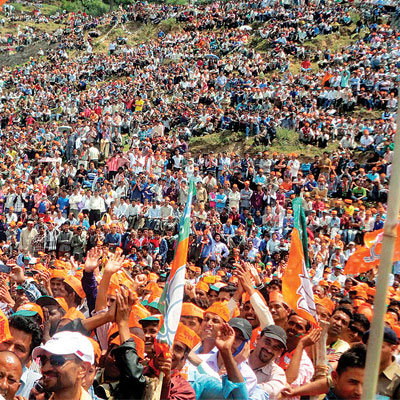 As it normally goes in a politically and cultural active town, the tea shops and paan kiosks of Almora are engrossed in hot debates on elections.
The debates are on the winnability chances of candidates after BJP prime ministerial Narendra Modi's just concluded massive rally at Sohan Singh Jeena stadium and quick gains made by Congress chief minister Harish Rawat in a very short time.
The groups are badly divided showing signs of late recovery made by the Congress, courtesy Harish Rawat who replaced the discredited and struggling regime of Vijay Bahuguna on February 1 this year.
"The Congress had conceded defeat on all seats three months ago but Harish Rawat's re-entry into Uttarakhand politics has changed the scenario. It's back in the reckoning at least in Almora. The winning margin will be very slim here," rues Lalit Shah, owner of Shah News Agency.
The main fight is between two contenders – BJP's Ajay Tamta who is considered a humble person and Congress' Pradeep Tamta considered intellectually superior to Ajay but arrogant.
For political analysts like Kailash Pandey of Shakti, one of the oldest newspapers of Almora, and many others, the real contest is not between the Tamtas but Modi and Harish Rawat.
"It contest is between brand of Modi versus son of the soil Harish Rawat, who hails from Almora, Tamtas are incidental," says SS Bisht, who works in merchant navy and come home to vote.
But why people would vote for Pradeep Tamta whose chief minister lost last two elections he fought from Almora? "There are two reasons – one, Rawat's stature is not that of 1991 when he lost the elections against Bachhi Singh Rawat, it has grown many folds since he joined the national mainstream. And two, unlike his predecessor he is highly accessible and delivers and has undertaken rebuilding work of Uttarakhand at a speed witnessed never before. Moreover, the Rajputs that outnumber all other castes by far have flocked under him," says Pandey.
A local Congress leader joins in, "Rawatji has issued 8,500 GOs (government orders) in last two months. For Almora region alone he has issued works of Rs18,000 crore. That is showing effect on the ground."
Nobody contradicts him that shows there is some truth in his brag.
Pandey, however, is quick to point out that the fight would be very tough as majority of youth is tilting towards the BJP. Facing acute unemployment, the youth seems to be probing Modi's list of promises with interest. In the Employment Exchange offices of Almora and Ranikhet the number of registered unemployed youth has touched 68,362 of which only 1120 are getting unemployment benefits.
Having a quick bite of Jalebi at Almora's Laal bazaar, a group of educated unemployed youth looks puzzled. Both Modi and Rawat and a few weeks ago Rahul Gandhi sold dreams of employment opportunities to them.
Although they seem to agree that Modi phenomenon is more of a media creation yet a majority of them wants to try him out for sheer novelty factor.
But for the BJP that lost Almora seat by a margin of more than 10% in 2009, youth alone may not be enough to ensure a win, as it is also has a rebel candidate in Sajjan Lal Tamta. On top of it, the BSP candidate has given tacit support to the Congress by not campaigning aggressively.
For Harish Rawat, like Haridwar where his wife is in the contest, Almora is also a matter of prestige issue. Rawat knows that a lot is at stake. A win here, in addition to Haridwar, can make him the tallest among contemporary Congress leaders in Uttarakhand.