Narendra Modi has come a long way into pleasing the Indian masses. His social media presence and love for publicity has probably worked for him, this election season.
In what appears to be a bid to woo the Muslim vote bank, the BJP Prime Ministerial candidate has added another feather to his flock of campaigning gimmicks when he launched the Urdu version of his website on Wednesday morning.
The official website of the BJP chief is already available in 15 languages including popular Indian regional languages like Tamil, Telugu, Marathi etc, foreign languages like Russian, Spanish, Chinese and Japanese, the national language-Hindi and English.
The website gives a detailed account of Modi, his life and the reforms he brought about in the state of Gujarat, during his rule as the chief minister.
Wednesday morning Shaina NC, a senior BJP leader and the first woman Treasurer of the national party, launched the Urdu website along with noted screenwriter Salim Khan. Salim Khan is the father of the Bollywood actor Salman Khan. He said that he was glad the suggestion was implemented. Urdu was a rich Indian language said Khan.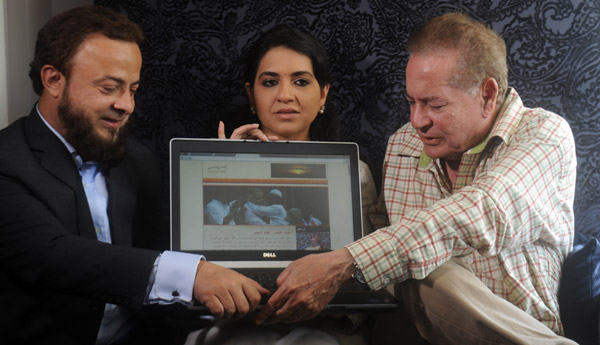 (Shaina NC launched the Urdu website along with noted screenwriter Salim Khan—Photo by Shraddha Bhargava Chaturvedi)
The Khan family has always been close to the BJP ideals and even after Modi received flak for the 2002 Gujarat riots, Salim Khan maintained that the Muslims in the country were safe under the Modi regime. In conversation with a leading news channel, Khan had also said that No one had blamed the CM of the 1992 riots. People didn't even remember who the CM was. Modi criticism was all a political game, he had said.
Though speculations are rife that the website is merely another way to attract the Muslim votes from Varanasi and the country as a whole, the portal specified that it is a mean to reach out to a larger audience. Modi in his interview with a leading news channel earlier, spoke of his secular mentality. The website is probably just another source to strengthen this fact.
Modi's official website now exists in 16 different rich languages.
The launch video
Twitter reacted to the news too :
"@Zedd29: Launch urdu website then Varanasi muslim will love me, Modi claims. It is an emotional trap by BJP @aninanimate

— Amaresh Misra (@AmareshMisra) April 16, 2014
A day after inaugurated BJP PM candidate Narendra Modi's Urdu website, scriptwriter Salim Khan has said that communalism must be eradicat...

— Poll Pedia (@PollPediaApp) April 16, 2014
The website language launch seems to be an answer to the pro-congress ideas that floated a few years ago:
Proof that BJP is not pan-national its website bjp.org - is ONLY in English. Truly secular congress.org.in is in English, Hindi & Urdu.

— Suryanarayan Ganesh (@gsurya) December 24, 2010