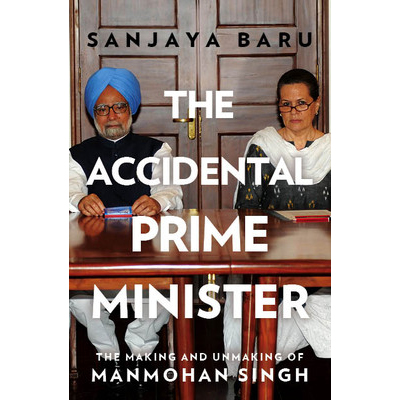 Sanjaya Baru's book The Accidental Prime Minister: The Making and Unmaking of Manmohan Singh, has been in the limelight since Friday evening. In his book, Baru refers to the alleged strained ties between Prime Minister Manmohan Singh and his council of ministers. The author, a senior editor and the PM's media adviser between 2004 and 2008, paints a picture of a leader losing "all vestiges of control over his own government". He quotes Singh as having told him that there cannot be two centers of power. Sonia Gandhi has also been portrayed as the mastermind of the UPA government. However, the UPA has rubbished the rumors, calling them a work of fiction.
While Baru faces extreme reactions to his book, the Opposition has been cashing in all the publicity that it has received. Late Friday evening, the BJP reacted to the content in the book, with senior BJP leader Venkaiah Naidu stating, "I have been saying from day one that the PM presides and madam decides. This has been proved by this book now."
As the heated discussions continue, many individuals, groups and organisations have taken to social media to voice their opinions, both for and against the revelations. We take a look at a few comments on the popular social networking site Twitter.
It's highly unethical on the part of #SanjayaBaru to publish his book on Prime Minister DrManmohanSingh in the middle of election campaign.

— Sudheendra Kulkarni (@SudheenKulkarni) April 12, 2014
Wish even i could be like Sanjaya Baru and critize some of the bosses! So instead, am thinking of writing a book to gain some popularity :)

— Krishnanand Shenai (@bcompany) April 12, 2014
So, until Manmohan was his boss, Sanjay Baru didn't have a problem. Now that MMS is about to resign, Baru has an 'attack of conscience.'

— lindsay pereira (@lindsaypereira) April 12, 2014
Sanjay Baru's exposure that India had a namesake PM,cld not hav come at better time!To Punish the Congress for having stolen our last 9 yrs.

— Kiran Bedi (@thekiranbedi) April 12, 2014
Sanjay Baru's book is like Indian daily soaps, it revealed what everyone of us knew already..!!

— chai wallah PM (@sachin__sp) April 12, 2014
Dear @narendramodi ji, Sanjay Baru has given so much amunition to you. please dont divert your attention to any other subject.

— Shrin™ (@ShrrinG) April 12, 2014
Sanjay Baru's book discloses the mockery of Indian democracy and subversion of the post of PM by Gandhis(SG&RG).

— Dr.C.P.Thakur (@Balajiutthan) April 12, 2014
Where does Sanjay Baru figure in Trust Scale?Can anyone trust him anymore

— R Ramachandran (@ramuraman2002) April 12, 2014
Sanjay Baru and Rahul Gandhi just VANISHED from the trend list !!! Wow... Money surely IS a powerful thing...

— Pot(ter)head Babaji (@weedistheneed42) April 12, 2014
Manmohan Singh has finally found an apologist for himself. Sanjaya Baru has done a great whitewash job for India's most effete PM ever....

— Pritish Nandy (@PritishNandy) April 12, 2014
Sanjaya Baru should have made this disclosure 5 years ago and should have resigned. This is just a ploy to sell the book.

— Pradeep (@pradeepprema) April 12, 2014
Sanjay Baru only confirms what the whole Nation knew. The office of the PM was systematically diminished in the UPA Government.

— Arun Jaitley (@arunjaitley) April 12, 2014
So Sanjay Baru had to write an entire book to tell us that MMS didn't have a voice? #AbKiBaarModiSarkaar

— F0rb1dd3n (@cuck00call1ng) April 12, 2014
Sanjay baru release now, a perfect strategy to demolish UPA. Sounds the nation was made a fool for the last decade. Mud flinging more 4 sure

— Nitinsathyaa (@Nitinsathyaa) April 12, 2014
Wanna read #SanjayaBaru 's book 'The Accidental Prime Minister', let me c how he manages to balanced it.

— Babita Mall (@babitamall) April 12, 2014
LOL. Marital status gone for a toss with Sanjaya Baru :)

— Ashok (@nationalizer) April 11, 2014
Has Sanjaya Baru spilt the beans or has he spoilt the has-beens?

— Bibek Debroy (@bibekdebroy) April 11, 2014