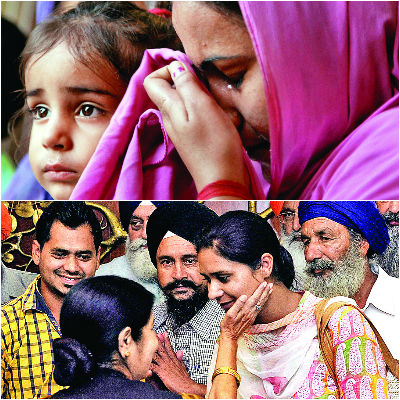 On the night intervening Sunday and Monday, amid the fierce fighting in north Iraq, aid worker Saleh Dabbakeh saw gunmen stopping trucks carrying foreign workers employed in local construction firms. The workers, mostly Egyptians, Turkish and Indians were heading towards safer places to avoid getting caught in the crossfire between retreating government forces and the militants belonging to Islamic State in Iraq and the Levant (ISIL).
Dabbakeh, a foreign national in Iraq, immediately informed the headquarters of International Committee of Red Crescent (ICRC) in Baghdad, who in turn informed various foreign missions, including India. Dabbakeh, whom dna contacted, said if the workers had stayed back, just like 46 Indian nurses did in Tikrit, they could have avoided being abducted. "Travelling on roads in this region is very dangerous," he told dna on the phone from the outskirts of Mosul. dna head several gunshots during an intermittent telephone conversation with Dabbakeh on Thursday.
He said that the hostages, including 40 Indian workers, have been put in a stadium somewhere near Mosul, but his aid agency, ICRC, has no contact with them. The workers — employed by Baghdad-based firm Tariq Noor Al Huda Co. — were working at the Mosul Stadium, a popular football venue in Iraq's second-largest city. Dabbakeh's statement resonated with what Gurvinder, the sister of a kidnapped Punjabi youth, told TV channels here: that her brother had called her on Sunday to say that he and several others had been kidnapped and that their captors were planning to hand them over to "some other authority".
In Delhi, the crises management cell met twice under external affairs minister Sushma Swaraj, who also met the families of the kidnapped workers and reassured them of the government's full support in bringing the men back. "They are all safe and are lodged in two locations — a cotton mill and a government building," Swaraj told the families.
Also on Thursday, former Indian ambassador to Iraq Suresh Reddy reached Baghdad early in the morning to assist new ambassador Ajay Kumar in coordinating evacuation and search efforts. Government sources said that Reddy is an old Iraq hand, well-versed in Arabic and has established contacts with some Sunni tribesmen and former generals of the Saddam Hussain army.
India made it clear that it will not remain dependent on the Iraqi government, which hardly has a writ in the troubled areas. "Every avenue will be pursued. We will utilise every opportunity to secure our nationals," said external affairs ministry spokesperson Syed Akbaruddin.
For the full coverage of the crisis in Iraq and the Indians stranded there, read here