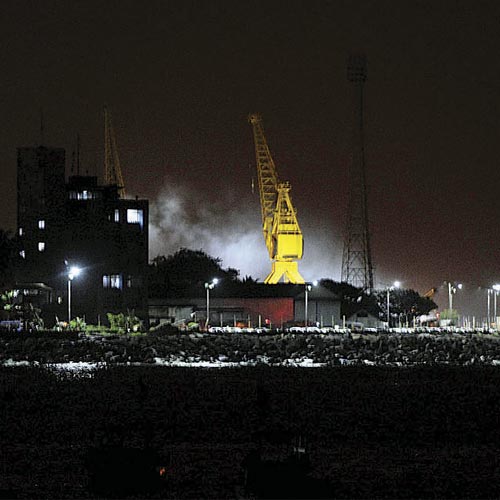 Unable to get any breakthrough in salvaging the ill-fated submarine INS Sindurakshak, the Indian Navy is considering taking assistance of a Singapore-based company to salvage the vessel.
After two massive explosions, the submarine is nosed down in the three meters of waters in naval dockyards and it has to be extracted.
A top naval source told dna that Indian Navy has come to the conclusion that salvaging its frontline submarine is seems to be beyond their available capabilities. And the process of salvaging the ship would take considerable amount of time.
"Under the present situation, we may not be having the capability to salvage it. We have to create buoyancy in the deep sea to salvage the submarine. For that, we require help of professionals. The name of a Singapore-based professional firm has come for the consideration and we may hire it for the job," a naval source told dna.
Tuesday's accident has also triggered an exhaustive review of safety mechanism for on-board on submarines. And questions have been raised over the Indian Navy's failure to acquire deep submergence rescue vehicle. According to the naval sources, they have been in the process of acquiring it for long.
The Deep Submergence Rescue Vehicle used for rescue of downed submarines and other clandestine missions.
However, the Indian Navy has an agreement with the United States navy in case of similar accident in the high sea, to rescue stranded sailors on board, the later has the capability.
The US navy has acquired such deep submergence rescue vehicles. But in case of INS Sindurakshak, as the accident happened on dockyard, not in the high sea, the pact does not apply here.
Meanwhile, the navy would also ask the Russians to join its probe, the submarine had returned only on 29 April this year after mid-life refurbishment from Russia after over two years.