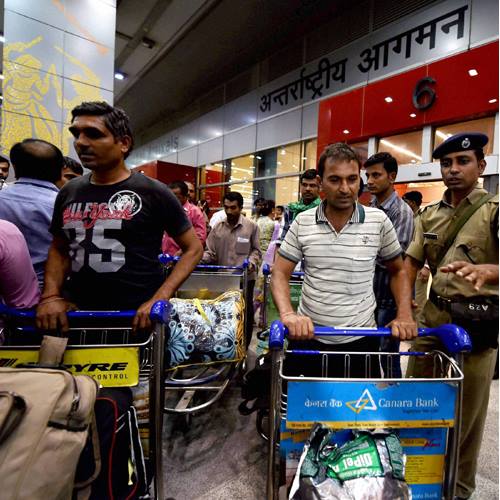 Indian citizens returning from various cities of Iraq say that not only did they have to battle unsafe surroundings and constant bombings but also non-payment of salaries and dues.
Parmanand Singh, who hails from Bihar and has just returned from Iraq, told ANI, "The situation in Iraq is terrible, there are bombs going off everywhere. We have not been paid by the company for three months. We don't have money to go home. We were stuck for 25 days and at least 1000 men are still stuck there."
Another Indian resident returning from Iraq said that the Iraqi companies were making them work endlessly and were not providing them proper food.
Mukandar Singh, who also reached India safely, told ANI, "Conditions are very bad there, we Indians don't matter there at all. We had to pay USD 400 dollars for our tickets. We weren't even offered a glass of water in the flight after trying so hard for our tickets. We worked there for 24-25 months but nobody paid for our tickets."
Others like Mohammad Alam assured that they wouldn't ever go back to Iraq as they had worked for eighteen months and had to pay for their own tickets.
Babulal, a native of Gorakhpur who was stranded in Babylon said, "Although we didn't have to face the militants, we were stuck there for a month. At least 400-500 people were with us. The embassy was in touch with us but 10-12 people are still stuck in Babylon and at least 40-50 are stuck in Karbala."
Forty six Indian nurses were yesterday brought back to Indian from Iraq but many other Indians, including 40 abducted workers, have yet to return home safely.