146 Indians, including 46 nurses, arrive home from Iraq in special Air India flight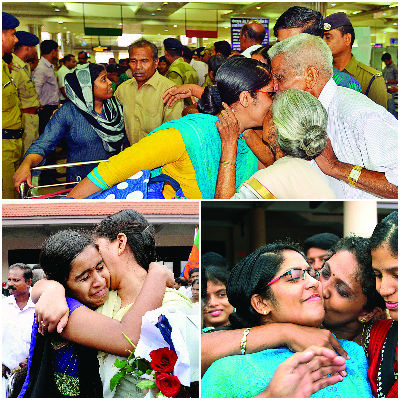 Forty six Indian nurses, holed up for nearly a month in a hospital in Kirkuk, Iraq, surviving on biscuits and bread, landed home in India on Saturday, and vowed to never again return to the strife-torn nation.
Iraq's forces have been battling with Sunni rebels who have captured Mosul, parts of Tikrit and several posts along the Syria-Iraq border. The rebels, known as the Islamic State, handed over the nurses to Indian authorities on Friday; the nurses, all from Kerala, were then flown on a special Air India flight to Kochi, where they were welcomed not only by their families and friends, but also by state chief minister Oomen Chandy and hundreds of well-wishers.
"We will not go back. There is no question of going back. We are not prepared to endanger our lives once again," said Sandra Sebastian.
The flight carried 146 evacuees, 100 of whom were men from Andhra Pradesh. After landing in Kochi at 11.55am, the aircraft flew to Hyderabad. The nurses emerged half an hour later to a cheering crowd that had been in wait since midnight. The long embraces of their mothers and sisters relived them of the trauma of the last 23 days spent stuck in an abandoned hospital which was the fierce battleground between the rebels and government forces in Tikrit, the hometown of former dictator Saddam Hussain.
"I don't like to remember the 23 days when we were stranded at the hospital. All our other colleagues had moved to safer places. We were not permitted by the embassy to move out," said Sona, one of the nurses. Her twin sister Dona, also a nurse at the abandoned hospital, landed along with her.
"We were trapped in the crossfire. The building would tremble during gun battle and the bombings. The stock of essentials and drinking water was fast depleting. We requested several people and agencies to save us, but they could not even come close to the hospital because of the fighting,'' said Ancy, another nurse. "We are lucky we got back our life. We are thankful to many — our government, the embassy officials and all the other people who worked for our safe return to India."
One of the nurses, Cinimol, thanked the rebels for forcibly evacuating them from the hospital and taking the group to a waiting bus. "As soon as we boarded the bus, bombs planted at the hospital went off. Four of us suffered minor injuries from the splinters. We were not aware that bombs had been planted at the hospital. Initially, we were suspicious of them (rebels), but they took care of us, giving us food and water and even allowing us to contact our families," said Cinimol.
Two hospitals — one in Abu Dhabi and another in Thiruvanathapuram — have offered jobs to the nurses, most of whom had gone to Iraq to be able to repay debts.
—(With agency inputs)