Row escalates: US embassy loses privileges, security barricades removed; told to reveal salary details of Indian staff, consulate personnel asked to surrender ID cards, airport passes withdrawn; no more imported liquor.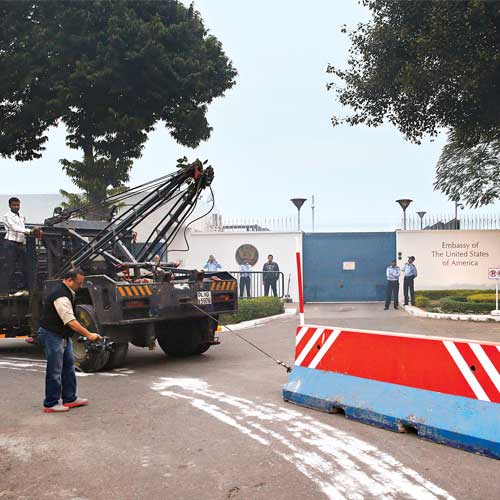 India on Tuesday showed that it won't take the humiliating experience that deputy consul general Devyani Khobragade was put through lightly.
For now it also emerges that she was put through strip and cavity searches, procedures normally used for criminals, after her arrest on visa fraud charges in the US.
The Indian government asked all US consulate personnel and their families to surrender (return) their identity cards immediately, which will "now be downgraded on a par with what the US provides to our consulates", a source said. It also withdrew airport passes given to US diplomats.
The police removed traffic barricades outside the US embassy in Delhi but kept a police picket. In Mumbai, the barricades were not removed.
The government sought exhaustive information from the US, including salary details of all Indian staff employed in their embassy and consulate. They have also asked for salary details of domestic helps employed by consulate officers and families.
It also sought visa and salary details of all teachers employed in US schools in India. It sought details, including salary paid to Indians employed in these schools. India withdrew special duty exemption licence, including that of liquor, for the US embassy.
Devyani Khobragade's father Uttam Khobragade met Union home minister Sushilkumar Shinde on Tuesday afternoon who assured him of government action.
Speaking to dna, India's former foreign secretary Lalit Mansingh said "taking such steps is not unusual". "When countries wants to express displeasure it is done in many ways. What India has done in this case is to express displeasure and convey that in case issues are not resolved, further steps can be taken. That is why government advised leaders not to meet official delegations. It is to tell that India will review the consular privileges extended to American diplomats," Mansingh said.
The National Commission for Women (NCW) took suo motu cognisance of the matter, "considering the gravity of the case". NCW member Nirmala Samant Prabhavalkar wrote to external affairs minister Salman Khurshid requesting him to seek action taken report from the Indian embassy in the US. "If necessary, please recommend action against the US police officials," Prabhavalkar wrote to Khurshid.
Khobragade is accused of not paying her babysitter Sangeeta Richard $4500 per month as mandated under the US law. But, that's absurd — Devyani Khobragade's take-home every month is just $4120. On Friday, she was released on $250,000 bond by a Manhattan court.
The 39-year-old deputy consul general in New York, after being arrested and handcuffed in public while dropping her daughter to school on Thursday, was detained with sex workers and drug addicts.
Richard has been absconding since June. The complaint against Devyani is that she was paying only $3.31 per hour against the mandated $9.75, and that the contract does not mention how many hours the maidservant will have to work or how many sick leaves and weekly offs she was entitled to.

George Fernandes
June 2003: The former defence minister, who is now confined to bed, was strip-searched at Washington's Dulles International Airport
Hardeep Puri
Nov 2010: India's ambassador to the UN was subjected to a pat-down search and held for 30 minutes at Houston airport for refusing to remove his turban.
Meera Shankar
December 2010: The Indian ambassador to the US between 2009 and 2011, was subjected to
a pat-down search at the Mississippi airport.
APJ Abdul Kalam
April 2009, September 2011: The former president was frisked by an American airline's employees at the Delhi airport and by US security staff at New York airport.
Compiled by dna - Research N Archives
Also read: Big brother US doesn't follow rules that it imposes on others