As various universities across the country prepare for the international competition, we speak to team CHRONOS-the official team from TIST.
India seems to be smiling in delight as seven universities across India get set to compete in the University Rover Challenge. The URC as it is commonly called is the world's premium robot making competition. These selected teams will be focusing on building a Mars rover which would work alongside human explorers on the planet. In September 2013, the URC kick started its annual Rover challenge, an event in which major Technical Universities from all over the world participate. The challenge basically involves the teams building, creating and testing their robot for the given period.
This year around, the number of participants has more than doubled as compared to last year. Out of the 31 teams chosen, close to seven are from India. This impressive list includes major Technical institutes in the country like Hindustan Group of Institutions and SRM University, Chennai; University of Delhi, IIT Bombay, Mumbai; TIST (CUSAT), Kochi, KIIT, Odisha and Poornima college of Engineering, Jaipur. The total number of countries that have sent in their entries are 6 including US, Canada, India, Bangladesh, Egypt and Poland.
The University Rover Challenge is an annual technical competition held internationally. It is organised by the Mars society and has a huge line of techno- enthusiasts lending their support and active participation. India has been an active participant in this challenge since the past few years. The URC is held in the southern region of Utah each year. This year too it is scheduled to take place from the 29th to the 31st of May.
The Mars society is an international space advocacy non-profit organization dedicated to promoting the human exploration and settlement on planet Mars. They have a wide range of competitions throughout the year. Though major Indian technical institutes have sent their entries even previously, Toc-H institute of Science and technology, Kerala is a recent entrant to this.
"This is the first time that we enter the URC. We know that the other Indian institutes entering the competition are far more intellectually capable and financially well sustained than we are. However this does not bring us down. The fact that we are selected along with these institutions is also a big achievement for us. We will do our best and shine," says the humble Muhammed Juhaim Ibnu Abdul Jabbar, team leader for CHRONOS, TIST's official selection for the URC 2014. The team is currently preparing to showcase their technical, academical and managerial talents in this years challenge. CHRONOS comprises of Juhaim, Abhimanyu Nair, Jibin Jose, Joseph Stephen and Anup Nayak.
The team CHRONOS wasn't aware of such a competition, till their faculty advisor Kiran George Varghese didn't tell them of the same. He being previously acquainted with SRM University, Chennai had seen the students participate with great fervour and decided to encourage his students at TIST too. The five member team from TIST was formed promptly with each of its members having a unique talent in their respective fields, thus making them equal contributors for the same.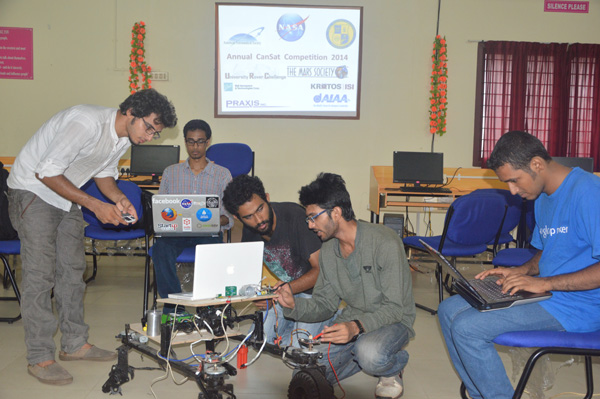 "Participating in URC 2014 was quite a brave step for us. We did not have a prior experience nor guidance. There were too many pressures and issues. We thought of giving it a shot any ways. We registered online and decided we wanted to do this till the very end. We adhered by the guidelines and regulations and started preparing our project. All along this way we had financial, technical and mechanical obstacles. But we knew whatever we did, must be within our financial demarcations and at the same time also satisfy the norms of the competition," says Juhaim.
The Kerala government supported the students in their CanSat 2013 venture, however this time around there haven't been many committed sponsors. The college has helped them immensely. Their work rooms, unlimited access to laboratories, free and unlimited use of internet and computers as well as free access to the hostel facilities has helped them in many ways. Their preparations are in full swing and they seem ready to take on the other colleges in the competition. When asked about their academics and whether it has suffered due to the URC preparations, Juhaim says, "It's all about prioritising. Initially we were afraid to some extent, but now we have realised to achieve something it is necessary to nip the fear."
The presence of Indian institutes in such competitions is proving to be a morale booster for the rest of the country as well. Inspiration Mars Student Design Contest, another feature of the Mars society also boasts of an Indian inclusion. The aim of this competition is design a two-person Mars flyby mission for 2018 as cheaply, safely and simply as possible. The Indian institute of Sri Venkateswara College of Engineering, Sriperumbudur, Tamil Nadu has managed to enter the finals. Even in the CanSat last year, Juhaim and his current team mate Abhimanyu Nair were active participants. Last year however they faced Visa issues and to avoid any thing of that sort, this time they have planned to be well prepared. The team leaves for the competition on May 20th .
Speaking of their preparations, Prof Xavier, Dean of Academics for TIST, says, "We are extremely proud of them. Our students always show enthusiasm and interest in a lot of technical competitions and fests. They are also a part of Start Up Village. Our students are young entrepreneurs and have an active interest in things. Their preparations are in full swing and we are sure they will do well."