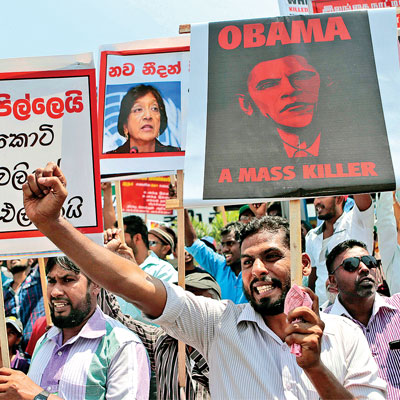 With no political stakes left for Congress in Tamil Nadu politics, the Congress-led UPA government at the Centre took a calculated diplomatic gamble as it abstained from voting on a US sponsored resolution against Sri Lanka on alleged human rights violation in the UN's Human Rights Council.
The decision was probably helped by the fact that ahead of Lok Sabha elections, Congress at present has no tie-up or alliance with any party in Tamil Nadu.
A section of experts believes that the decision to abstain was also a corrective measure as last time when India voted in favour of such a resolution, it was found isolated as all other Sri Lanka's neighbours were with the island country.
Experts stated that Congress is already completely routed in Tamil Nadu and is untouchable and thus the decision to vote in favour or against would not help them anyhow electorally.
Former Indian ambassador G Parthasarathy said the decision to abstain from voting is a kind of corrective measure that India's policmakers have taken.
"India's decision is like corrective measure … India was under criticism for PM Manomhan Singh not going to Colombo during CHOGM and seeing for himself what India is doing for Tamils welfare in Sri Lanka. The summit had provided him a great opportunity to meet CM of Sri Lanka's Northern Provincial council and discuss with him what more Indian can do," Parthasarathy told dna.
He further explained that India's abstention from voting is in line with our principal that "we don't vote for country specific resolutions targeting individual developing countries."
"In this particular case it is happening at a time when government of India is pouring huge money for rehabilitation of Sri Lankan Tamils … it is also at a time when every neighbour including China is backing Sri Lanka," Parthasarathy added.
Earlier in the day, India for the first time abstained from voting on the US-sponsored resolution against Sri Lanka. The resolution was passed by 23 votes in favour as against 12 in opposition and 12 abstentions in the UN's Human Rights Council.
In an explanation of vote given by Permanent Representative of India to the UN Offices here, Dilip Sinha, said this resolution at the UNHRC imposes an "intrusive approach" of international investigative mechanism which was counterproductive apart from being "inconsistent and impractical".
This is for the first time since 2009, India has abstained from the voting on the resolution - 'Promoting reconciliation, accountability and human rights in Sri Lanka'. All three times- 2009, 2012 and 2013 - India voted in favour of the resolutions.
Sinha noted that unlike the resolutions in 2009, 2012 and 2013, this resolution asks the United Nations High Commissioner for Human Rights (OHCHR) to "investigate, assess and monitor" the human rights situation in Sri Lanka which was an "intrusive" approach that undermines national sovereignty.
"It has been India's firm belief that adopting an intrusive approach that undermines national sovereignty and institutions is counterproductive. Any significant departure from the core principle of constructive international dialogue and cooperation has the potential to undermine efforts of Human Rights Council for promoting universal respect for the protection of human rights and fundamental freedoms," he said.
Moreover, any external investigative mechanism with an open-ended mandate to monitor national processes for protection of human rights in a country, was not reflective of the constructive approach of dialogue and cooperation envisaged by earlier UN General Assembly resolutions, he added.