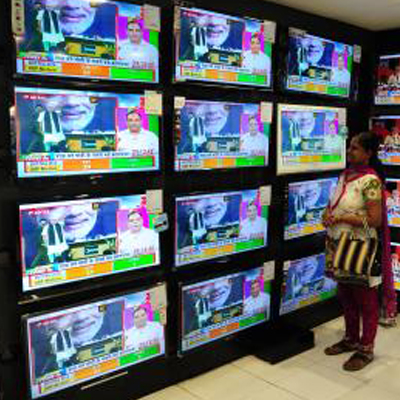 The cyber crime wing of the Hyderabad police on Saturday broke an illegal television transmission racket, which involved the broadcast of various national and international channels. Rackets like these cause the film and television industry an annual loss of over Rs 6,000 crore.
A raid in the Tirumalgheri area of Secunderabad led to the unravelling of the illegal cable transmission scam. According to the police, Jadoo Management was illegally trapping and broadcasting various national and international satellite television signals. They were also making away with thousands of crores by live streaming 115 Indian and various other foreign channels in over fifteen countries. The channels were paid no fee in return. The police have arrested Kashif Ali Khan, Jagadishwara Chari, N Sai Kumar and J B Meghanandan. Under the name of 'Pearl Technology', they were carrying out signal piracy.
According to Mahendar Reddy, police commissioner, Hyderabad​, Jadoo TV, a US based company, has been illegally selling set-top boxes in the United States, the United Kingdom and Australia since 2009. Jadoo TV was run by Faisal Aftab and Sajid Sohail. The consumer had to pay only $200 and by joining an internet connection to the set top box, they could enjoy live streaming of any channel, while the channels were paid no subscription dues.
"According to the police, the accused started the illegal cable transmission scam a few years ago in Bangalore. They have been periodically changing offices to escape the authorities," said Prasad Bhosekar, Zee Media, Hyderabad.
"The police is charging the accused under the IT, IPC and Cable TV acts. We are now searching for Sumit Ahuja, the CEO of the company -- Pearl Technology, the man who masterminded the entire scheme. He is rumoured to have fled the country and hence a red corner notice has been issued for his capture," said the police commissioner. "This matter is of paramount importance as it has been creating an yearly loss of about Rs 6,000 crore to the film and television industry. This raid should serve as a warning for any other illegal transmission rackets and should also be an alert to any consumers who use such connections for their televisions," he added.