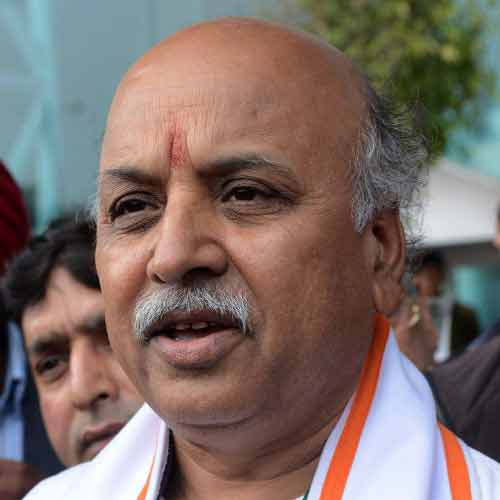 Pravin Togadia created ruckus for making communal statements whivh were rebutted by BJP's Prime Ministerial candidate Narendra Modi. Below is a transcription of his advice given at Bhavnagar as mentioned by LiveMint.
The meeting was called after a man, apparently a Dawoodi Bohra, bought a property in a Hindu area. The other Hindus in the neighbourhood want him out. Togadia is offering them advice.
The video is clear and so is the audio. No words or sentences are inaudible.
"In many of India's villages and cities, Muslims have been doing this sort of thing for a long time.
They buy one building at high price, and then buy out at half-price the surrounding buildings owned by Hindus
This is a part of their strategy.
How can this be stopped? It can be stopped in two ways.
First, that the government applies the Disturbed Areas Act, which has been applied in Ahmedabad and elsewhere. This happened after an agitation during the Congress government, and exists before the BJP (Bharatiya Janata Party). If this Act is applied in Hindu-majority neighbourhoods, Muslims will be forbidden from buying property. Not even through a power of attorney. For this, put pressure on the government and get it done.
The second way is to consult a lawyer, forcibly occupy the building and put a Bajrang Dal board on it. Forcibly occupy the building and put a Bajrang Dal board and then we fight it out in court (applause). Nobody has been hanged for illegally taking over someone else's property.
If a case is filed, we'll fight it out and if Rajiv Gandhi's killers were not hanged none of us is about to be hanged (applause).
Start a Bajrang Dal office. When they come to take possession we'll sort them out. (applause)
This my straight, direct action talk.
Try to get the law changed by the government also. For that, get together, put it in writing and hold a press conference, and make a demand of the government. That they apply the Act and ensure that in Hindu majority areas no Muslim be allowed to buy property. Such a law is in place in both Baroda and Ahmedabad and I had myself agitated for it. I'm the man principally responsible for its legislation in Gujarat. By this I mean when I was in Gujarat, around 1990 or so.
This law can also be applied in Bhavnagar. For it a memorandum has to be prepared and given to the government.
The elections are upon us. The mouth will only open if the nose is force-pressed. When we feed our son medicine we need to hold his nose. If we can do this even to our child, we need feel no shame in doing it to the government. No need to differentiate between BJP and Congress in such things.
For the protection of Hindus, press the BJP's nose and the Congress's nose. The protection of Hindus is the principal issue, the political party is not the principal issue.
Even those in the BJP should not be ashamed to do this. And those in the Congress should not bring politics into this. Whether the BJP is better or the Congress, let us not get into this.
Let us get together and put pressure to bring this Act to bear. Consult the lawyer tomorrow and the day after tomorrow, break the lock and put a Bajrang Dal board.
I've done this before, and I've kept possession of a building for a long time through a Bajrang Dal board. The Muslim lost his money and the building both (applause). The case kept being fought out in court.
What I've just said, brothers and sisters, don't make it public, all right? (laughter).
Do a gherao and a group of 500-1,000 should be there in the gherao. Look: Taking the law into their hands, Muslims in Kashmir frighten the army. So where we have a majority, we should be brave enough to take the law into our hands and frighten them. (applause).
To gherao him in his shop that is such an attempt to frighten him. We should not run away, his (Sala's) shop we should shut instead. This is an aggressive war strategy.
You go for the gherao of his shop, and put a board of the Bajrang Dal or Vishwa Hindu Parishad.
Is that all right?
Announce at the press conference that if the building is not taken back in 48 hours then thousands of us will arrive for a gherao of his shop.
And go with stones and rocks, and burn tyres. Create the atmosphere of a riot (laughter). They will fall at your feet, saying: "It's election time, please don't do this now".
Tell them: "Then get our building vacated and chase him off."
Get the police commissioner involved. Have you understood? Tomorrow or day after hold the press conference. Announce the programme to gherao the Vohra's shop. Come there in full strength. Women should be in front. And sisters, listen: We do not run away. We chase them off. That is our way. Go to their shops and chase them from there.
Organise programmes to spit on them when they come out. They have to come out, right? There's no punishment for spitting on people (laughter). There's no punishment for pelting tomatoes on people.
Ten-fifteen youngsters should keep vigil and the moment they come out, pelt them with tomatoes.
I've fought this fight for many years. Even if some don't like it, move in this direction and fight on many fronts. Either the building is vacated or the occupation is ours. If his money is gone it's gone. No point in fighting now with the Hindu who sold the property. He, poor fellow, has sold and left.
These are the few things I wanted to say. Let them fight it out in court so long as we have possession. And the neighbours should give an affidavit saying that the Bajrang Dal was running an office there for six months. All right, then, sorted?"