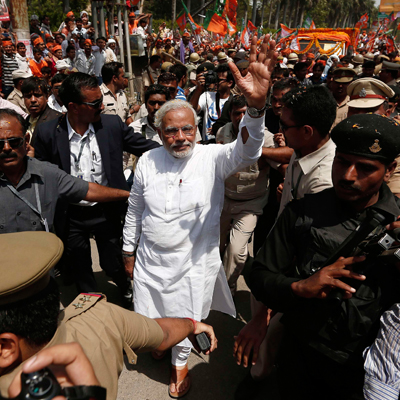 BJP's prime ministerial candidate sounded happy and even overwhelmed by the response he got during the election campaign. In a moment of messianic exultation, he tweeted on Sunday, "There's something in India's soil that makes India special. Our destined goal of Jagat Guru calls. Let's create a strong and developed India."
He also felt overwhelmed by the response he got during the election, where he said he addressed over 5,800 meetings and gatherings since September 13 when he was chosen as BJP's prime ministerial candidate and travelled more than three lakh kilometres. He described the experience as "an extensive, innovative and satisfying journey." He recorded his sense of gratitude in a tweet saying, "I am overwhelmed by people's response. I assure them we will repay their affection with unprecedented development."
Modi was unabashed in his expression of love for UP. He is fighting his second seat from Varanasi, the holy and cultural city in the state. He tweeted saying, "UP has won me over. I have received tremendous affection from people of UP during the entire campaign. My gratitude to the people of UP."
In the tweets that followed, he did not speak of his own election in Varanasi though polling in the constituency is due on Monday. "Give BJP all seats from UP & give us the opportunity to take UP & India's development journey to newer heights," he tweeted.
He also said that after his final campaign rally he called on former prime minister and BJP elder Atal Bihari Vajpayee and that he did the same before the start of the campaign. "After addressing the final campaign rally came to seek Atalji's blessings. Had met him when campaign started. It's always special to meet him."
The party workers came for special praise by Modi in his blog and also the leaders of the party. "Nothing made me more glad than seeing the enthusiasm of our karyakartas (workers)," Modi noted. He also mentioned the party leaders: "In the entire campaign, we received the continuous support and guidance of the leaders of the party."
Modi addressed the largest number of rallies, about 440, followed by that of party president Rajnath Singh, who had addressed nearly 150 election meetings. He also addressed 4,000 "Chai pe charcha" rallies and 12 rounds of 3D rallies at 1,350 locations.
When he praised party leaders, what Modi has in mind is the fact that his itinerary was meticulously planned in consultation with senior leaders of the party, at the organisational and at the constituency levels.
At the end of his blog, he made a final appeal to the people to go out and vote on Monday.