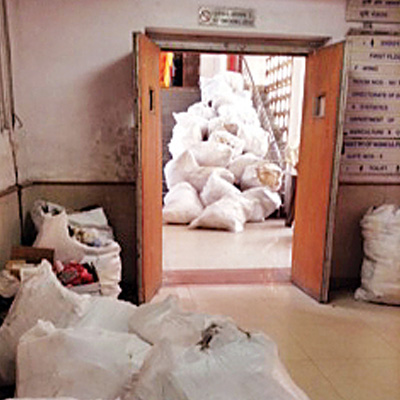 Good days are here for Delhi scrap dealers. With the prime minister, Narendra Modi, directing every ministry to clean its stables, the scrap-dealers are spinning money. Over the past three weeks, some 70,000kg of scrap has been generated from Shashtri Bhawan that houses just four central ministries. On an average, the scrap dealers are making at least Rs10 lakh from each ministry.
Scrap dealers told dna that they never had such a roaring business.
"The business that we usually get in a full year has landed in our laps in just three weeks' time, thanks to the new prime minister," said Pradip Kumar, a junk dealer, who has a contract with four ministries in Shastri Bhawan. Since Modi assumed office and asked for a clean-up operation in central ministries, a joint secretary rank officer has been put in charge of cleaning and sanitation.
Every morning, officials can be seen removing old files and shredders, overworking time; and where shedders are not available, the ministry employees are seen using hands to tear papers. The old furniture is being weeded out to create space and there is a clear attempt to give a corporate look to the dark and dingy government offices.
The operation has immensely helped junk dealers, who otherwise used to manage 24,000kg of scrap every month from the ministries of human resources development, youth affairs and sports, corporate affairs and petroleum and natural gas. They have already surpassed 70,000kg of scrap so far. "The process is not yet over. We are expecting another 50,000kg of scrap in the next one month," said Kumar.
Ravi Dubey, another scrap dealer who has a contract with ministries of agriculture, consumer affairs and food and supply in the nearby Krishi Bhawan. has won a contract worth Rs7.35 lakh. "Every five years when the new government assumes office, our business increases. But I had not expected my business to grow so much in such a short span of time," said Dubey, who has been in scrap dealing for more than 20 years now. "But I have never seen a clean-up drive," he added.
The junk dealers used to engage two to three people for the job. "Now, we have 13 people. Every department wants additional manpower to tear papers before they can put them inside the bags to be taken away," confided Pramod, another scrap dealer at the Nirman Bhawan, that houses health ministry.
Besides papers, folders and file covers, the scrap dealers are also getting cardboard boxes of all sizes and redundant furniture that was otherwise piled up in the corridors, cervixes, or stashed below stairs. "We were never allowed to pick up this stuff. But now everything is up for grabs as there is urgency to clean the space. For the past one week, we have been carrying out a truck full of scrap every day," said Babli, another scrap contractor.
The scrap dealers are hoping that the ministries will soon call a fresh contract for disposing of its electronic waste. Like the officials, these scrap dealers are also working over time. They say that they have been working in the ministries over the weekends as well. Incidentally, it is not just the scrap dealers, who are astonished by the volume of scrap being generated. Many working in these ministries also feel the same. "I have been a government employee for the past 36 years. Never in my career have I seen an office cleanliness drive of this scale," said a senior officer working with the ministry of urban development.