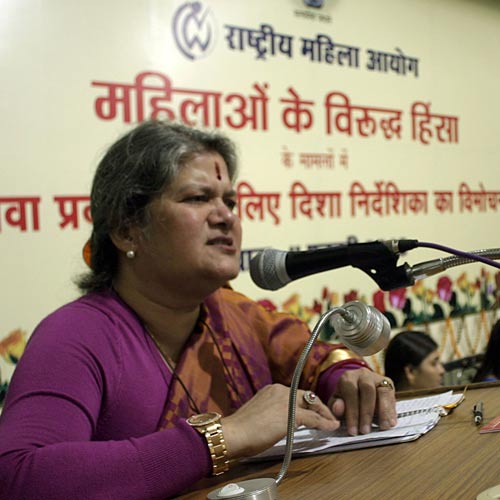 A year after the December 16 gang rape, the National Commission of Women (NCW) continues to be a toothless body. In one year's time, the commission has just managed to come up with a report on prevention of sexual harassment of women at workplace. There is no direction on the way forward and no action plan.
The commission wants at least Rs100 crore from the Nirbhaya Corpus Fund for running a countrywide anti-sexual harassment awareness programme. "We have no money. Out of the Rs 9 crore that we get each year, Rs four and a half crore goes into paying salaries. The remaining amount is too small for carrying out a nationwide campaign," said Mamta Sharma, chairperson, NCW.
The NCW has sent a proposal to the ministry of women and child development seeking funds for drawing a map of vulnerable areas in the country where women are prone to violence. The commission also proposes to set up rural and urban facilitation centres at grassroots level to deal with women's issues.
The commission wants more powers to function effectively. "In case of any complaint, we can only summon the accused. After that our hands are tied. We have no powers to punish or penalise anyone. We are a toothless body. If this goes on for long, the commission will lose its seriousness," said Sharma. Sharma also said that her office has written several letters to prime minister Manmohan Singh and UPA chairperson Sonia Gandhi seeking their intervention in the matter. "Unfortunately, we are yet to hear from their offices." Lawyer and women's rights activist, Kirti Singh, feels that the need is also to bring police reforms and make the police answerable if they fail to register a complaint. "The only good thing that has happened in the past one year is that people have started discussing rape and it is not the victim but the accused who is being made to feel embarrassed," said Singh.
Needed: Funds, power
The NCW wants at least Rs100cr Nirbhaya Corpus Fund for running a countrywide anti-sexual harassment awareness programme.
The NCW has sent a proposal to govt seeking funds for drawing a map of vulnerable areas where women are prone to violence
The commission wants more powers to punish or penalise those who attack women