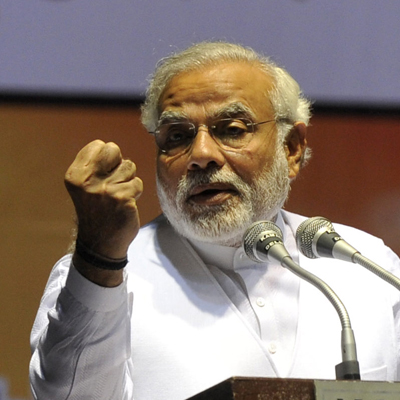 In his latest interview to a news channel, Narendra Modi expressed his views on various issues and also shared his thoughts on how our country currently is and how it should actually be.
Here are ten highlights from the BJP's prime ministerial candidate's latest interview.
* In every phase of these elections, I have realised that the elections have become biased and the Congress have themselves made it a Modi-centric election. They (Congress) hoped for the BJP to elect me as their prime ministerial candidate assuming that the public would not be in my favour. But their assumptions have failed. And now, Congress and Sata Dal have almost left the battleground. Major leaders from the Congress have refused contesting in the elections. I am sure that with this, people have realised that the Congress is now a Sinking Ship.
* Talking about Priyanka Gandhi's allegations about him, he says she is a daughter who is trying to defend her mother and build an image for her brother, I don't blame her. She is doing what any daughter would do, for her mother and brother. A daughter is a daughter, and in the course of standing by her mother, even if she abuses me, I wouldn't mind.
* When asked about his views on the prime minister Manmohan Singh dismissing the presence of a Modi wave, Modi said, "those who live in air-conditioned offices the entire day, will have no idea about the outside weather. Our prime minister is one of those who haven't had the opportunity to fight an election or interact with people and those who do not interact with people will not have an idea about the texture of the air or the intensity of the sunlight, so we cannot expect him to know about the wave. If he finds time to move outside, he might probably change his views.
* Discussing about the UPA government's role in the elections, Modi spoke about the attempts being made by the Congress to create obstacles for the BJP. He said that, "Initially, the UPA wanted to ensure they get power to rule once again. Then, they realised this is difficult so survival in the elections became their priority. Later when it became apparent to them that this time it will be the BJP government coming into power, they wanted to ensure NDA does not form a powerful government. And now they have been striving hard to see to it that we face obstacles in forming the government or that we form a weak government with fewer seats so that in a span of 5 years they can trouble and shoo us away.
* Talking about himself he said, "I am a person with a lot of clarity of thought, I do not live under any sort or pressure." And when asked if he has changed as people have been claiming that the Modi at present is a person who takes a stand on issues more often unlike he used to before, he replied, " a thorough check hasn't been done on the things I have said before, people now analyse and pay attention to my words more than they did before and so nobody has noticed that I used to take a stand on important issues even earlier too."
* In the interview Modi speaks about the importance of three revolutions - green, white and saffron - referring to the colours of the Indian national flag. Green revolution and white revolution have started and is very essential but equally important is the saffron revolution which hasn't been given much focus. Saffron is the colour universally used to refer to as 'energy' and it is very important that a strong saffron revolution be run in our country. We have to be self-sufficient in the energy sector, mentioned the BJP's candidate.
* Modi said that he still feels that many roots of problems in the nation is in Delhi. If we have a strong government in Delhi, we can surely have friendly relations with every nation.
* Speaking further on the previous point, he said, our relations with other countries should be such that we neither look down upon them nor get intimidated by them. The thing is neither is our nation or our fellow countries weak. And when I say strong I don't mean strong with arms and ammunition but strong international relations which will come with mutual understanding between nations, technological transfer, trade transfer and knowledge transfer.
* A nation big enough with 125 crores of population, who has the possibility of becoming a super-power can make it really big if they have a strong force behind them. People would no longer have to fear about anything. And our nation should serve as a platform for all those who wish to do something.
* Modi confessed that he feels privileged to have traveled, stayed overnight and interacted with the locals in more than 400 districts around the country as a politician. I've lived the life of a labourer and even today I work like a labourer, being the chief minister and in the future also till my body works, I would love being called the number one labourer of the nation.
Watch the complete interview below