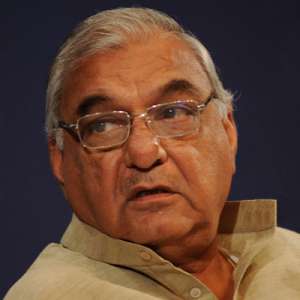 In a revolt against Chief Minister Bhupinder Singh Hooda ahead of Assembly elections, Haryana Power Minister Ajay Yadav resigned today, saying the leadership has "failed" to learn lessons from the Lok Sabha election debacle.
The 55-year-old six-time Congress MLA from Rewari alleged bias in matter of development, recruitment and flayed the controversial induction of members of various Commissions and statutory bodies and "domination" of the bureaucracy.
Yadav told PTI here that he had sent his resignation to Hooda. He, however, said he would continue in Congress till the end and Sonia Gandhi is his leader.
He said the Congress won only one seat in the state in the Lok Sabha elections, but has failed to learn any lessons.
"Somebody has to bell the cat...and I decided to take the step (resign)," he said.
Asked about Hooda's response to his resignation, Yadav said the Chief Minister asked me to reconsider, but he declined.
"I am waiting for the Congress High Command to take a decision," Yadav said.
Asked if he had raised the issues at various cabinet meetings, Yadav said the cabinet meetings are restricted to the agenda.
"I had detailed the reasons for the party's defeat before the Antony Panel," he said, adding he would soon meet the party leadership.
"I want respect. If that is not given what else can I do.
I had to make the sacrifice of resigning under compulsion when the bias in matter of development, recruitment, induction of members of various Commissions and other statutory bodies, domination of the bureaucracy and neglect of party cadres, including MLAs continued and the party failed to learn any lessons from the Lok Sabha debacle," he said.
"It was essential for me to resign to give a message so that the party does not face the same situation in forthcoming assembly elections which it faced in the recent Lok Sabha elections," he said.
Yadav claimed that development and other activities in the state had been confined to a couple of districts, which he did not name.
Yadav also opposed the induction of two members to State Information Commission and three to Right to Service Commission, saying only bureaucrats have been inducted as members.
"Didn't they (Government) see any politician or other persons? If the posts had been given to party cadres it would have been better," he said.
Asked about reorganisation of the state unit of the Congress and appointment of youth leader as HPCC President, Yadav said, "Ashok Tanwar should work independently. He should take all leaders along in order to strengthen the party." On reports that another senior leader Birendar Singh was unhappy with the state leadership and that he may switch over to BJP, Yadav said that if that happens it will certainly be a loss for the party.
Yadav said a medical college proposed to be set up under the PPP model in his area had remained on paper only.
"No further action has been taken in the matter," he said, adding there were various other instances reflecting "bias" of the state government in carrying out developmental works and recruitment to various departments, etc.