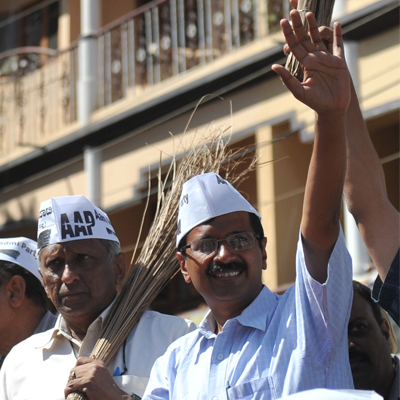 Aam Aadmi Party (AAP) chief Arvind Kejriwal has alleged that BJP government in Gujarat has failed to curb corruption during its 12-year rule.
Addressing a party rally here last evening, Kejriwal said that no work can materialize without paying bribe in the state.
He said if the BJP government comes to power, unemployment will increase in the country as the party will allow FDI in retail.
The former Delhi Chief Minister further said he would make life difficult for both Congress and BJP in the coming days.
"These parties say I ran away from governance. I didn't flee to Pakistan. I will struggle here, die here," he said.
"I am fighting for the country. I am fighting against corruption. They smashed windscreen of vehicle four times. The BJP members attacked us. I had gone to Bhiwandi, they attacked me and they punched me. I will fight from here. I will live and die here," he said.