Though senior Congress leader Ahmed Patel has long stopped taking active interest in the daily politics of the region, for better or for worse, he continues to be identified with Bharuch.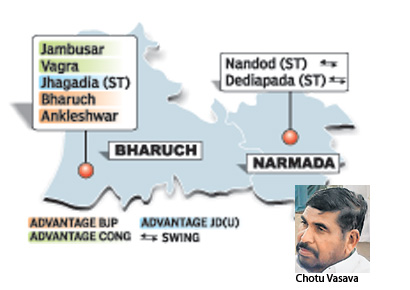 Central Gujarat is believed to be at the center of Congress's strength in the state. Political adviser to Sonia Gadhi, Ahmed Patel is the face of Congress in the region. Though the senior leader has long stopped taking active interest in the daily politics of the region, for better or for worse, he continues to be identified with Bharuch. For the past decade, Bharuch has anyways not been Congress's fiefdom.
For long, the buzz has it that central Gujarat, and Bharuch especially, is on Narendra Modi's hit-list to conquer. Tribal and Muslim votes dominate most of these seats. In 2007, only two of the five seats of the district were won by Congress – Vagra and Jambusar. This time, delimitation has changed dynamics, but the final tally is unlikely to improve for Congress – if it does not get any worse.
For Jambusar sources in the region believe Congress candidate Kiran Makwana and BJP's Chhatrisinh Mori are engaged in a close fight. Makwana is the sitting MLA, but he won with a close margin of 1001 votes in 2007. According to one estimate, Muslim community the largest electorate on this seat with nearly 30% of the total voteshare.
Vagra is the quintessential Congress seat with Iqbal Patel and his family members having represented it for a long time. BJP candidate Arunsinh Rana is a new candidate, handpicked by Modi. The CM recently campaigned here and directly targeted Ahmed Patel yet again. Notably, the rally was well attended.
In Vagra too, Muslim votes account for upto 30% of the electorate. For both these seats, it is this high Muslim vote share and the Patels' goodwill that may well sail Congress through. If Modi intends to conquer these, he has to hope for a swing in the Muslim and tribal votes – both Congress's loyal votebank.
Bharuch city and Ankleshwar are both conquered by BJP.
Going by the buzz, the saffron party will retain them. Due to industrialization, there is a massive influx of new immigrant voters on both these seats, most that are not Congress loyalists and the party has failed to convert them. Beneficiaries of industrialization, they identify more with BJP than Congress.
Nandod and Dediapada tribal dominated seats of Narmada district – are considered neck and neck combat. Nandod is a new seat created after delimitation. Dediapada was won by Congress with a decent margin of 23,000 votes with Mahesh Vasava – Chhotu's son, as the runner-up. BJP has been working hard here and this is believed to be amongst the swing seats.
JHAGADIA

BJP: Narendra Vasava
Congress: Balu Vasava
JD(U): Chhotu Vasava
Jhagadia is an interesting battle this time. JD-U's Chhotu Vasava has long been considered undefeatable on this overwhelmingly tribal dominated seat. This time sources claim, he has had to "step out to campaign". It might be a given for a contestant to campaign, but not for Vasava. Both BJP and Congress are trying to wrest it from the long-time 'Robin Hood' that Vasava has become. Though estimates give it that JD(U) may finally win, it is not an easy fight and may even throw up a surprise.