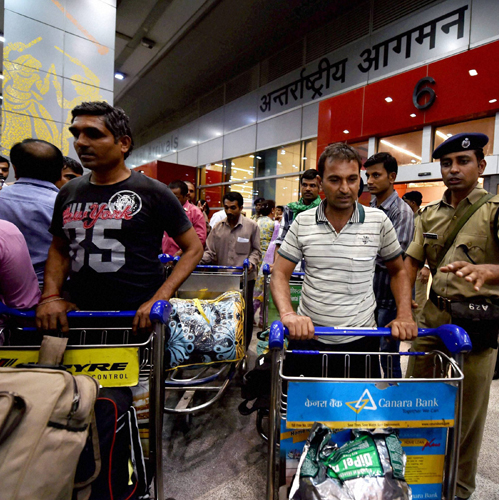 After successfully managing the return of the 46 stranded Indian nurses from Tikrit in northern Iraq where the ISIS (Islamic State of Iraq and Syria) Sunni militant group controlled the area, Indian government has now turned its attention to the Indians in the three important cities in southern Iraq – Najaf, Karbala, Basra – the first two scared Shia pilgrim towns.
Ministry of external affairs (MEA) spokesman Syed Akbaruddin told the media on Sunday that arrangements are now in place for the return of 2,200 Indians in the three southern Iraq cities. This was based on the response of the Indians there who expressed a desire to return to the mobile teams of six members each set up in the three cities. There is also mobile team in Baghdad as well apart from the assistance that is available in the Indian embassy there.
He said that about 600 people who needed assistance in terms of money for air passage has been arranged and 600 others made arrangement through their employers. An Air India flight from Najaf is bringing back 170, while two Iraq Airways flights from Baghdad, one of them going to Najaf to pick up the Indians, are bringing back 370 persons.
The government is arranging for the return of Indians through commercial flights where they are available – there are 10 commercial flights between Baghdad and Delhi every day – and special flights are being provided for those unable to find seats or flights.
The spokesman was cautious about the Indians who are still stranded in the conflict zone in the north, but asserted that even if one Indian remains it is one too many and the government would be working to get everyone back. He did not share any details about the 39 constructions workers who are learned to be struck in the conflict zone.
The expansion of the evacuation of Indians from southern Iraq seems to be based on the apprehension that the hostilities between the ISIS and the Iraq government could soon spread to these places as well. The ISIS is led by Sunni puritans who make no secret of their plans to destroy Shia shrines. The government has anticipated the possibility of Indians being struck in the conflict as it had happened in the north.
The MEA spokesman said individuals who have contractual obligations with their employers would have to sort it out themselves. The government can only help in terms of passage. In reponse to a query he said it is not within the purview of the ministry to deal with the implications of Iraq labour laws and the obligations of Indian workers under these laws.