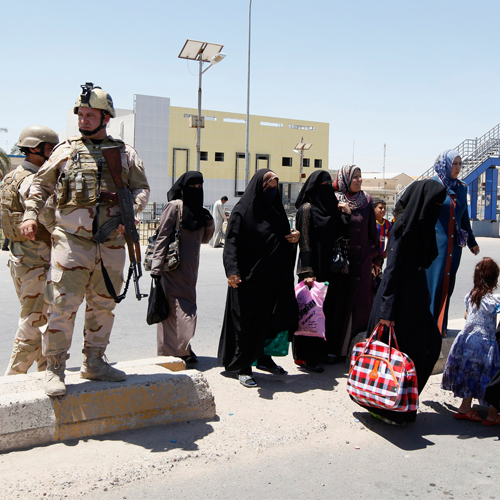 Several Indian nationals are currently stranded in Iraq, where the jihadist militant group the Islamic State of Iraq and the Levant​ (ISIL, or ISIS) is making rapid strides as it advances towards the capital, Baghdad. Even as Indian government has successfully ensured the safe return of some of its citizens, some still remain stranded in the war-torn country.
US launched Iraq air strike on August 8, 2014.
22:39 IST Sunday, 10 August 2014
Islamic State kills at least 500 from Iraq's Yazidi minority
Islamic State militants have killed at least 500 members of Iraq's Yazidi minority, burying some alive and taking hundreds of women as slaves, an Iraqi government minister told Reuters on Sunday. Meanwhile, a British newspaper reported that up to 70% of the Yazidis may have died.
22:05 IST Saturday, 9 August 2014
US aids displaced Iraqis as airstrikes help Kurds
The US on Saturday launched a new airdrop to aid thousands of members of an Iraqi minority group who fled from Islamic extremists, as Iraq's foreign minister said US airstrikes have helped Kurdish forces counter the militants' advance.
An American military team is currently in the Kurdish regional capital Irbil, working to ensure tactical coordination with Kurdish peshmerga forces, Iraqi Foreign Minister Hoshyar Zebari told a press conference late yesterday. "Air strikes are intended to degrade the terrorists' capabilities and achieve strategic gains and have been very effective," Zebari, a Kurd, said. Read more
1:58 IST Saturday, 9 August 2014
US lawmakers laud Iraq strikes, question long-term strategy
Lawmakers in Washington welcomed President Barack Obama's decision to attack advancing Islamist militants in Iraq, but some questioned whether his administration has a long-term strategy to arrest Iraq's disintegration.
23:14 IST Friday, 8 August 2014
White House says that until Iraq forms new inclusive government, US to focus on military strikes that protect American personnel and address humanitarian situation at Sinjar mountain.
It said that once Iraq forms new 'inclusibe government, US would be ready to deploy military force to help Iraq repel ISIL. It said that any future additional support to Iraq could not be prolonged and would not invlove boots on the ground.
22:10 IST Friday, 8 August 2014
Turkey boosts aid to north Iraq, unlikely to use force against militants
Turkey is stepping up humanitarian aid to northern Iraq, officials said on Friday, but looks unlikely to get involved in military action against advancing Islamist militants there unless its southern border with Iraq is directly threatened.
Turkey has a 370-km (230-mile) border with Iraq and has been alarmed by the advance of Islamic State fighters towards Arbil, capital of the Iraqi Kurdish region which has until now served as a buffer for Turkey against the instability further south. Read more
20:10 IST Friday, 8 August 2014
UNSC condems ISIL attacks in Iraq, Ban calls for International support
The UN Security Council has condemned "in the strongest terms" attacks on minorities by Islamist militants in Iraq as UN Secretary General Ban Ki-moon called on the international community to support the Iraqi government during the current crisis.
"The Secretary-General is deeply appalled at today's reports of attacks by the terrorist group Islamic State (IS) in Kirkuk, and Qaraqosh, and earlier attacks in Tal Afar and Sinjar district, affecting mainly the vulnerable communities of Christians, Turkomen, and Yezidis," Ban said in a statement issued by his spokesperson. Read more
18:50 IST Friday, 8 August 2014
US bombs Islamic State after Obama call to prevent Iraq genocide
US warplanes bombed Islamist fighters marching on Iraq's Kurdish capital on Friday after President Barack Obama said Washington must act to prevent "genocide".
Islamic State fighters, who have beheaded and crucified captives in their drive to eradicate unbelievers, have advanced to within a half hour's drive of Arbil, capital of Iraq's Kurdish region and a hub for US oil companies. Read more
18:59 IST Friday, 8 August 2014
Barack Obama authorises Iraq strikes to protect Christians, prevent "genocide"
US President Barack Obama authorised air strikes on Iraq to protect Christians and prevent "genocide" of tens of thousands of members of an ancient sect sheltering on a desert mountaintop from Islamic State fighters threatening to exterminate them.
In Baghdad, where politicians have been paralysed by infighting while the state falls apart, the top Shi'ite cleric all but ordered Prime Minister Nuri al-Maliki to quit, a bold intervention that could bring the veteran ruler down. The United States began to drop relief supplies to refugees from the ancient Yazidi sect, but there was no sign yet of air strikes, which Obama authorised for the first time since pulling troops out in 2011. Read more
16:52 IST Friday, 8 August 2014
Narendra Modi voices concern over Iraq as US Defence Secy meets him
Voicing concern over deteriorating situation in Iraq, Prime Minister Narendra Modi on Friday said he looked forward to his Summit meeting with President Barack Obama to discuss how India and the US can build a partnership for peace, stability and prosperity in the world.
Modi conveyed this to visiting US Secretary of Defence Chuck Hagel who called on him here. During the meeting, the Prime Minister was briefed on the announcements made by Obama on the steps the US plans to take to deal with the situation in Iraq. Read more
US President Barack Obama authorizes air strikes against Islamist militants in Iraq
US President Barack Obama said on Thursday he has authorized air strikes against Islamist militants in Iraq to protect American personnel and launched humanitarian assistance to prevent a genocide of members of a religious minority who have fled their homes.
The president, in remarks carried live over network television, said he has begun operations to assist Iraqis stranded on a mountain to escape the advancing forces of the
Islamist State, which have swept across northern Iraq in recent weeks. Read more
Now China works its way for a speedy political solution in Iraq
China hopes that Iraq can form a new inclusive government as soon as possible and will support efforts by Baghdad to protect its sovereignty, state media cited China's special envoy to the Middle East as saying on a visit to a key energy supplier. China is Iraq's largest oil client, and its state energy firms, which include PetroChina, Sinopec Group and CNOOC Ltd, together hold more than a fifth of Iraq's oil projects after securing some of its fields through auctions in 2009. Read more
7:38 IST Monday, 7 July 2014
Government to bring back 2,200 Indians in Najaf, Karbala, Basra
After successfully managing the return of the 46 stranded Indian nurses from Tikrit in northern Iraq where the ISIS (Islamic State of Iraq and Syria) Sunni militant group controlled the area, Indian government has now turned its attention to the Indians in the three important cities in southern Iraq – Najaf, Karbala, Basra – the first two scared Shia pilgrim towns. Ministry of external affairs (MEA) spokesman Syed Akbaruddin told the media on Sunday that arrangements are now in place for the return of 2,200 Indians in the three southern Iraq cities. Read more
7:39 IST Sunday, 6 July 2014
Another 200 Indians from Iraq return home today
Two-hundred Indians landed here from Najaf in trouble-torn Iraq on a special chartered flight of Iraq Airways early today. The flight landed here at around 0430 hours in the morning carrying the passengers. More passengers are expected to be airlifted and brought back from Iraq over the next two days from special flights including that of Air India. The plane was chartered by the External Affairs Ministry. This comes a day after 46 Indian nurses, who were held captive by ISIS militants in Iraq, and 137 others including 70 from Kirkuk in the northern part of Iraq, who returned in a special AI flight to Kochi via Mumbai yesterday. Read more
Indian nurses return home, vow never to return to Iraq
Forty six Indian nurses, holed up for nearly a month in a hospital in Kirkuk, Iraq, surviving on biscuits and bread, landed home in India on Saturday, and vowed to never again return to the strife-torn nation. Iraq's forces have been battling with Sunni rebels who have captured Mosul, parts of Tikrit and several posts along the Syria-Iraq border. The rebels, known as the Islamic State, handed over the nurses to Indian authorities on Friday; the nurses, all from Kerala, were then flown on a special Air India flight to Kochi, where they were welcomed not only by their families and friends, but also by state chief minister Oomen Chandy and hundreds of well-wishers. "We will not go back. There is no question of going back. We are not prepared to endanger our lives once again," said Sandra Sebastian. Read more
18:24 IST Saturday, 5 July 2014
Intensify efforts for release of Punjabi youths still captive in Iraq: Amarinder Singh
Senior Congress leader Amarinder Singh today appealed to the Centre to intensify efforts for the release of about 40 youths from the state held captive by militants in violence-ravaged Iraq. Welcoming the safe return of Indian nurses from Iraq, the Congress' Deputy Leader in the Lok Sabha said, "while it is a matter of great satisfaction and immense relief that the nurses have returned home, there is an overwhelming concern and anxiety among the relatives of the youth, most of whom are from Punjab, Haryana and Himachal Pradesh, about their safety and release." Read more
It is a 'rebirth', says twin sisters who return home from Iraq today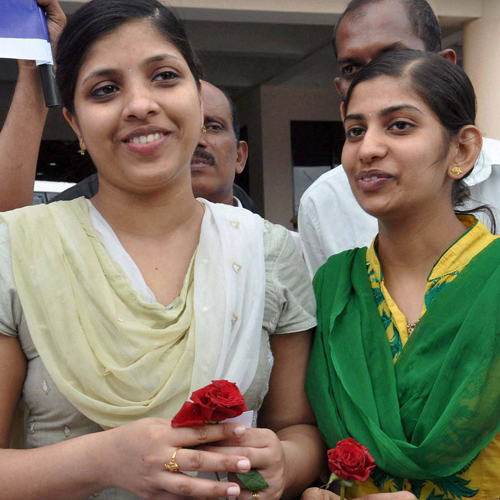 For the Indian nurses who returned here today from Iraq, to be back in the comfort of home far removed from bomb explosions nearby, gun-wielding militants and injured patients is like a "rebirth".
The nurses had sleepless nights in the past few days as the situation in strife-torn Tikrit city of Iraq and other nearby areas in Iraq started worsening.
Sona and Veena, twins who returned along with the other nurses, said the sound of shootouts and bomb explosions used to give them sleepless nights and they were scared about their future. They said their safe journey home is a re-birth for them. Read More
ISIS leader Abu Bakr al-Baghdadi purported to make public appearance
A man purported to be the reclusive leader of the militant Islamic State has made what would be his first public appearance at the grand mosque in Iraq's second city, Mosul, according to a video recording posted on the Internet on Saturday. The 21-minute video came after reports on social media that Abu Bakr al-Baghdadi would make his first public appearance since his Islamic State in Iraq and the Levant (ISIL) changed its name to the Islamic State and declared him caliph - a title held by successors of the Prophet Mohammad. Read more
Watch the video below:
13:10 IST Saturday, 5 July 2014
BJP flashes party posters outside Kochi airport
In order to heap praise on BJP for handling the situation, party workers put up banners outside the Kochi airport, thanking Prime Minister Narendra Modi and External Affairs Minister Sushma Swaraj for the rescue efforts which resulted in the 46 nurses returning safely to the country.
13:06 IST Saturday, 5 July 2014
Thrilled to be in India said Nurses:
While leaving Kochi airport, nurses spoke to Malayalam TV channels and said they were absolutely safe and happy to be back. "We were well taken care of, but will never return to Iraq," said one of them to the television channel.
The nurses were received by their family members at the airport. They said they never expected that they would emerge from the conflict situation alive. The nurses said that they were fed for and looked after as insurgents provided biscuits and juice.
MEA spokesperson Syed Akbaruddin said the remaining Indians evacuated from Iraq will disembark at Hyderabad. He tweeted the update soon after the flight took off from Kochi to
Air India from Iraq - next destination is Hyderabad! 76 Indian workers from Kirkuk to disembark at Hyderabad.

— Syed Akbaruddin (@MEAIndia) July 5, 2014
Air India plane with nurses & other workers from Iraq changes crew in Mumbai & heads for Kochi.

— Syed Akbaruddin (@MEAIndia) July 5, 2014
There are no hopeless situations - Indian nurses in Iraq are now free http://t.co/eOKWGFjReL

— Syed Akbaruddin (@MEAIndia) July 4, 2014
12:51 IST Saturday, 5 July 2014
Hope all Indians return home safely from Iraq: Parkash Singh Badal
Punjab Chief Minister, Parkash Singh Badal, today hoped that all the Indians stranded in Iraq return home safe and sound.
12:14 IST Saturday, 5 July 2014
46 Indian nurses who were stranded in Iraq and held captive by ISIS have landed in Kochi onboard a special Air India flight.
12:10 IST Saturday, 5 July 2014
Narendra Modi Government worked systematically to get nurses back from Iraq: Mukhtar Abbas Naqvi
Bharatiya Janata Party (BJP) leader Mukhtar Abbas Naqvi on Saturday claimed that the BJP-led NDA Government worked systematically to free and get back the 46 Indian nurses stranded in Iraq.
11:26 IST Saturday, 5 July 2014
Kerala CM Oommen Chandy meets nurses who return safely from Iraq
An Air India flight carrying Indian nurses who were stranded in strife torn Iraq finally landed at Mumbai's Chhatrapati Shivaji International Airport (CSIA) on Saturday morning. The flight further proceeded on its route to Kochin from where it will move to Hyderabad and then to Delhi. An Air India spokesperson said that none of the Indian nurses alighted in Mumbai. "About an hour after landing here in Mumbai, the flight took off for Kochin" added the spokesperson.
9:47 IST Saturday, 5 July 2014
Special aircraft with Indian nurses on board from Iraq lands in Mumbai
According to reports, the Air India Boeing 777 has stopped over in Mumbai for refueling and will head to Kochi shortly. Most of the Indians being brought back from Iraq belong to Kerala.
Latest on Iraq Crisis: Special aircraft with Indian nurses on board from Iraq lands in Mumbai
Very happy that they are coming back, finally our worries have ended: Relative of Indian coming back from Iraq pic.twitter.com/PqEdwOLcBZ

— ANI (@ANI_news) July 5, 2014
9:12 IST Saturday, 5 July 2014
46 nurses safe in Iraq, set to reach India today
Forty-six Indian nurses who were earlier taken into custody by Sunni insurgents in Iraq will return to India by Saturday morning, according to latest information available from various sources.
According to a PTI report, a spokesperson of the external affairs ministry said in New Delhi, "I can confirm that the Indian nurses moved out against their will are free. They are in touch with the Indian Embassy officials at Erbil." Erbil in north Iraq is the capital of Kurdistan region of the Arab Gulf country.
9:16 IST Saturday, 5 July 2014
Special Plane Carrying Indian Nurses leaves Iraq's Erbil Airport
The special Air India flight sent to bring back 46 Indian nurses and over 100 others has taken off from the airport in Erbil in the autonomous region of Kurdistan. The nurses were freed by Sunni militant group ISIS in war-torn Iraq on Friday evening.
Sunnis, Kurds abandon first session of Iraq parliament after no replacement for Prime Minister Nuri al-Maliki is named
Sunnis and Kurds walked out of the first session of Iraq's new parliament on Tuesday after Shi'ites failed to name a prime minister to replace Nuri al-Maliki, dimming any prospect of an early national unity government to save Iraq from collapse. The United States, United Nations, Iran and Iraq's own Shi'ite clergy have pushed hard for politicians to come up with an inclusive government to hold the fragmenting country together as Sunni insurgents bear down on Baghdad. The leader of the Al Qaeda offshoot spearheading the insurgency, the Islamic State, has declared a "caliphate" in the lands it has seized in Iraq and Syria. Its leader vowed on Tuesday to avenge what he said were wrongs committed against Muslims worldwide. Despite the urgency, the Iraqi parliament's first session since its election in April collapsed when Sunnis and Kurds refused to return from a recess to the parliamentary chamber after Shi'ites failed to name a prime minister. Read more
7:00 IST Tuesday, 1 July 2014
Lone Iraqi youth is Indian nurses' sole contact to outside world
Breakfast for the 31 of the 46 Indian nurses holed up in the besieged Tikrit Teaching Hospital was biscuits dipped in black tea. There were no plans for lunch. All they had was a three-fourths full sack of rice, a little cooking oil and an LPG cylinder to do the cooking. Fortunately, lunch would be served. The Iraqi youth they had sent out on Sunday morning with a list of things to buy, essentially foodstuff, returned on Monday morning. The Iraqi youth is their only conduit to the outside world. Read more
19:40 IST Monday, 30 June 2014
#dnaWebExclusive: Pay $500 if you want to leave Iraq, says firm to four young men from Latur
The distraught families of the youths have now appealed to the Indian government to bring their boys back, as they don't have the money to return on their own. All the four youths – Dynaneshwar Bhosale, Nitin Kamble, Pramod Sonawane and Balaji Bhosale – ?hail from Nilanga town in Latur district. Unemployed and in poor financial condition, the four young men were in desperate need of work. "Rasul Shaik, a resident of the same town, was aware of the financial condition and suggested them to go to Iraq so they would get better pay. Within a few months, Shaik introduced them with the Mumbai based agent and arranged a job for all of them," said Dynaneshwar Bhosale's brother, Sambhaji.
Indian Nurses trapped in Iraq want China-type intervention
The battle rages outside Tikrit Teaching Hospital compound in Tikrit in Iraq. Inside their "hellhole" in the compound, 46 Indian nurses, all of them from Kerala, are scared of the approaching night, when Iraqi government helicopter gunships will start strafing and bombing rebel positions. The nurses refute MEA claims that the hospital compound was hit by bombs on the nights of Friday and Saturday. Sunday morning, after a second harrowing night of cowering in their hellhole, listening to sounds of war, the nurses were so unnerved, one of them called up a friend in the UAE who narrated their plight to dna. The friend/source says he talks to the nurses at least five to six times a day, and that they reach out to him as he is "now almost one of them". Read more
23:42 IST Sunday, 29 June 2014
* ​The ISIS has declared an Islamic caliphate in the Middle East
ISIS militants fighting in Syria and Iraq announced Sunday the establishment of a "caliphate", referring to the system of rule that ended nearly 100 years ago with the fall of the Ottomans.
* Who is Abu Bakr al-Baghdadi, the newly appointed 'Caliph' of 'all Muslims'?
Abu Bakr al-Baghdadi, the shadowy jihadist fighting in Iraq and Syria, and newly declared leader of a "caliphate" encompassing all Muslims, is increasingly seen as more powerful than Al-Qaeda's chief. The leader of the powerful Islamic State of Iraq and the Levant (ISIL) militant group was declared Sunday the "caliph" in an attempt to revive a system of rule that ended nearly 100 years ago with the fall of the Ottoman Empire. Read more

21:34 IST Sunday, 29 June 2014
Air India on Sunday kept three planes on standby for evacuation of Indian nationals in strife-torn Iraq even as the Government reviewed the situation in the region at a high-level meeting after which it said the 39 abducted Indians were safe. The government also said that it was in touch with the 46 Indian nurses stranded in the militant stronghold of Tikrit and that they were unharmed. Read more
Sushma Swaraj meets family members of kidnapped Indians in Iraq
The family members of those kidnapped in war-ravaged Iraq on Sunday met External Affairs Minister Sushma Swaraj who assured them that the government was taking all steps for the safety and evacuation of their close ones and to directly contact them. After over one-and-a-half-hour long meeting with the family members, Swaraj said she made them read the written message sent by the Indian Ambassador that they were in "regular touch with red crescent" which has developed contact with them and wrote to us that they are safe. Read more
20:30 IST Sunday, 29 June 2014
Gulf missions' welfare funds to be used for helping Indians in Iraq
With deepening Iraq violence, India on Sunday decided to transfer part of welfare funds in the Indian missions in Gulf countries to its embassy in Baghdad to be used for helping Indians in the conflict-hit country where it is facilitating departure of 10,000 nationals. This decision was taken at a meeting, which was chaired by External Affairs Minister Sushma Swaraj, of top Indian envoys to the Gulf countries to chalk out future strategy for safety and evacuation of nationals in Iraq. Read more
08:21 IST Sunday, 29 June 2014
India gets into pro-active mode over Iraq crisis
Amidst allegations that India's efforts to rescue its trapped citizens in Iraq were proving futile, the government on Saturday got into a pro-active mode. After a national crisis management committee meeting on late Friday, it was decided to send a team of officials from the ministry of external affairs to facilitate return of 10,000 Indian in non-conflicting zones, besides dispatching a warship INS Mysore to the Persian Gulf, near the conflict zone, in an attempt to raise stakes in the region and facilitate release its 39 hostages held by the Sunni fighters. Read more
Also read:
Iraq gets Russian Sukhoi warplanes as it takes fight to ISIL militants
Iraq forces launch push for ISIL-held Tikrit city
Ready to help Iraq fight ISIL militants, says Iran general
07:24 IST Sunday, 29 June 2014
Family members of Indians stranded in war-ravaged Iraq have said they will be leaving for the capital New Delhi on Sunday to meet with External Affairs Minister Sushma Swaraj. Speaking to ANI, Gurpinder Kaur, the sister of Manjinder Singh, one of the Indians abducted by Iraqi rebels, said, "We are going to meet the External Affairs Minister. We have not got any information (about our relatives) as yet. We will plead with her to bring back my brother who is stranded in Iraq. This is the second time we are going to meet the External Affairs Minister." She added, "If we do not get a satisfactory response, then, we will sit on protest at Jantar Mantar." Read more
14:37 IST Saturday, 28 June 2014
Indian Navy deploys warship in Persian Gulf to ensure safety of Indian nationals stranded in Iraq
The Indian Navy has deployed its warship in the Persian Gulf as the government continues efforts to ensure safety of Indian nationals stranded in Iraq. INS Mysore has been deployed in the Persian Gulf as it has been asked to be on standby by the government after the meeting of the crisis management group yesterday, Navy sources said here. The warship has been asked to be remain there and await further instructions, they said. Read more
160 captives killed in yet another execution by Iraqi extremists
Iraqi extremists killed at least 160 captives in a major execution in the city of Tikrit earlier this month. Number of dead bodies, though, could be much higher since a full investigation could not be done due to difficulty in locating bodies, said Human Rights Watch group. Peter Bouckaert, emergencies director at the US based rights group said in a statement that the photos on the militant website and satellite images provide a clear evidence of gruesome violence which requires complete investigation. Read more
US drones over Baghdad as Iraq battles for Tikrit
The United States confirmed today it was flying armed drones over Baghdad to defend Americans, as Iraqi forces fought for a strategic university and launched air strikes in militant-held Tikrit. Iraq's top Shiite cleric meanwhile urged the country's leaders to unite, after Prime Minister Nuri al-Maliki conceded political measures are needed to defeat the jihadist-led offensive that has killed more than 1,000 people and overrun major parts of five provinces. In further fallout from the crisis, the president of Iraq's autonomous Kurdish region declared there was no going back on Kurdish self-rule in disputed territory, including ethnically divided northern oil city Kirkuk, now defended against the militants by Kurdish fighters. Read more
11:30 IST Friday, 27 June 2014
US takes time to gather data before any attacks on ISIL in Iraq
US intelligence about the Islamist insurgent offensive in Iraq is improving but it could take weeks to complete a detailed picture of the threat and any possible American air attacks do not appear imminent, US officials said on Thursday. Last week's announcement that up to 300 US military advisers were being sent to Baghdad and the earlier movement of an aircraft carrier, a cruiser and a destroyer into the Gulf prompted speculation of impending military action against Islamic State of Iraq and the Levant (ISIL) militants. "We're just not there yet," one official told Reuters, speaking on condition of anonymity. Read more
Iraq PM Nuri al-Maliki pushes political solution to militant offensive
Prime Minister Nuri al-Maliki conceded today that political measures are needed alongside military action to repel a Sunni insurgent offensive that is threatening to tear Iraq apart. He spoke as British Foreign Secretary William Hague urged Iraqi leaders to unite in the face of the onslaught, led by the Islamic State of Iraq and the Levant (ISIL), that has killed nearly 1,100 people and displaced more than half a million more. Iraqi forces launched a helicopter-borne assault aimed at opening the way to retaking militant-held Tikrit, while the autonomous Kurdish region further staked its claim to the disputed city of Kirkuk. Powerful Shiite cleric Moqtada al-Sadr meanwhile risked ratcheting up already-high sectarian tensions by vowing to "shake the ground" under the feet of the advancing militants. Read more
Oil mixed as market eyes Iraq crisis, poor US GDP
Brent oil prices sank today as traders eyed easing Iraq tensions and worse-than-expected first-quarter economic growth in top crude consumer the United States, analysts said. New York crude however held in positive territory on a report that the US has lifted a ban on exports. In late afternoon London deals, Brent crude for delivery in August sank 70 cents to USD 113.76 a barrel. On the upside, US benchmark West Texas Intermediate for August rose 32 cents to USD 106.35 per barrel. Read more
Iraqi PM Nouri al-Maliki rejects calls to form unity government Baghdad
A defiant Iraqi Prime Minister Nouri al-Maliki on Wednesday rejected calls for an interim "national salvation government" in his first public statement since President Barack Obama challenged him last week to create a more inclusive leadership or risk a sectarian civil war. US officials, meanwhile, said there are indications that Syria launched airstrikes into western Iraq yesterday in an attempt to slow the al-Qaeda-inspired insurgency fighting both the Syrian and Iraqi governments. Read more
14:34 IST Wednesday, 25 June 2014
Iraq crisis not to affect oil supply to India: Rao Inderjit Singh
The Centre today said the situation in Iraq was a matter of concern and hoped that the turmoil in the Gulf country will not affect the oil supplies to India. "The new issue of concern is Iraq. Our oil pipeline comes from Southern Iraq. So far the terrorist have not targeted this pipeline but the government is keeping a close watch on the issue," Minister of State for Defence Rao Inderjit Singh told reporters here. "We are hopeful that the situation in Iraq improves and our oil supplies are not affected," Singh, who laid a wreath the War Memorial at Badamibagh Cantonment here, said. Read more
UN asks Iraq to investigate abduction of foreign nationals
The United Nations (UN) mission in Iraq has asked authorities there to investigate the incidents of extrajudicial killings and abductions, including those of Indian and Turkish nationals and bring the perpetrators to justice. The UN Assistance Mission in Iraq (UNAMI) said in a report released yesterday more than 1,000 people have been killed in Iraq in June so far. Over 300 were killed during the same period in Baghdad and areas in the south, many of them as a result of car bombs. Read more
US begins deploying military assessment teams in Iraq: Pentagon
The US military began deploying assessment teams in Baghdad on Tuesday to evaluate the state of Iraqi security forces and decide how to help them counter an Islamist insurgency that has overrun part of the country, the Pentagon said. Rear Admiral John Kirby, the Pentagon press secretary, said about 40 special operations personnel already in the country and assigned to the US Embassy's Office of Security Cooperation had been deployed as part of the first two assessment teams. About 90 additional troops arrived in Iraq to begin helping establish a Joint Operations Center in Baghdad with Iraqi forces. Another 50 US military personnel working in the region are expected to arrive within the next few days to create four additional assessment teams, Kirby said. Read more
17:08 IST Tuesday, 24 June 2014
Addressing the situation of Indian nationals in Iraq, MEA Spokesperson Syed Akbaruddin assured that the safe return of Indians remains to be an issue of importance for government of India. "There are very few Indian nationals in the zone of conflict," he informed. "We have been able to evacuate 17 more Indian nationals with help of local authorities. They are now in Baghdad and will soon return to India."
As for the status of the abducted Indians, he said, "They remain in captivity but are not harmed and safe."
"Our helpline numbers in Baghdad are working 24x7 for all kinds of assistance to Indian nationals," he informed. "We have also decided to set up our offices in Najaf, Karbala and Basra to provide assistance of any sort to Indian nationals. We remain intent on helping every Indian national in the conflict zone and beyond those areas," he added.
ALSO READ: There is more to the Iraq crisis than meets the eye
It was barely a few weeks ago that an international team of observers, including five Indians, were present in Syria to monitor the general elections, which were being held in a war-torn state under the shadow of an ISIS threat. This very ISIS, that stands defeated in Syria, has now captured parts of North and West Iraq. So what is the exact genesis and nature of problem that confronts the region and world?
Read more
Arun Jaitley refuses to speculate on whether India will send forces to Iraq
Defence Minister Arun Jaitley today said that he would not speculate on whether India will send forces to Iraq to evacuate stranded Indians. Jaitley was addressing a commander's conference today in New Delhi in which he also said that the government will focus on increasing defence spend to meet requirements. "Our defence forces want their requirements to be fulfilled and the procedure to also speed up. The government and ministry will try to proceed further in this issue. Our forces are ready to save the country and all their requirements will be fulfilled by the public exchequer," said Jaitley while addressing a press conference. Read more
Illegal Indians in Iraq may hinder evacuation
Even though the government is maintaining that there are just over 120 Indian nationals held in the northern conflict zone of Iraq, of whom 17 have been evacuated, a new realisation has dawned that there may be many more Indian expatriates staying there illegally, without legal documents. As per government figures, there are some 10,000 Indian nationals across Iraq. Unofficial estimates peg that 25,000-30,000 Indians have been living illegally in the conflict-free southern Iraq, having reached the country through illegal means, making the repatriation operation more challenging. Read more
Iran rejects US action in Iraq, ISIL tightens grip on Syrian border
Iran's supreme leader accused the United States on Sunday of trying to retake control of Iraq by exploiting sectarian rivalries, as Sunni insurgents of the jihadist group the Islamic State of Iraq and the Levant (ISIL) drove towards Baghdad from new strongholds along the Syrian border.
Ayatollah Ali Khamenei's condemnation of US action came three days after US President Barack Obama offered to send 300 military advisers to help the Iraqi government.
"We are strongly opposed to US and other intervention in Iraq," IRNA news agency quoted Khamenei as saying. "We don't approve of it as we believe the Iraqi government, nation and religious authorities are capable of ending the sedition." READ MORE
* How the Iraq crisis exposes India's failure to look after its citizens in the Gulf
Fears for civilian safety have been rapidly rising in Iraq as fighting between state forces and armed opposition groups led by the Islamic State of Iraq and al-Sham (ISIS) spreads across the West Asian country. Reports suggest over half a million civilians have fled northern Iraq as news filtered in of ISIS capturing Mosul and Tikrit. With the ISIS reportedly advancing towards Baghdad, more displacement is expected. Among those most vulnerable are Indian migrant workers based across Iraq who went to the Gulf in search of a better future for themselves and their families back home.
Fears for Indian workers in Iraq started growing when news came of around 40 Indian construction workers having been taken hostage by armed groups. There are also concerns for 46 nurses stranded in Tikrit, which is now under the control of ISIS. While the Indian government says it knows where the abducted Indian workers are being held, and makes assurances of their safety, the families of these workers say they have not received enough helpful information. READ MORE
8:45 IST Monday, 23 June 2014
* Jordan beefs up Iraq border defences as frontier post falls to ISIL
Jordan beefed up its border defences with Iraq on Sunday after Sunni gunmen from the jihadist group the Islamic State of Iraq and the Levant (ISIL) seized territory close to its border in Anbar province and appeared to have also taken control of the only land crossing with its large eastern neighbour, officials and witnesses said.
Two officials said the border crossing, almost 575 km from the Iraqi capital and nearly 320 km from Amman, was effectively closed after Sunni gunmen took control of the crossing. READ MORE
* ​Equipped with Humvees seized from Iraqi army, ISIL clashes with rivals in Syria
The Islamic State in Iraq and the Levant (ISIL) battled with rival opposition fighters in northern Syria on Sunday, using United States-made military vehicles captured from neighbouring Iraq for the first time, the British-based monitoring group the Syrian Observatory for Human Rights said.
ISIL combatants have been using US-made Humvees – four-wheel drive military vehicles – in fighting in northern areas of Syria's Aleppo province. The vehicles, which appear to have been seized during ISIL's recent Iraqi offensive, were used to gain control of villages outside the town of Azaz, close to the Turkish border, it said. READ MORE
20:26 IST Sunday, 22 June 2014
Families give information about 156 people from Haryana stuck in Iraq
Families in Haryana have so far informed the state government about 156 people who are stranded in Iraq, even as External Affairs Minister Sushma Swaraj on Sunday assured Chief Minister Bhupinder Singh Hooda that all of them and others stuck in the Gulf nation were safe. Majority of those stranded are from Yamunanagar, Kurukshetra, Karnal and Ambala districts, an official release said here today. READ MORE
18:02 IST Sunday, 22 June 2014
Efforts on to secure release of abducted Indians in Iraq: Government
India today said it was in constant touch with International Red Crescent in Iraq, countries of the region and all other concerned who can offer help in securing release of 39 Indian construction workers who were kidnapped from Mosul, the second largest Iraqi city seized by Sunni militants. Sources said government continued to be in active engagement and was doing everything possible to ensure release of the Indians. 40 Indians were abducted from Mosul and one of them had fled from captivity and had shared various details about the captors to the Indian authorities which yesterday indicated that they had come to know about the abductors. READ MORE
16:20 IST Sunday, 22 June 2014
* Iraq situation to worsen, government must ensure safe return of all Indian nationals: Rashid Alvi
Congress leader Rashid Alvi here on Sunday said that the situation in Iraq is going to worsen because the ongoing fight there is not of the communities but of power. "The condition of Iraq is very poor and will worsen in future. The fight in Iraq is not between Shia and Sunni but of power. Those who want power are supported by many other countries also. This situation needs to be understood and the Indian government wants safe release of all the Indians stuck there as soon as possible," said Alvi. READ MORE
* Seven engineers from Mumbai, Pune stranded in Iraq
Seven engineers working for a Pune-based IT company are trapped in war-torn Iraq as the government there has delayed in issuing 'exit visas' to two of them. However, the director of the company believes its employees will receive an exit visa by Sunday, allowing the team to return to India in the next few days.
"The stranded engineers have been working in Iraq since December 2013, but since Iraq is now hit by violence, we have recalled our all officers from there. Five of its engineers do have extended visas till August, but they are stuck there as two engineers don't have the 'exit visa', which is given by the Iraqi authorities to leave the country. They are expected to get it by today. As soon as we get a confirmation from them, we will arrange next day's air tickets for them", Nilesh Thackaray, director of Daccess IT Infra said. READ MORE
20:03 IST Saturday, 21 June 2014
Not kidnapped, but why these ordinary Indians can't leave Iraq
The Iraq terror crisis, which has mounted a new high in the past few weeks, has left many Indian workers helpless. Forty Indian nationals, mostly construction workers hailing from northern India, are also currently trapped in Iraq, abducted by the jihadist militant group the Islamic State of Iraq and the Levant​ (ISIL, or ISIS). The Indian government is concentrating all its efforts in order to ensure the rescue of the abducted Indians as well as the safe return of all its other citizens from the war-torn country. But even as all efforts remain concentrated towards the abducted Indians, Amnesty International India reported that there hundreds of Indian workers have been grounded at Najaf province unable to leave the country. Read more
19:02 IST Saturday, 21 June 2014
Iraq coordinating with India to evacuate stuck Indians
Iraqi Ambassador to India Ahmad Tahseen Ahmed Berwari on Saturday said that the Iraqi authorities are working in close cooperation and coordination with the Indian government to evacuate Indians stuck in the Iraqi cities affected due to ongoing crisis in the country. "We are coordinating with the Indian government and we support any suggestion of the Indian government to evacuate Indians kept or stuck in these cities," said Berwari. Read more
15:08 IST Saturday, 21 June 2014
Iraq militants take border post with Syria
Sunni fighters seized a border post on the Iraq-Syria frontier on Saturday, smashing a line drawn in 1932 by colonial powers and linking hundreds of miles of land they control to create an Islamic Caliphate from the Mediterranean Sea to Iran. The militants, led by the Islamic State in Iraq and the Levant (ISIL), first moved into the nearby town of al-Qaim on Friday, pushing out security forces, the sources said. Once border guards heard that al-Qaim had fallen, they left their posts and militants moved in, the sources said. Sameer al-Shwiali, media adviser to the commander of Iraq's anti-terrorist squad, told Reuters that the Iraqi army was still in control of al-Qaim. Al-Qaim and its neighbouring Syrian counterpart Albukamal are on a strategic supply route. A three-year civil war in Syria has left most of eastern Syria in the hands of Sunni militants, including the Albukamal-Qaim crossing. Read more
* Families give details about 127 stranded from Haryana
The control room set up by Haryana Government has so far got information about 127 persons from the state who are stranded in strife-torn Iraq. Majority of those stranded there hail from the northern parts of the state including Yamunanagar, Kurukshetra, Karnal, Ambala and Kaithal districts. Among the stranded persons, 31 are from Yamunanagar district, 36 from Kurukshetra, 23 from Karnal, 29 from Ambala, four from Kaithal and one each from Sirsa, Rohtak, Bhiwani and Mahendergarh districts, an official release said here today. Read more
* Iraq crisis: Punjab to pay expenses for bringing back stranded men
With over 200 people from Punjab stranded in strife-torn Iraq, the state government has decided to bear the expenses for bringing them back safely.
Chief Minister Parkash Singh Badal has also decided that the state government would reimburse the distressed families for the phone calls made to that country, an official spokesperson said today. The state government would bear the entire expenditure of bringing the trapped persons back to their homes safely. Badal had also conveyed this matter to the External Affairs Ministry for ensuring the safe and prompt return of Punjabi, the spokesman said. Read more
* First exclusive videos and pictures of kidnapped Indians in Iraq
* Iraq Envoy Ahmad Tahseen Ahmad Berwari, informed, "Many Indians in areas which are safe. We have still ask them to stay indoors and not step out on streets." "We welcome any suggestions or help from the Indian Govt."
* 12:42 IST Saturday, 21 June 2014
UN chief Ban Ki-moon warns against military strikes on ISIS in Iraq
UN Secretary-General Ban Ki-moon has warned that any possible military strikes against Sunni militants in Iraq could be ineffective and backfire or even be counter productive if there is no movement towards inclusive government in Iraq. During a speech to the Asia Society on Syria, he denounced sectarian fighting and the reprisals that follow, urging the Iraqi government and its supporters not to retaliate against Sunni communities in revenge for attacks by the Al-Qaida-inspired ISIS. Read More
US spy agencies warned Prime Minister Nuri al Maliki was "alienating" Iraq's Sunnis
US intelligence agencies have repeatedly warned top government officials that Iraq's Shi'ite Prime Minister Nuri al Maliki and his policies were gravely antagonising his country's Sunni population, two US security officials said on Friday. The officials said the warnings were contained in secret intelligence reports and analyses presented in the last two years to policymaking officials, including President Barack Obama. The reports concluded that Maliki and his government were creating so much animosity among Iraq's Sunnis that this would empower and embolden violent militant groups, such as the Islamic State of Iraq and the Levant. Read more
ALSO READ: Iraq - A crisis of oil or of confidence?
The latest crisis in Iraq has yet again exposed India's vulnerability in hydrocarbon supplies. Yet neither the citizens nor the government of India seem to realise just how precarious their position is. India's luck in overseas energy investments has been quite poor, largely because it has put most of its eggs in a highly volatile Middle Eastern basket. The civil war in Syria has washed away India's investments in the country as the terrorist group Jabhat al-Nusra has captured the Dayr al-Zawr, al-Sham, and Block XXIV oilfields. The conflict in Sudan similarly sent ONGC Videsh scrambling out of the country in 2012 and South Sudan at the end of 2013. With so many sources of oil going offline, oil prices are expected to spike up to $130 in the near term. Read more
Shashi Tharoor's plan to safely bring back Indian from Iraq
Thiruvananthapuram MP and former minister of state in the ministry of external affairs, Shashi Tharoor, told dna that to safely bring back Indian from Iraq, the NDA government should take some urgent steps Read more
19:40 IST Friday, 20 June 2014
Government is attaching prime importance to Indian nationals in Iraq: MEA
Ministry of External Affairs (MEA) spokesperson Syed Akbaruddin on Friday said that the central government is attaching prime importance to Indian nationals in Iraq, and indicated that the government has received information that those Indians who have been abducted are safe.
"The issue of Indian nationals in Iraq continues to be a matter of high priority for the entire Government of India. Prime Minister has just concluded chairing a meeting, of senior ministers, these include the Home Minister, the External Affairs Ministers, the National Security Advisor, the heads of Indian agencies as well as senior foreign service officials," he said. READ MORE
High priority! @pmoindia chairs meet on situation of Indian nationals in Iraq @SushmaSwaraj @HMOIndia attend http://t.co/uFCwVYyDHh

— Syed Akbaruddin (@MEAIndia) June 20, 2014
19:20 IST Friday, 20 June 2014
16 Indians stranded in Iraq moved out, one of the 40 abducted escapes
Sixteen Indians stranded in violence-affected areas of Iraq have been evacuated even as one of the 40 abducted Indians has fled from the captors in Mosul town which is under the control of the militants. The developments came on a day Prime Minister Narendra Modi reviewed the situation at a high-level meeting which was attended by External Affairs Minister Sushma Swaraj, Home Minister Rajnath Singh, National Security Adviser Ajit Doval Cabinet Secretary Ajit Seth, Foreign Secretary Sujatha Singh, heads of intelligence and security agencies as well as senior officials of External Affairs Ministry.
External Affairs Ministry spokesperson Syed Akbaruddin said the meeting reviewed the "entire dimensions" of the situation taking into consideration all facts and information available to the government. "We can confirm to you that one Indian has escaped and is in touch with our embassy in Baghdad," Akbaruddin said. READ MORE
17:34 IST Friday, 20 June 2014
Barack Obama rules out sending American combat troops to Iraq
US President Barack Obama has made it clear that American combat troops will not return to Iraq to fight the Islamic militants, who have seized a section of the country, but assured Baghdad of launching "targeted and precise military action" if required. "American forces will not be returning to combat in Iraq, but we will help Iraqis as they take the fight to terrorists who threaten the Iraqi people, the region, and American interests as well," Obama told reporters at a news conference after meeting with his top national security advisors. Read more
Centre must take serious steps to ensure safety of stranded Indians in Iraq: Mayawati
Bahujan Samajwadi Party chief and former Uttar Pradesh chief minister Mayawati on Friday described the civil war like situation in Iraq as very grim, and said that it was unfortunate that Indian citizens who had gone there for jobs, were victims of it. In an exclusive interview to ANI, Mayawati said: "There is a civil war-like situation in Iraq. Our Indian nationals residing there are also victims of this. We got to know that at least 40 people were abducted in Iraq and there is no trace of them. There are thousands of Indian workers working in Iraq and people here in India are also concerned for them. In this hour of need our party stands with the central government." Read more
​PM Narendra Modi, Sushma Swaraj will do all to secure release of Indians in Iraq: Nitin Gadkari
​Union Transport Minister Nitin Gadkari said on Friday Prime Minister Narendra Modi and External Affairs Minister Sushma Swaraj would do all in their capacity to secure the release of Indians abducted in Iraq.
When asked for his comment on Congress Party president Sonia Gandhi writing a letter to the prime minister, Gadkari said, "On this, the prime minister and the foreign minister had said the government will do all it can to secure the lives of those stranded in Iraq. The prime minister and the foreign minister have discussed this issue, and I am sure that the Government of India will put in all efforts to save their lives." READ MORE
Muslim body appeals to ISIL rebels to release Indians abducted in Iraq on humanitarian grounds
A body representing Muslim social and religious organisations has called upon rebel forces in Iraq to release on humanitarian grounds all the Indian nationals whom they are holding captive.
The All-India Majlis-e-Mushawarat last evening issued the appeal even as it sought to remind the rebel leaders that India and Iraq have traditionally enjoyed strong ties and India has never taken sides in rivalries between warring groups involved in the internal strife in Iraq.
"These Indians are all innocent people serving in a foreign land. Why should they pay the price for the folly of others," said the president of the Majlis, Zafarul Islam Khan. READ MORE
09:45 IST Friday, 20 June 2014
Sunni radicals in Iraq, who have overrun a swathe of territory north of Baghdad in a lightning offensive, have taken control of one of Saddam Hussein's former chemical weapons factories, a US official said Thursday.
"We are aware the that the ISIL has occupied the Al Muthanna complex," State Department spokeswoman Jen Psaki said in a statement.
But she said she didn't think the Islamic State of Iraq and the Levant (ISIL) militants would be able to produce usable chemical weapons there, because any materials remaining are old and unwieldy.
The complex, located just 45 miles (72 kilometers) northwest of Baghdad, began producing mustard gas and other nerve agents, including Sarin, in the early 1980s soon after Hussein took power, according to a CIA factsheet. READ MORE
08:30 IST Friday, 20 June 2014
Pressure builds to get nurses out
Not a month into his tenure and prime minister Narendra Modi is facing his biggest challenge to date. Forty Indian construction workers have been kidnapped from Mosul in Iraq. And 46 Indian nurses are under siege in a hospital in Tikrit. One of the nurses reminded Modi of his "duty" as prime minister.
"When the floods wrecked havoc in Uttarakhand last year, Narendra Modi as chief minister of Gujarat, sent a special flight to evacuate pilgrims from his home state. Now as prime minister of India, it's his duty to evacuate his countrymen trapped in a foreign war zone," nurse Marina M Jose told the Dubai-based Khaleej Times. READ MORE
Watch: What can the government do to rescue the Indians abducted in Iraq?
Part 2:
08:17 IST Friday, 20 June 2014
Most Americans oppose US intervention in Iraq
Americans overwhelmingly oppose US intervention in Iraq in the face of an advance by radical Sunni Islamists that routed the Iraqi army, a Reuters-IPSOS Poll showed on Thursday.
55% of those polled said they were against US intervention of any kind, while only 20% supported it. There was little disparity in the overall response among Democrats, Republicans and independents.
Among those who supported some form of intervention, the most popular action was humanitarian aid for refugees from the conflict, and the second most popular was air strikes to support Iraqi government forces. READ MORE
07:25 IST Friday, 20 June 2014
Iraq workers caught between rock and hard place​
On the night intervening Sunday and Monday, amid the fierce fighting in north Iraq, aid worker Saleh Dabbakeh saw gunmen stopping trucks carrying foreign workers employed in local construction firms. The workers, mostly Egyptians, Turkish and Indians were heading towards safer places to avoid getting caught in the crossfire between retreating government forces and ISIL militants.
Dabbakeh, a foreign national in Iraq, immediately informed the headquarters of International Committee of Red Crescent (ICRC) in Baghdad, who in turn informed various foreign missions, including India. Dabbakeh, whom dna contacted, said if the workers had stayed back, just like 46 Indian nurses did in Tikrit, they could have avoided being abducted. "Travelling on roads in this region is very dangerous," he told dna on the phone from the outskirts of Mosul. dna head several gunshots during an intermittent telephone conversation with Dabbakeh on Thursday. READ MORE
* Six Indians return safely from Iraq
Even as the situation continues to remain tensed in Iraq, six Indians returned safely from the war-ridden country on Thursday night. Those who managed to return the country said that the situation is much tensed in Iraq. "Around 25-30 people are still stranded in our company. I hope they all also return safely just like I have," said Jaswant, who hails from Gurdaspur in Punjab. "I breathed a sigh of relief after returning home," said another Shamsher, one of those who have returned from Iraq.
Watch: Worries grow over fate of 40 Indians abducted in Iraq
11:00 IST Thursday, 19 June 2014
Sonia Gandhi writes to PM Narendra Modi for early release of abducted Indians in Iraq
Expressing concern over the abduction of 40 Indians in strife-torn Iraq, Congress President Sonia Gandhi wrote to Prime Minister Narendra Modi on Thursday, urging him to intensify diplomatic efforts to ensure their safety and secure their early release. In her letter to Modi, Gandhi asked him to "act swiftly" to evacuate all Indians from the affected area and ensure their safe return.
"I urge you to intensify all diplomatic efforts required to ensure their safety and secure their release," she said. READ MORE
22:57 IST Thursday, 19 June 2014
President Barack Obama to send 300 US military advisers to Iraq as battle rages over oil refinery
The United States will send not combat troops to Iraq, but rather 300 military advisers to fight the Sunni militants, US President Barack Obama announced on Thursday. ""We will be prepared to take targeted and precise military action if we conclude the situation on the ground requires it," he said. Iraq has asked the United States for air support in countering Sunni insurgents of led by fighters from the jihadist group ISIL. READ MORE
22:57 IST Thursday, 19 June 2014
Akhilesh Yadav appeals to Centre to evacuate Indians from Iraq
Stranded nurses in Iraq: Kerala CM Oommen Chandy seeks Narendra Modi's intervention
Kerala government on Thursday asked Prime Minister Narendra Modi to take steps to evacuate Indian nurses stranded in war-torn Iraq if necessary by arranging a special chartered Air India flight.
Chief Minister Oommen Chandy, in a letter to the Prime Minister, pointed out that 46 Indian nurses, mostly from Kerala, were stranded in the General Hospital in Tikrit. READ MORE
18:30 IST Thursday, 19 June 2014
Location where abducted Indian nationals held captive found
The location of the 40 Indian construction workers kidnapped in Mosul town of strife-torn Iraq has been identified by Iraqi authorities, the government said on Thursday. Asserting that it was doing everything possible to secure release of the kidnapped Indians, the government said Indian embassy in Baghdad was "persistently" following the matter with Iraqi authorities. READ MORE
18:19 IST Thursday, 19 June 2014
Two of 40 kidnapped Indian workers are from Himachal Pradesh
Two of the 40 Indian workers kidnapped in the Mosul town of strife-torn Iraq hail from the Kangra district of Himachal Pradesh, a senior official said today. "The details of these two boys have been flashed to the Ministry of External Affairs in Delhi for rescue works," Kangra District Deputy Commissioner C Puol Rasu said here. These boys were working on a construction project in Mosul in northern Iraq which has been captured by Sunni militant group ISIS, he said. READ MORE
Preneet Kaur seeks quick measures for safety of Punjabis in Iraq
Former Union Minister Preneet Kaur today urged the Centre to take "quick and effective measures" for the safety and security of Punjabis reported to have been kidnapped in Iraq. READ MORE
ISIL are ferocious, worse than animals, people being killed like mosquitoes: Indians back from Iraq
Indian nationals recently returned from Iraq have given a firsthand account of the alarming situation in the war-torn country, calling the jihadist militant organisation Islamic State of Iraq and the Levant (ISIL), (also known as the Islamic State of Iraq and al-Sham (ISIS) ​"ferocious and worse than animals".
Shedding light on the plight of the 40 Indian workers who have been abducted in Iraq, Zulfiqar Abbas told ANI, "ISIS are ferocious, worst than wild animals, killing Shia Sunni both, they want to create a nation."
Another Indian back from Iraq, Mehboob Rizvi, told ANI people were being killed like mosquitoes. He said they could not contact family back in India, and believed this was because all SIM cards were blocked. ​READ MORE
15:55 IST Thursday, 19 June 2014
Iraq battles to hold biggest refinery
Iraqi government forces battled Sunni militants for control of the country's biggest refinery on Thursday as Prime Minister Nuri al-Maliki waited for a US response to an appeal for air strikes to beat back the threat to Baghdad.
The sprawling Baiji refinery, 200 km (130 miles) north of the capital near Tikrit, was a battlefield as troops loyal to the Shi'ite-led government held off insurgents from the Islamic State of Iraq and the Levant and its allies who had stormed the perimeter a day earlier, threatening national energy supplies. READ MORE
Why should the ordinary Indian be concerned with the Iraq crisis?
According to historians and analysts, we are believed to be in a generation where world peace is at much better position than it was during the blood bath during the world wars. However, perhaps its time to open our eyes with the recent Iraq crisis. The basic questions that arise are; what is the magnitude of this crisis an how is the average Indian affected? READ MORE
15:45 IST Thursday, 19 June 2014
China preparing to evacuate its workers from Iraq
China said on Thursday it was preparing to help evacuate a small number of people working for Chinese companies in Iraq, and repeated an offer to help Iraq fight terrorism though it declined to say if it would provide military support.
The vast majority of the 10,000 workers are in safe parts of the country, but the small number in unsafe parts are being evacuated, ministry spokeswoman Hua Chunying told a daily briefing. "For those workers in Chinese companies who are in areas with a more serious security situation we will fully help them evacuate to safe areas," Hua said, without giving numbers or details of which companies they work for. READ MORE
13:24 IST Thursday, 19 June 2014
Won't leave any stone unturned to rescue abducted Indians, says Sushma Swaraj
External Affairs Minister Sushma Swaraj today assured that everything is being done to bring back the 40 kidnapped Indians from Iraq.
The External Affairs Minister also added that she will personally ensure the family members of the kidnapped workers are provided all possible help from the government. "All efforts are underway to rescue the Indians," assured Swaraj. I'm personally supervising efforts. Will leave no stone unturned to ensure rescue of our citizens," she said. READ MORE
13:10 IST Thursday, 19 June 2014
Abducted Indian workers in Iraq 'promised freedom'
Several families of 40 Indian construction workers abducted in strife-torn northern Iraq say they have spoken with the men, whose captors claim they will be freed unharmed, reports said Thursday.
India's Ministry of External Affairs (MEA) announced on Wednesday that the 40 workers had been abducted in recent days in the Iraqi city of Mosul, which Sunni militants have overrun in a deadly ongoing insurgency. The ministry said no demands for ransom had been made and the workers' whereabouts, along with who was responsible for the abductions, were not known.
But Charanjit Singh said his brother called him on Wednesday "for a couple of minutes" to tell him the workers were safe and that their captors had claimed they would be released if someone from the government made contact. "He said he and his co-workers from India were all safe and not held hostage," Singh told The Hindu from his home in Punjab. "They say (the militants) will release them if someone responsible from the Indian military or government comes to collect them," Singh added. READ MORE
13:00 IST Thursday, 19 June 2014
India's first priority is to get our people back from Iraq: BJP spokesperson MJ Akbar
Bharatiya Janata Party (BJP) spokesperson, MJ Akbar said on Thursday that India's first priority is to get the kidnapped Indians back home safely. Akbar said, "India's stand on the Iraq will be same as it was earlier and it's a diplomatic challenge to get our people back. If our international friends can help us in achieving our goal, then it would really good for us. Our efforts will continue to rescue the stranded Indian nationals."
He added, "I feel this war is going to go on for long, as the roots of violence in Iraq is quite old and this ongoing war is not only going to affect other countries, but will also affect oil price and we will have to deal with it." READ MORE
12:45 IST Thursday, 19 June 2014
External Affairs Minister Sushma Swaraj meets families of 40 abducted Indians
External Affairs Minister Sushma Swaraj on Thursday met the family members of the Indian nationals kidnapped in Iraq. The family members were accompanied by the Shiromani Akali Dal (SAD) leaders, Manjeet GK and Manjinder Sirsa.
Earlier, Advisor to Punjab CM, Harcharan Bains, said that all help would be extended for getting our people back from there. He said that this is an international affair, so it is the government of India that has to negotiate. Meanwhile, one of the family members said that they are praying for the safe return of their children and had received phone calls from the External Affairs Minister assuring them of the government's help. READ MORE
12:40 IST Thursday, 19 June 2014
Government working 24X7 to bring back abducted Indians: M Venkaiah Naidu
Urban Development Minister Venkaiah Naidu today said that the government of India is working 24X7 to bring back the 40 abducted Indians from Iraq.
Naidu, who met Punjab Chief Minister Parkash Singh Badal, also said that Union Minister Harsimrat Kaur also has raised this issue, and they discussed it in length yesterday. He said that they are using all their diplomatic channels to get them released at the earliest, adding "Whatever needs to be done will be done." Naidu said, "The priority is to get them back and make their families happy." READ MORE
11:24 IST Thursday, 19 June 2014
Indian Government sends old Iraq hand Suresh Reddy to Baghdad to establish contact with kidnapped Indian workers
The ministry of external affairs confirmed on Wednesday that 40 Indian construction workers had been kidnapped in Northern Iraq.
The issue appears to be Prime Minister Narendra Modi's first major challenge. A government source said Modi was monitoring the situation and had tasked the MEA to work out operational details with the defence ministry and private airline companies to rescue other Indians from Iraq.
External affairs minister Sushma Swaraj who was hosting Russian Deputy PM Dmitry O Rogozin here on Wednesday took time out to chair the crisis management cell and asked former Indian envoy to Iraq Suresh Reddy to return to Baghdad to reinforce the mission. Reddy had completed his tenure and was waiting in Delhi for his next appointment. He is an old Iraq hand and has been sent to establish contact with the kidnapped Indian workers.
MEA spokesperson Syed Akbaruddin said no ransom calls had been received. Giving out details about the kidnapping of the workers, the MEA spokesperson assured that they will not leave any stone unturned and will work with all possible agencies to find the kidnapped Indians. "The contingency plan unit is working in Delhi for other options," he said. READ MORE
11:17 IST Thursday, 19 June 2014
Prime Minister Narendra Modi's biggest challenge is to rescue trapped Indians in Iraq
India's Ministry of External Affairs (MEA) spokesperson, Syed Akbaruddin, confirmed at a press conference today that 40 India construction workers had been kidnapped from the northern Iraqi city of Mosul. The workers, originating largely from northern India, were reportedly picked up as the ISIS overran the city, dislodging the Iraqi Army from the region.
Moving southwards from Mosul, around 40 Indian nurses have also found themselves on the frontline of Iraq's raging civil war. However, unlike the construction workers, the nurses have been in contact with the NGO Red Crescent, which has relayed information that they are safe and in good spirits at their hospital.
The immediate priority for New Delhi is the safety of the 40 missing construction workers, and this as of now poses the first big challenge for Prime Minister Narendra Modi. Over the past few hours, it has been made clear that India's diplomatic presence and reach in Baghdad is limited. With over 12,000 Indians known to be in Iraq, New Delhi is looking towards a situation where it may not be able to do all that much if any more kidnappings of its citizens take place amidst the possibility of the fighting arriving in Baghdad. READ MORE
10:10 IST Thursday, 19 June 2014
Families of 40 Indian construction workers abducted in Iraq pray for their safe return
Family members of the Punjabi boys who have been abducted in Iraq are shattered and praying hard for the safe return of their sons from Iraq.
On Wednesday, the Ministry of External Affairs (MEA) confirmed the abduction of 40 Indians in Iraq, but added that they have not received calls from anyone who has indicated about ransom or taking these workers under control.
The family members of these boys are worried about their fate even as the Iraqi government has now asked the United States to conduct air strikes against the militants of the jihadist group the Islamic State of Iraq and the Levant (ISIL). READ MORE
18:25 IST Wednesday, 18 June 2014
Iraq appeals for US air strikes to counter advancing ISIL militants
Iraq has asked the United States for air support in countering Sunni insurgents of led by fighters from the jihadist group the Islamic State of Iraq and the Levant (ISIL), General Martin Dempsey, the chairman of the US military's Joint Chiefs of Staff, said on Wednesday, after the militants seized major cities in a lightning advance that has routed the Shi'ite-led government's army.
However, the top US general gave no direct reply when asked at a Congressional hearing whether Washington would agree to the request.
Baghdad said it wanted US air strikes as the militants, with ISIL fighters at the forefront, battled their way into the biggest oil refinery in Iraq and the president of neighbouring Iran raised the prospect of intervening in a sectarian war that threatens to sweep across Middle East frontiers. READ MORE
11:29 IST Wednesday, 18 June 2014
Indian government to launch all-out efforts to trace 40 kidnapped workers in Iraq
Forty Indian workers have been kidnapped in strife-torn Iraq, prompting the government here to launch all-out efforts to trace them.
The workers, most of whom may be from Punjab and other parts of north India, were workers of a construction company in Mosul town of Iraq, External Affairs Ministry spokesman Syed Akbaruddin told reporters.
He said the Indian government had no clue about the kidnappers or any concrete information about those abducted and whatever information has been gathered is through International Red Crescent and various other humanitarian organisations. "Yes, 40 Indians, who were working with the Tariq Nur Alhuda company, have been kidnapped," he said. READ MORE
11:01 IST Wednesday, 18 June 2014
40 Indians untraceable in Iraq's Mosul
Forty Indian workers were untraceable in Mosul town of strife-torn Iraq even as the government decided on Wednesday to send former envoy to Iraq Suresh Reddy to strengthen the Indian Mission in Baghdad.
"There are 40 Indians in Mosul who we have not been able to contact," External Affairs Ministry spokesperson Syed Akbaruddin said.
Asked about reports that they were abducted, he said, "We cannot confirm it. However, they are uncontactable." The Spokesperson said Reddy is being sent to Baghdad to strengthen the Indian Mission there which is trying to help the Indians in violence-affected areas. READ MORE
Worsening of Iraq situation, trouble for India predicted
Noted political commentator Ian Bremmer said on Twitter, "Democracy in the Middle East: be careful what you wish for". Over the past one week, Iraq has been back in the news as it struggles to ward off an all-out offensive by the Sunni terror group the Islamic State in Iraq and the Levant (ISIL) (also known as the Islamic State in Iraq and al-Sham, ISIS). READ MORE