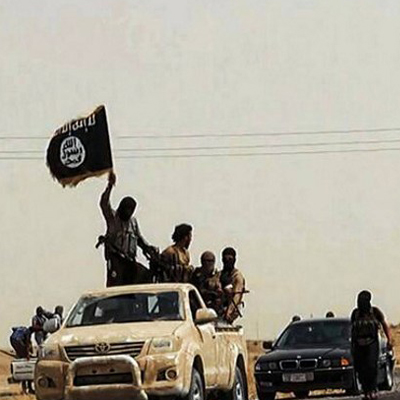 Noted political commentator Ian Bremmer said on Twitter, "Democracy in the Middle East: be careful what you wish for". Over the past one week, Iraq has been back in the news as it struggles to ward off an all-out offensive by the Sunni terror group the Islamic State in Iraq and the Levant (ISIL) (also known as the Islamic State in Iraq and al-Sham, ISIS).
Over the past three days the ISIL juggernaut has taken crucial Iraqi cities such as Mosul and Tikrit in a movement against Prime Minister Nouri al-Maliki's government, which seems to be at a loss of words on how to address the situation. According to reports, an under-armed and under-trained Iraqi Army is deserting its uniform as a number of ISIL convoys take over towns and cities (reminiscent of Saddam Hussein's guards abandoning him). Pictures have surfaced of the group committing mass executions of Shia Muslims of Iraq and applying methods of violence which even, if reports are to be believed, have been labelled 'too extreme' by Al Qaeda affiliates.
The question many are asking is, who is the ISIL, and how did they spring up overnight with such panache? The answer is simple: they did not. ISIL has been around since 2004, when America's invasion of Iraq was at its peak. ISIL took part in low-level terror strikes during much of its early years. According to data available, between 2004 and 2007 the group was linked to about 150 terror strikes in Iraq, which included the 2006 bombings of the most revered Shiite shrines. However, between 2012 and 2013, as the Syrian crises deepened and ISIL was able to make safe havens in the country's north, the attacks increased to over 1,300 in 730 days, averaging more than one attack per day for over two years.
A recent report in The Guardian has highlighted the finances which may now be available to the ISIL to undertake terror strikes as it moves towards the capital city of Baghdad, with an ultimate goal to displace al-Maliki, a Shia's government known to be in close quarters with Iran. The report quotes an official saying the ISIL may have access to a whopping $1.5 billion for its operations, much of which have come from selling oil on the black market from oilfields the organisation has seized in Syria.
If the source of this funding is true, in April 2013, India lost its oil field which it had jointly invested in along with other partners such as China. The field was overrun by a fringe group loyal to ISIL, which forced the offices of the consortium to shift out of Damascus to Dubai.
ALSO WATCH
The developing situation in Iraq has already garnered a travel advisory by the Indian government and steps being taken to help Indian citizens in places such as Tikrit. This is not the first time Indian citizens in Iraq have been caught in the region's various political dances. Between 2003 and 2007, many Indian truck drivers went to work in Iraq on private contracts for US and Saudi companies, and many of them were kidnapped, killed, injured and often found their employers less than willing to negotiate with terrorists in return for safety.
India has held generally good relations with Iraq since its independence. Even during the tyrannical rule of Saddam Hussein, India dealt with him as one of its close allies in the region, so much so that Indian military even trained some of Hussein's pilots to fly the MiG-21 fighter jets in the 1970s. During Iraq's illegal occupation of Kuwait, India was the only country which shifted its High Commission from Kuwait City to the southern Iraqi city of Basra, showcasing at the time where its allegiances lay.
Even now, New Delhi has maintained good relations with al-Maliki's government. Over the past two years, Iraq has risen as India's second biggest supplier of crude oil after imports from Iran crashed due to Western sanctions against Tehran. Baghdad offered India easy access to much needed oil, which then led to private sector giants such as Reliance Industries considering setting up huge refinery projects in the country. In 2012, India issued the most number of visas of any country for Iraqis travelling abroad. Between January and July 2012, the Indian High Commission in Baghdad issued nearly 21,000 visas to Iraqi citizens. Medical, education and business topped the criteria's under which the visas were issued.
For India, Iraq's descent into unchecked chaos will have both political and economic impact. One of the first commodities to fluctuate whenever the Middle East is on the boil is oil. According to financial experts, if the situation continues to deteriorate, crude prices could jump to the $175-$200 per barrel mark. This would hit India hard which navigated rather skilfully from Iran to Iraq as one of its biggest sources of oil.
Considering the latest inflation figures are over 6% and new Prime Minister Narendra Modi has warned of tough measures, which could (and should) include bringing down subsidies on fuel, stuttering of crude production in Iraq or interruptions in sea lines and critical highways required to get the crude oil out of the country could affect India's inflation numbers.
The saving grace for import heavy economies for the moment is that ISIL operations are largely centred towards the north, moving downwards from Mosul to Tikrit and eyeing Baghdad. Much of Iraq's oil production, barring the autonomous region of Kurdistan in the north, is in the south. So if al-Maliki's government is able to stop ISIL's progress along with the US, global oil prices would remain stable.
West Asia today houses nearly 7 million Indians. Collectively, the Gulf Cooperation Council (GCC) is India's largest trade partner, and Saudi Arabia and Iraq are India's largest providers of crude oil. Instability in the region is not new. However, a prolonged crisis in Iraq and loss of its oil fields will keep energy prices high across the globe, which will cause a massive setback to India's economic revitalisation plans.
On a political level, India has said it stands by Iraq in its fight against terrorism. New Delhi has got along well with nations in the Middle East, irrespective of whether democracy or dictatorship prevails, as long as it gets what it is looking for.
Also Read:
* How the Iraq crisis threatens to destabilise world peace and the Indian economy
* Images of Iraq genocide: ISIL militants execute hundreds of soldiers in mass killings
* As Mosul falls, why the advance of the Islamic State in Iraq and the Levant militant group is worrying
Kabir Taneja, 28, is a Delhi-based journalist. He tweets at @KabirTaneja.