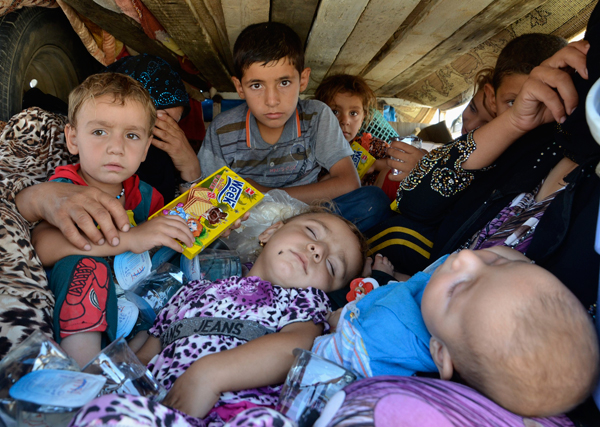 In a chilling revelation, The Telegraph newspaper has claimed that upto 70% of the Yazidis living in Mount Sinjar may have already succumbed to death from shortage of food and water. According to the newspaper, dogs are currently eating away the dead bodies.
Already Islamic State (IS), considered too radical by Al Qaeda has captured the town of Sinjar. So, most of the refugees are currently hiding on the top of the mountain desperately seeking help and living in apprehension of a possible attack from terrorists. Iraqi officials who are currently trying to give aid to the hapless Yazidis believe that almost 70% of them may be already dead.
American helicopters have been trying to airdrop food and water to the affected people. But since it is dropped from a helicopter without parachute from a height of 15,000 feet, most of the aid has been of no use. The US military has managed to rescue some stranded people to send them to Dohuk, but most are still left helpless in the hostile terrain. According to Iraqi officials, children have been the worst sufferers. The Iraqi officials believe they have couple of days at best to save the refugees before they die in huge numbers.
The Yazidis, an ethnically Kurdish community that has kept its religion alive for centuries in the face of persecution, are at particular threat from Islamic State (IS), who regard them as 'devil worshippers', and have driven them from their homes.
Read More: Who are Iraq's Yazidis and why is the Islamic State targeting them
There have been repeated stories that the jihadists have seized hundreds of Yazidi women and are holding them in Mosul, either in schools or the prison. Many fear that ISIS militants have extremely sinister plans for these women.
Refugees in Iraq believe help from US authorities is too little, too late. The handful of people who have managed to get out of Mount Sinjar have recollected horror tales. Many have left behind relatives who were about to die. Their hopes are dim in the face of IS aggression.