Ramesh Agrawal reiterates demand for CBI probe into attempt on his bid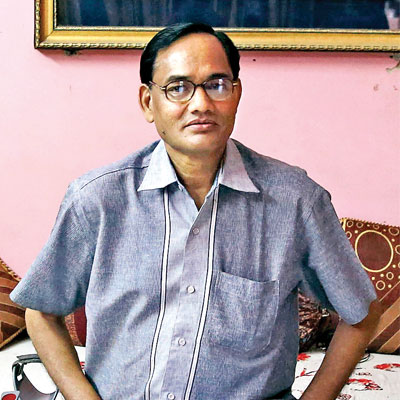 The winner of Goldman Environment Prize, Ramesh Agrawal, a grassroots activist from Raigarh, has reiterated his demand for a CBI inquiry into the attack on him, in 2012, allegedly executed at the behest of Jindal Steel and Power Limited.
In a telephonic conversation with dna from Washington DC, Agrawal, alleged that the local administrators – police and court – in Chhattisgarh have failed to expose the real conspirators, who planned the attack.
"It is pretty clear that there was Jindal Group's hand behind the attack. None of the assailants otherwise had any stake in attacking me," said Agrawal, who was shot at in 2012 inside his internet cafe,
soon after National Green Tribunal revoked the permits required by JSPL for the mining, citing various violations reported in Agrawal's petitions. Agrawal had also filed a petition in the high court of Chhattisgarh, demanding a CBI inquiry into the matter, to unravel the bigger conspiracy.
Chhattisgarh Police has filed a charge-sheet naming seven accused, including a Jindal employee, a retired army brigadier, K K Chopra, and his associate SN Panigrahi, who run a security agency, Superior Fire and Security Service, which provides security for Jindal Steel and Power Limited in Raigarh. The main attacker, who hails from Andhra Pradesh, is still absconding. Both Chopra and Panigrahi are out on bail and Jindals have repeatedly refuted all allegations against the company.
Even though Agrawal survived the attack and two bullets hit his groin and thigh, shattering his femur, he continues to have six metal rods and discs attached to his lower body and leg for support.
"Now that the international community has recognised our efforts, I hope things might be taken seriously by the government back home," said Agrawal adding, "till now the government, most of the time, is hand in glove with the corporates and companies."
Agrawal's confrontation with JSPL began in 2008, when he organised residents to voice their opposition and filed numerous petitions highlighting JSPL's failure to hold mandatory public meetings and obtain environmental clearance for the coal mining project and also the power plant at Tamnar.
With four million tonnes of coal proposed to be mined every year, the mine would have been among the biggest of its kind in Chhattisgarh. The government had given environmental clearance to the mining project in 2009, while Chhattisgarh government was asked to withdraw approval for the power project.
In 2010, JSPL filed a defamation complaint against Agrawal, alleging that he defamed JSPL during his meetings with villagers and next year Agrawal was put behind the bars for more than two months. However, after coming out of jail, he resumed the activism and in April 2012, National Green Tribunal, revoked the environmental clearance for one of the dream mining projects of Jindal.
Agrawal and his associates have been fighting for the rights of locals in Raigarh for more than 15 years now from an unregistered platform – Jan Chetna. Since 2005, they have actively used RTI to expose various government and industrial frauds in the region. "The government harasses activists by labelling them as naxals, maoists or anti-development," he lamented.
The Goldman annual prize honours outstanding grassroots environmentalists who have made sustained and significant efforts, even at great personal risk, to protect and enhance the natural environment. The individual cash prize is $175,000. Agrawal has won the prize along with six other activists across the globe.
And with the cash prize, Agrawal claimed that he would expand his area of activism besides hiring processionals, who will do the work more efficiently and effectively.
"It is because of the people I worked for that I got this award and I will try to work for people more and strengthen the revolution," he added.
During his stay in the US, Agrawal has met many activists and other stake-holders, who, he claims, have promised all sort of help for his future endeavours.
The award, Agrawal hopes, may make him safer, as he may not be directly attacked by anybody, whose interests are hit by his activism, as it will trigger international reaction now. "But I want that all the
activists in India should be protected by the government," he said.