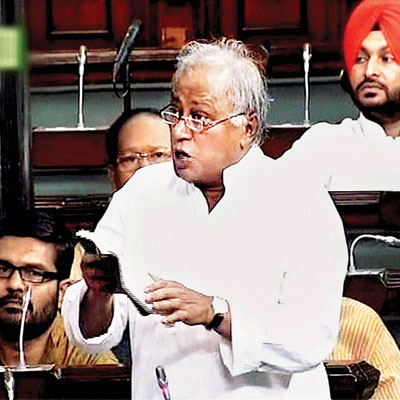 It was interesting to watch the BJP-led NDA government of Narendra Modi pilot two bills with political overtones through the Lok Sabha on Friday.
The first was the introduction of the Telecom Authority of India (Amendment) Bill, which was to facilitate former Trai chairman Nripendra Mishra take over the principal secretary in the Prime Minister's Office (PMO). The bill was introduced despite protest from Saugata Roy of Trinamool Congress. The bill was introduced and will be taken up for discussion next week.
The other was the Andhra Pradesh Reorganisation (Amendment) Bill, which is to transfer six mandals (a local revenue administrative unit) in Khammam district under the Polavaram irrigation project to be transferred to Andhra Pradesh, a gift that Andhra chief minister N Chandrababu Naidu wrested from the Modi government because his Telugu Desam Party (TDP) is part of the NDA. The leaders from Telangana protested against it, but to no avail.
Union telecom minister Ravi Sahankar Prasad, who moved the Trai amendment bill said the government was fully competent to bring in any amendment to any Act, and he explained as part of the objectives of the bill that the intention was to make Trai provisions the same as that of other regulatory authorities like the Competition Commission and the Provident Fund Regulatory Authority (PFRDA).
Prasad said he would argue the case in detail when the bill came up for debate.
Vinod Kumar of Telangana Rashtra Samithi and G Sukhinder Reddy of Congress from Telangana, who argued that AP Reoorganisation Amendment Bill violates Article 3 of the Constitution, which lays down that in case of the change of a state's boundaries as it is in this instance of transferring of mandals the President should refer it to the legislatures of the concerned states and that this was not done. The issue was raised in the form of a Point of Order, provided in the Rules of Business of the House, by Roy.
Speaker Sumitra Mahajan overruled the Point of Order saying the interpretation of Article 3 is for the courts of law to decide and not parliament. Asaduddin Owaisi of Majlis Ittehadul Muslimeen (MIM) insisted on a division, but the bill was passed by voice reflecting the comfort of majority that the BJP and the NDA enjoy in the Lok Sabha.
But the two bills could hit a road block in Rajya Sabha where the BJP/NDA do not have the required majority. Both the bills have to be passed in the Upper House for them to become the law.