The former army chief may contest from Bhiwani in Haryana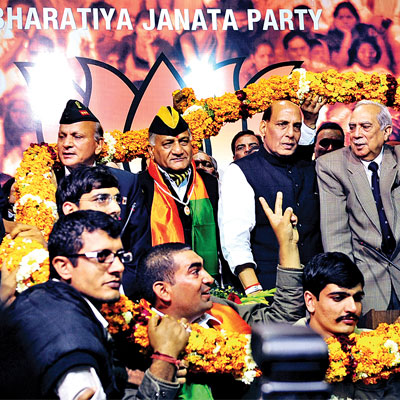 General VK Singh, former chief of army staff (COAS), Commodore Awasthi (retired) and Air Marshal Bardoloi (retired) accompanied by several retired lieutenant generals, major generals joined the Bharatiya Janata Party (BJP) in the presence of party president Rajnath Singh at the part headquarters here at Saturday noon. The party auditorium was crowded with ex-armed forces officers and junior commissioned officers (JCOs) and supporters of General Singh from Haryana.
Party president Rajnath Singh said that TV actress Rakhi Swant had turned up at the party office and expressed her desire to tie 'rakhi' to the soldiers as a mark of her support for those joining the BJP.
Some of Gen Singh's supporters were shouting, "Desh ka raksha mantri kaisa ho, VK Singh jaisa ho', which was an indication that his supporters want him to contest in the upcoming Lok Sabha elections and that he should even be considered for the defence portfolio. Other ex-service men, who are also members of the party, had said that Singh would most probably fight from his home constituency of Bhiwani in Haryana.
VK Singh had been the general in the news, first over the issue of his date of birth and therefore his age of retirement. He was also in the news because the letter he wrote to the defence minister got leaked to the media in which he had candidly talked of the unpreparedness of the army to face a possible war.
He was also in the news because of a newspaper report that he ordered troop movement which sent the government into tizzy because it had the trappings of a coup. The general vehemently denied the insinuation.
He was seen sharing the dais with BJP's PM candidate Narendra Modi at an ex-servicemen's rally in Haryana last year, and later he shared the dais with social activist Anna Hazare. Singh was part of the inner group of Hazare.
There has been speculation for a while that he will join the BJP. Singh seemed a restless man who sees many things wrong with the armed forces — he was concerned over corruption in the army and he was responsible for bring to light the Sukna land scam in West Bengal which involved top ranking army officers — and with the political system. It could be seen that he was not the general to spend his retirement playing golf.
General Singh speaking on the occasion said that BJP was the party which would provide a stable and strong government and whose decisions will be in the national interest.