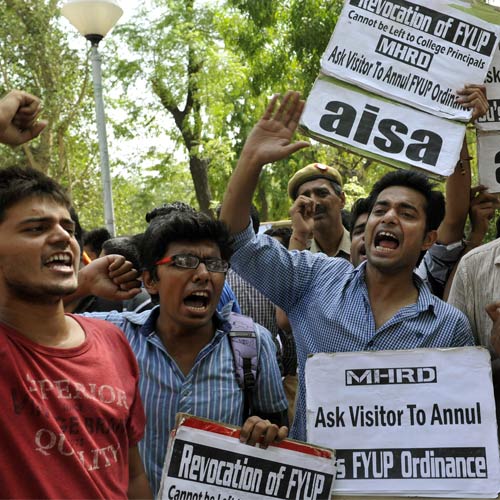 For the past week Vishal Kumar and his father Vijay from Assam have been camping in a small hotel in the capital's crowded Karol Bagh area. They'd made the 30-hour long train journey with the objective of seeking admission in a top north campus college of Delhi University (DU) for Vishal, who'd got 94% marks in his class XII board exams.
But with Delhi colleges putting off admissions because of the controversy over DU's four year undergraduate programme (FYUP), the father-son had no option but to wait it out in their hotel room, paying Rs1,500 a day, a sum that the senior Prasad, a small time businessman, can ill afford.
Students have been the victims of the FYUP fiasco, but outstation students camping in the city and waiting to apply to DU colleges are worse affected. Many of DU's colleges have a reputation for academic excellence and are much sought after by students from all over the country, who travel long distances to Delhi this time of the year, This year, with colleges deferring the admissions process until the FYUP confusion cleared, they've had to stay back longer, burning a hole in their pockets. Though the confusion has now cleared with DU agreeing to scrap FYUP, colleges have not yet declared when they will start admissions,
Many like the Kumars have been camping in Delhi for the past one week now.
Kumar said he arrived in Delhi on June 22 on the premise that admissions would open from June 24. "But now here I am camping in the city, with no certainty on when will the admissions start," he says.
Meanshwile, his father's business back home is suffering. "We had thought that the process would get over in a week's time. We will have to get our tickets rescheduled. Getting a ticket to go back is also a herculean task," said Vijay Prasad.
Similarly, Shreyash from a small town in Uttar Pradesh, has been camping in Delhi for a week. He wants to study chemistry. "I come from a lower middle class family. We cannot afford to live in a hotel for too long. The room rents are very high," he says.
For the students, it does not matter whether the undergraduate course is of three or four years' duration. "It doesn't bother me whether it's three or four years, my main point of concern is that the cut-offs should be out by now and I get admission." said Vishal.
Ankita Singh, from Gorakhpur in eastern UP, chose to seek admission in DU over Banaras Hindu University. "Admissions have now closed in BHU. I don't know now if I will get admission here," she says.