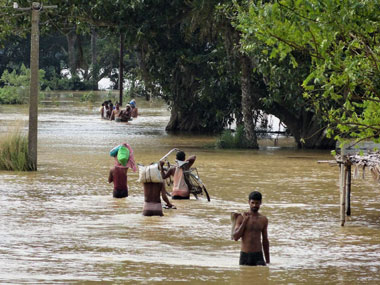 Widespread rains lashed several parts of north India on Thursday killing four people in Himachal Pradesh and throwing normal life out of gear in many places in the hill states.
Rains in Uttarakhand wreaked havoc triggering landslips which blocked a number of roads and highways including those leading to the famous four shrines in Garhwal Himalayas for the Char Dham Yatra.
There were no rains in Delhi on Thursday, but a dip in mercury and humidity levels gave people a relatively pleasant day.
The maximum temperature was recorded at 35.7 degrees Celsius while the minimum settled at 27.4 degrees Celsius and the humidity levels oscillated between 49% and 73%.
A Met department official said that rain or thundershowers may occur in some areas in the city tomorrow.
In Himachal, three persons were swept away in flashfloods, while a woman, was buried in a cowshed at Longroo village in Mandi, officials said.
Normal life was virtually paralysed in the lower hills of Kullu, Mandi, Hamirpur and parts of Kangra district as massive landslides triggered by rains occurred at numerous places and uprooted trees and electricity poles blocked roads.
As many as 250 roads in the state have suffered colossal damage causing a loss of Rs 26 crore, the PWD department said.
Several places received heavy downpour and Guler in Kangra district was wettest with 215 mm followed by Hamirpur 164 mm, Bhoranj 158 mm, Sundernagar 149 mm, Bangana 145 mm, Mandi 136 mm, Nagrota Suriyan 130 mm, Dharamsala 113 mm, Pandoh 104 mm, Sujanpur Tira 102 mm, Bijahi 82 mm, Joginder Nagar 61 mm, Bilaspur, Palampur and Nadaun 54 mm and Shimla 10 mm.
Moderate to heavy rains lashed various places in Uttarkhand in the last 24 hours with Nainital recording 108 mm rainfall, followed by Dharchula 79.2 mm, Munsyari 75 mm, Banbasa 45 mm and Rishikesh 34.6 mm, the Emergency Operation Centre in Dehradun said.
Landslides triggered by showers blocked the national highways to Badrinath, Gangotri and Yamunotri. Several big and small motorways in hilly districts were also blocked by debris brought on to the roads by landslips, the Centre said, adding that both BRO and PWD were busy clearing the roads.
Light rains occurred in a parts of Punjab and Haryana lowering mercury and raising humidity levels in the region.
The humidity levels in parts of Punjab and Haryana rose to up to 90%, the MeT office said.
Madhopur in Gurdaspur was drenched by 31 mm of rainfall, followed by Shahpur Kandi, also in Gurdaspur, 28.2 mm, Anandpur Sahib and Ropar 12 mm each, and Panchkula 10 mm.
Other places in the two states also received, the Met office said, adding that some low-lying areas were inundated by the showers.
Hisar remained the hottest place in the region with a high of 37 degrees Celsius while other places recorded dip in mercury by up to two degrees, the Met office said.
Light to moderate rain or thundershowers occurred at a few places over east Uttar Pradesh and at isolated places in western parts of the state in the last 24 hours. Hata in Kushinagar district in the east received the most rainfall at 15 cm, followed by Baheri 14 cm, Takurdwara 11 cm, Bansgaon, Maharajganj 10 cm each, Binga, Kakarahi 8 cm each, Dudhi, Swar, Balrampur, Turtipur 7 cm each, Kakardharighat, Chanderdeepghat, Khalilabad 6 cm each, Utraula, Sahganj 5 cm, and Ballia, Birdghat, Bansi and Dumariaganj 4 cm each.
Light to moderate rainfall occurred at isolated areas in Rajasthan where Thanagaji recorded 3 cm rains while Kumher, Ghatol and Nithuwa areas received 1 cm showers till morning Thursday since Wednesday.
Dabok in Udaipur received traces of rainfall till evening while the weather remained mainly dry in other parts of the state, the Met department said.