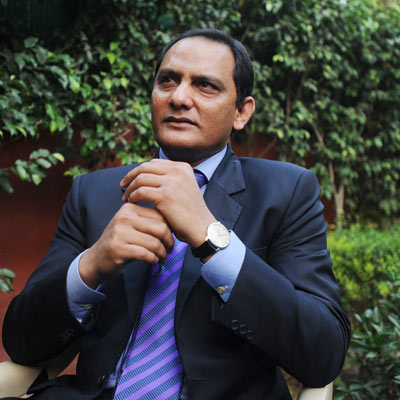 Former cricketer Mohammad Azharuddin has become a pawn in a bruising battle of nerves between president Pranab Mukherjee and Adhir Chowdhury, Union minister of state for Railways and Congress heavyweight.
Chowdhury, Congress MP Berhampore, is bent upon fielding Azharudddin from the adjoining Jangipur Lok Sabha seat which he helped Pranab win in 2004 and 2009. When Pranab moved into Rashtrapati Bhawan, Congress nominated his son Abhijeet Mukherjee from the same seat which he won by only 2,536 votes.
Chowdhury threw his weight behind Mukherjee junior in the byelection to ensure his victory against many odds. But now he has thrown down a gauntlet to the president by proposing Azharduddin's name and singing paeans in praise of the former Indian captain who is currently Congress MP from Moradabad in Uttar Pradesh.
Nobody seems to known what exactly has gone wrong between Chowdhury and the president. Given the president's clout, everyone thought that Chowdhury's appointment as junior railway minister was a reward for making sure that Mukherjee junior won. In March 2013 Chowdhury was one of the four MPs the president personally invited to accompany him to Bangladesh — his first overseas state visit. "No comment" was Abhijeet Mukherjee's reply when dna asked him on Tuesday about Chowdhury's relentless campaign to field Azharuddin from Jangipur in the national polls ahead.