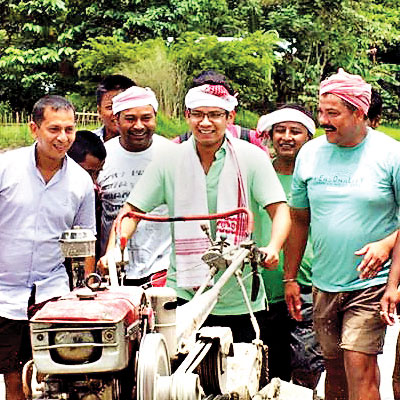 Gaurav Gogoi, son of Assam chief minister Tarun Gogoi, is contesting elections for the first time but believes that his rural connect will see him through in his electoral battle.
He is contesting as a Congress candidate from central Assam's Kaliabor. His uncle Dip Gogoi, who held the seat, made way for him by not contesting.
An engineer, Gaurav, 32, studied at the St Columbus School in Delhi and has a degree in public administration from the New York University. He worked in the field of rural development for 10 years in Rajasthan, Madhya Pradesh and Uttarakhand prior to taking the plunge into politics.
Gaurav was virtually unknown in Assam until his emergence ahead of the 2011 assembly polls. Soon he joined the Congress party and got actively involved in party activities. As he grew up far from home, the polls gave him an opportunity to experience the political dynamics of the state.
Alongside, he moved around rural Assam, particularly Kaliabor, working with farmers in the field of entrepreneurship, apparently to use rural development as a political plank. "I am no stranger here (Kaliabor). I have been with the people for the last three years working in the area of rural economy," Gaurav told dna.
The charitable and non-profit organisation 'Farm-2-Food' foundation, of which Gaurav is the founder, works to augment the income of farmers and support healthier and local food options for people.
"I have been working in the field of rural economy and development for the past 10 years. I view politics as a platform to take my ideas on rural entrepreneurship and rural economy forward," Gaurav said.
The Kaliabor Lok Sabha seat consists of 10 assembly segments. In 2009, three-time MP Dip Gogoi defeated his nearest rival Gunin Hazarika of the Asom Gana Parishad (AGP) by 151,989 votes. Gaurav believes that he will win by even a bigger margin.
"Surely, the people will judge me and the Congress party before they exercise their franchise. They will vote for me for they have found in me a person who is committed. They will vote for the Congress for peace and development to continue.
"There has been rapid improvement in the state in sectors including agriculture, connectivity etc under the ruling Congress government," he claimed.
Gaurav, who loves dancing and choreography, will vie, among others, with Arun Kumar Sarma of the AGP. The All India United Democratic Front, which came third in 2009, has fielded a "weak" candidate following its tacit understanding with Congress.
"Family background does play a role but it is insignificant. People take into account the candidate's past record, his commitment and his zeal to work," said Gaurav, whose wife is a British, downplaying the dynasty tag.