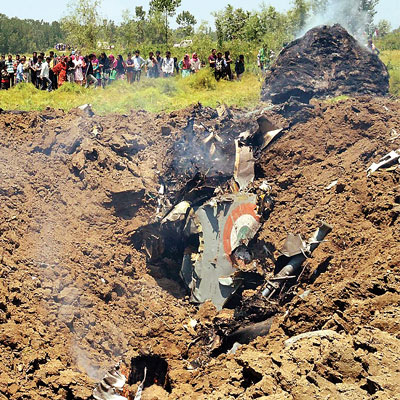 The Indian Air Force (IAF) lost another one of its pilots and a MIG-21 fighter jet in a crash during a routine sorties in Jammu and Kashmir's Anantnag district on Tuesday morning.
More than half the country's fleet of 872 MiGs has been lost to crashes over the last four decades, then defence minister AK Antony had told Parliament in 2012. It is for such a dismal record that the Russian-built aircraft has been dubbed the "flying coffin". There have been vehement calls to phase these out from the IAF fleet. As Arun Jaitley takes charge as the country's new defence minister, arms and equipment procurement is likely to be his biggest challenge.
Tuesday's incident could have been worse had the pilot, who was on a routine sortie, landed in a civilian area. The plane crashed in the fields of Mirhama village near Bijbhera area in south Kashmir's Anantnag district at around 10.48am. The pilot, squadron leader Raghuvanshi, died on the spot.
"One MiG-21 (Bis) Aircraft of the IAF crashed about 10km short of Awantipur Airbase on May 27. The pilot airborne from Srinagar was on a routine training sortie," said a defence spokesman in Srinagar. "A court of inquiry has been ordered to investigate into the cause of the accident."
Police and security forces rushed to the spot and secured the area. The pilot's body was recovered later from the crash site. Police said there was no loss of civilian life or damage to property due to the crash.
Jammu and Kashmir chief minister Omar Abdullah appreciated the deceased pilot for avoiding civilian casualties. "You (Pilot) managed to steer the jet into a paddy field avoiding civilian casualties. Thank you for this & RIP," he tweeted. "My condolences to the family, friends & colleagues of the pilot killed in the MIG crash today. May his soul rest in peace."
Abdullah called upon the day-old Modi government at the Centre to expedite defence procurement for the three services. "Not entirely disconnected from today's crash, the new government needs to sort of defence procurement issue for Navy, Air Force and Army as soon as possible," he said.