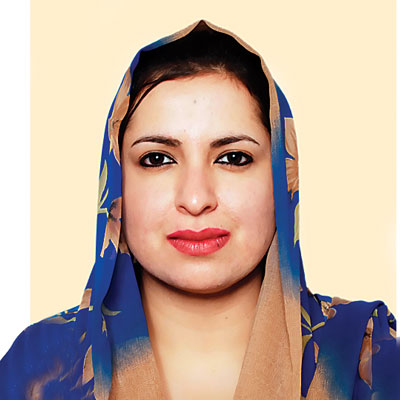 Jammu and Kashmir's loss is Tamil Nadu's gain.
The northern state had, for long, cherished the dream of getting a Muslim woman IPS officer someday. When the time came that the first Muslim woman from Jammu and Kashmir cracked the services, the Centre spoilt the state's party by allocating Ruveda Salam to the Tamil Nadu cadre.
More and more youth are taking the civil services route in the state after Shah Faesal of Kashmir created history by topping the All India merit list in 2010. Coupled with the new initiative taken by serving bureaucrats and police officers to coach local youth, the civil services have become the new craze in Kashmir.
The daughter of a former Doordarshan deputy director general, Ruveda comes from the far-flung Farkin village in the border district of Kupwara. She had qualified for MBBS before she cracked the Kashmir Administrative Service (KAS) in 2009. In 2013, she was one of the 11 people who qualified for the civil services from Jammu and Kashmir. Apart from Ruveda, two other women — Sehrish Asgar and Anchita Pandoh both from Jammu region — were among last year's qualifiers from the state. Ruveda was allotted the police services, and joined the police academy in Hyderabad for training. But after she completed her training, the lone Kashmiri Muslim policewoman was put in the Tamil Nadu cadre.
"That we have lost out on getting our first Muslim IPS officer from Kashmir is indeed depressing," said civil service aspirant Mehnaz Nazir. "We have no idea what criteria was followed while deciding the cadre. We are in dire need of having the first direct IPS officer."
Jammu and Kashmir minister of state for home, Sajad Ahmad Kitchloo, told dna that the cadre allotment for the civil services qualifiers is done by the Centre, and that the state plays no role in the decision.
"I will check if there were posts available (to allot the home cadre to the J&K qualifiers). We will talk to the chief minister and then write to the government of India," said Kitchloo. "There is already a shortfall (of officers) here. I do not know what is the present status? How many posts are vacant?"