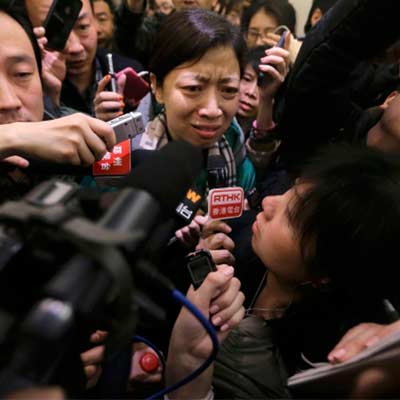 The residents of Borivli's Sukh Sagar co-operative society are praying for a miracle. Three of the Kolekar family, which resides here, are passengers of the Malaysia Airlines flight MH370, which disappeared while flying from Kuala Lumpur to Beijing on Saturday. The flight, which went missing off the Vietnamese coast, had 227 passengers and 12 crew members on board.
Vinod Kolekar, 63, his wife Chetna, 58, and their son Swanand Kolekar, 23, were travelling to China to attend their elder son Samved's convocation ceremony. Samved has been in Beijing for the past two years, completing his studies in astrophysics. It was the Kolekars' first trip abroad.
"I received a phone call from my daughter, Jhanvi, on Saturday afternoon. She had called our society's secretary after learning about the incident. We were numb and didn't know what to do," said Sheetal Nar, a neighbour.
"Everyone is sad. We cannot express our feelings. The memories of 'haldi-kunku' celebrations, held with their new daughter-in-law at their place two months ago, are still fresh in our memories. Chetna's mother and aunt stay in Mulund, but we don't know their address. Her daughter-in-law is from Bandra, but we don't know her parents. We pray for their safe return," said Nar.
The Kolekars' neighbours had a sleepless night on Saturday, trying in vain to get in touch with Samved.
Vinod, a consultant and ex-employee of Mahindra & Mahindra, and Chetna, a retired microbiologist at Poddar Hospital, were focused on their children's education. Swanand graduated in engineering and appeared for GATE exams in February.
"I still remember when Swanand met me on Thursday and said that he was excited to see his brother. Samved married last November and went to Beijing in December to complete his studies. His wife Tejashri, a computer engineer, left for Beijing on February 23," said Satish Ghogle, the secretary of the society.