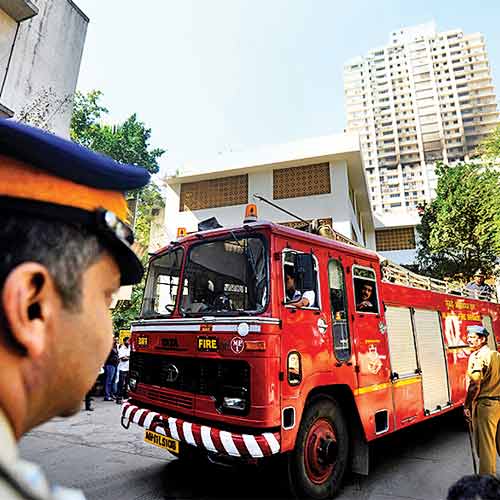 What can be considered as another example of how the Brihanmumbai Municipal Corporation (BMC) allegedly wastes taxpayers' money, it has come to light that the fire brigade has proposed to repair/refurbish its vehicle carrying the aerial ladder and auxiliary equipment at more than 70% its original price.
According to the proposal, the brigade had procured the Mercedes Benz Bronto sky lift aerial ladder platform for around Rs4.5 crore 16 years ago. The ladder can help firemen during rescue operations up to a height of 42 metres or 14 storeys. Now, the BMC has proposed to repair and renovate the Mercedes Benz vehicle (MH 01/H/1800) on which the ladder is installed. The work is going to cost Rs3.23 crore, including a visit to Finland, where the repair job will be done.
The proposal will be tabled before standing committee members on Friday at BMC headquarters.
"It is a quintessential example of how public money is misused. Instead of repairing a 15-year-old machine at a substantial cost, the BMC should buy another which will cost it Rs6.5 crore and give better service.
Yet it's inclined towards repairing the machine and having a trip to Finland," opposition leader Devendra Amberkar said.
He added that his party, Congress, is set to oppose the proposal when it is tabled for discussion in the meeting.
Chief fire officer AN Varma remained unavailable for comment. However, another official said repairing the machine will be economical compared to procuring a new one. "The hydraulic, electrical and control systems of the vehicle have become unreliable. It is true the repair work will be cost us 40% the price of a new vehicle, but, if repaired, we can use the present vehicle for another seven years. Hence, it is economical to refurbish the one we have," the official added.
Meanwhile, the fire brigade is mulling procuring a ladder platform that can help extinguish fire up to a height of 90 metres, that is 30 storeys. "We have four ladders which can be used during rescue operations up to the 14th floor. It is, therefore, required to have a machine which can help us douse fire beyond that height. We are working out details for the new ladders," the official said.