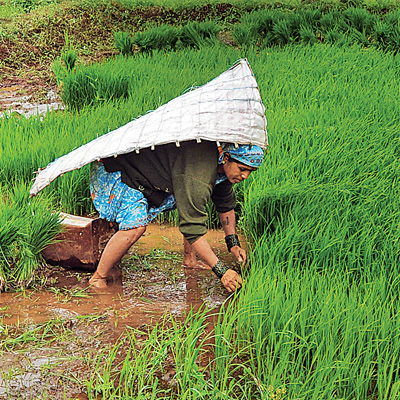 The Union environment ministry on Friday cleared 15 proposals for field trials of certain varieties of Genetically Modified (GM) crops including rice, chickpea, mustard, cotton and others. The decision, however, did not found favour with activists raising voice against GM crops asking government to tread carefully on this path.
It was third meeting since March this year and with go-ahead to 15 proposals for field trials of GM crops on Friday, the Genetic Engineering Approval Committee (GEAC) of the environment ministry has now cleared 60 field trials in last three meetings.
"We have approved 15 proposals for field trials of GM crops. In the past four months since March 2014, we have now cleared 60 such proposals to clear the backlog of (70 such) applications as there was no meeting of GEAC between March 2013 and March 2014," GEAC's chairman and additional sin environment ministry Hem Pande told dna.
Pande added that in earlier meetings this year they cleared cases of Kharif crops and now Rabi crops proposals were taken up. He informed that field trials have been cleared for crops like rice, brinjal, chickpea, mustard, cotton and others.
The issue of GM crops has been highly controversial in India and with numerous legal tangles and an army of activists against it. The GEAC had not met between March 2013 and March 2014. Some even credit stand taken against GM crops by former environment minister Jayanthi Natarajan for no meetings of GEAC between March 2013 and March 2014.
At present in India, government has only allowed commercial use of Bt Cotton which is grown on over 10 million hectares. However, the scientific community and activists are divided on its success. While a lot of scientist side presents numerous cases of its success, activists highlight numerous cases of farmers suffering due to use of Bt Cotton.
The decision, however, did not find favour with environmental activists. "It is quite unfortunate that the GEAC is continuing to approve field trials ignoring the warning of eminent experts and parliamentary group. This move is a threat to bio-safety and will jeopardise our agriculture," said sustainable agriculture campaigner of Greenpeace NGO Manvendra Singh.
Meanwhile, even after Friday's meeting moratorium continues on commercialisation of BT brinjal as government is still undecided on it. Former environment minister Jairam Ramesh had first put a moratorium on commercialisation of Bt Brinjal.
The Supreme Court is already hearing a case related to biosafety of GM crops but ministry believes the apex court has not imposed any ban or restrictions on GM crops field trials.