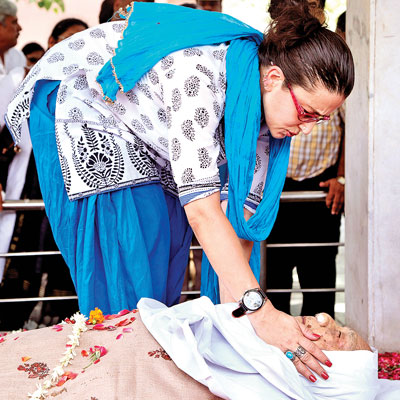 On Friday afternoon, friends and family came out in large numbers to pay their last respects to the grand dame of the Indian film industry, Zohra Sehgal at the Lodi Crematorium in south Delhi.
Her last rites was conducted by her son Pawan, in the presence of her daughter Kiran, grandchildren and other family members. The 102-year-old actress passed away at Max hospital on Thursday due to a cardiac arrest. For a while before the last rites, the family kept the mortal remains of the veteran actor outside for fans and admirers to pay their last respect.
The cremation was attended by many theatre and film personalities. Actress Shabana Azmi and husband Javed Akhtar, Prasar Bharati CEO Jawahar Sircar, former Delhi chief minister Sheila Dikshit, theatre personaliy MK Raina and activist Sohail Hashmi.
"Shabana and I are deeply saddened at her passing. She was always energetic and full of life till her last day. She loved living every moment of the 102 years; she taught us to live," said Akhtar.
"I met her properly only after she was 90, but she took an instant fancy to me. When I became culture secretary, she told me, 'Beta, it's pay-back time. Do something for all the pleasure and satisfaction that the arts and artistes have given you.'," said Jawahar Sircar.
"It is hard to describe Zohra Sehgal. She was a great artiste and a very cheerful human being. She also had a brilliant memory, and remembered things, some of which were from her childhood. She never took anything negatively," said former Delhi CM Dikshit.
Just as the veteran actor would have had it, friends and family gathered at the crematorium choose not to give her a tearful goodbye. Many remembered her with smiles, some recounting times with her, while lending their support to her daughter Kiran.
Two years ago, on her 100th birthday, Kiran released "Zohra Sehgal: Fatty", a biography of her celebrated mother.
Born on April 27, 1912, as Sahibzadi Zohra Begum Mumtaz-ullah Khan in Sahranpur, she studied in both in India and in Lahore. Her elder sister Uzra Butt was a leading theatre star from Prithviraj Theatre. In 1942, she married Kameshwar Sehgal, a scientist, and after his death in 1952 brought up her children on her own.
With a career spanning over eight decades, Indian film industry's loveable grandmother was known for her zeal for life and her expressions alike. She started her career with as a dancer for Uday Shankar's troupe, and went on to star in many films like Cheeni Kum (where she played Amitabh Bachchan's mother), Dil Se, Veer-Zara, Hum Dil De Chuke Sanam, Dillagi and Bend it Like Beckham. She was last seen in the Ranbir Kapoor-starrer Sawariya.
After her husband's death, she went to England where she fought financial instability for years before she acted in acclaimed productions like The Raj Quartet, The Jewel in the Crown, Tandoori Nights, and My Beautiful Laundrette, to name a few.
She was awarded the Padma Shri in 1998, and the Padma Vibhushan, India's second-highest civilian honor, in 2010.
Early this year, in February, she lamented that the Delhi government declined a Ministry of Culture request on her behalf that she be allotted a ground-floor government accommodation in Central Delhi. The government had dismissed the request citing that she did not fall within the admissible age limit of 40-60 years under artiste quota.
Twitter condolences
Soon after historian Irfan Habib informed the world of the passing of India's veteran actress Zohra Sehgal on twitter, condolences from friends and fans started pouring. "Just confirmed that Zohra Aapa is no more… Extremely sad to know about d passing away of Zohra Sehgal, a woman who lived a full life on her own terms. Great loss to art and culture. RIP," he tweeted.
Amitabh Bachchan was one of the first to react on her passing. "Zohra Sehgal passes away at 102 yrs ..what a journey and what an immensely loveable co star ! Prayers for her blessed soul !!,' he tweeted.
PM Narendra Modi, too, tweeted his condolences: "Prolific & full of life, Zohra Sehgal made a mark through her acting, which is admired across generations. Saddened on her demise."
"RIP Zohra Sehgal.....what a life....it's that moment when you truly celebrate the end of such a legendary and glorious era....," tweeted Karan Johar.
Actor Ritesh Deshmukh, too, offered his condolences on twitter. "RIP Zohra Sehgal - Charming & Elegant -will miss you," he tweeted.
The Lunchbox star Nimrat Kaur, too offered her condolences in two tweets: "In her century long life,Zohra Sehgal ji gave us a million years worth of inspiration.Woman,soul,an existence extraordinaire..what a life!!"