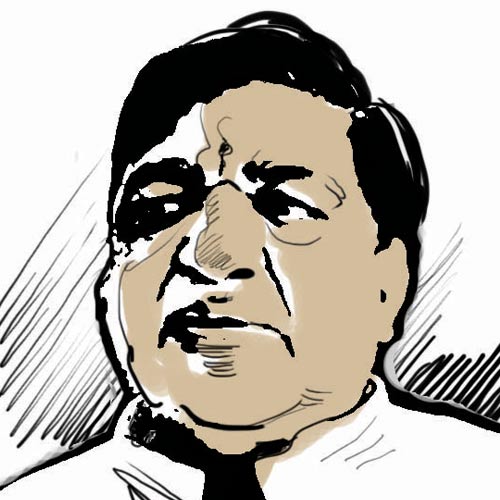 As the Uttar Pradesh government faces flak for increase in number of rapes, murder and violence against women in the state, Samajwadi Party leader Naresh Agrawal came forward and made an insensitive comment to a leading news channel. "Even an animal can't be forcefully dragged away," said SP leader while commenting on a Badaun girl's charges against some men for dragging her away using political clout.
Using the animal analogy, he said that even dragging away animals needed consent in the state. Though he did not clearly indicate his stand, he made it clear that this analogy was targetted at the said woman who had filed a police complaint.
Explaining further, he added, "I cannot comment. I don't know what is the truth. But only investigations can bring out the truth. If she (complainant) is true then action will be taken against the accused. If her allegations are wong, then we will not take any action," he said non chalantly.
This comment throws light on the patriarchial mentality that plagues the Uttar Pradesh government where SP chief Mulayam Singh Yadav had made an insenstive comment. Addressing a rally in Moradabad, Mulayam had said, "rape accused should not be hanged. Men make mistakes."
The SP chief had further said he will support provision for legal action against those who misuse the rape act.
Citing the recent example of a court sentencing three men found guilty of gang-raping two women in the abandoned Shakti Mills in Mumbai last year, he had said there was a need to change the new rape law which provides for death sentence to repeat rape offenders.
"Efforts will be made to change such a law, so that those misusing it are punished. Those filing false reports will also be taken to task," he had said before drawing heavy criticism from international quarters as well. UN Secretary General Ban Ki-moon had cited the same example while commenting on rising cases of rape and murder in India including the Badaun sisters gang-rape.
Both BJP and Congress pulled up Samajwadi Party for the insensitive comment. BJP national secretary Vani Tripathi said, "This vulgar mentality is leading to such heinous crimes against women in UP."
All India Women Congress President Shobha Oza said, "They treat women like animals. Such statements encourage the culprits."
Also read: Mulayam Singh irks public with his comment on rape; Twitter users express outrage