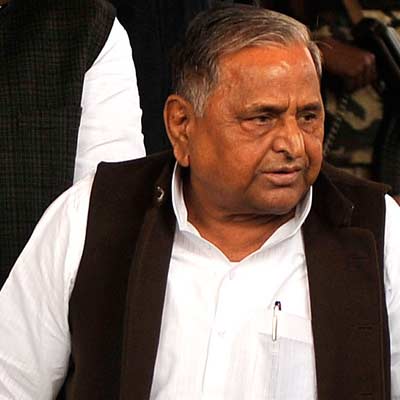 Samajwadi Party supremo Mulayam Singh Yadav questioned the death penalty for rape and said that they would change the law if they come to power at a rally on Thursday.
"Sometimes boys make such mistakes, should they be hanged? It's not right to give death penalty for committing rape," said Mulayam in a controversial statement.
Addressing a rally in Moradabad, the former UP chief minister said, "if the SP forms government, they will change the law of giving death sentence to the rape accused".
From Taslima Nasreen to other activists, everyone was fuming over the SP leaders comment. Even Bollywood starlet Rakhi Sawant who made her politicial debut sent out a couple of tweets on the issue.
Mulayam triggered public outrage with his remarks:
Do you need to defend rape only bcz you're against death penalty for rapists? FYI,Rape is a crime,not just a mistake. Rapists are criminals.

— taslima nasreen (@taslimanasreen) April 10, 2014
You moron #Mulayam Singh Yadav, you said boys make 'mistakes' and should not hang for rape. If the mistakes happen to women in your family?

— Wendell Rodricks (@Wendellrodricks) April 10, 2014
Rape is a mistake men make and shouldn't invite commensurate punishment, unlike all other crimes. Mulayam Singh is Rape Culture personified.

— Swati (@swasutra) April 10, 2014
If Rape is a mistake, then Mr Mulayam Singh Voting for #SamajwadiParty is a heinous crime #Shame #BackingRapists

— Deepak Negi (@deepaknegi23) April 10, 2014
Mulayam Singh exposed! Terming a rape as 'Mistake' & proposing reversal of death sentence 4 rape accused, Mulayam condemned by all sections!

— Varatharaajan R (@VaratharaajanR) April 10, 2014
Mulayam Singh Yadav, join the club of bullshit remarks. Oh wait, you were always in the club I still remember the Imrana Rape Case.

— The Great Pretender (@realpigpen) April 10, 2014
Mulayam Singh's #BackingRapists remark was a well planned cheap stunt to woo minority VoteBank, as rapists in D&M rape cases r Muslims #Sick

— Swami Brahmachitt (@Brahmachitt) April 10, 2014
Mulayam Singh Yadav is just unbelievable psychopath of society who supports heinous crime of rape. #BackingRapists

— Bhaavin (@bhaavinrathod) April 10, 2014
Mulayam Singh Yadav says 'Death sentence for rape is not fair, boys makes mistakes'..what a shameful statement. I Wish someone slaps him

— Prasad Shinde (@Prasad_pjs) April 10, 2014
Mulayam Singh Yadav must be Voted out for #BackingRapists Thats why i say Women like me needs to be in Parliament for making strong laws.

— Rakhi Sawant (@RAP_RakhiSawant) April 10, 2014
Mulayam Singh Yadav agar Member of Parliament baan bhi jaye toh kya Ukhad lenge. Aurate unke khilaf Vote dae aur Sabak sikhaye. (3/3)

— Rakhi Sawant (@RAP_RakhiSawant) April 10, 2014
CM thae, unki sarkar hai; tab toh woh koi Kanoon nahi banaya. Mulayam Singh Yadav ji Aurat kae baare mae kya Sochte hai.? (2/3l

— Rakhi Sawant (@RAP_RakhiSawant) April 10, 2014
People get the Government they deserve. Mulayam Singh Yadav is a classic example. Rape is a mistake like jumping a signal according to him?

— Prakash Gangal (@gangalgangal) April 10, 2014
Mulayam Singh yadav is lowest type of person.a person who can say rape is mistake should die purposely.I hope UP & women take it seriously.

— g nitin c (@ni33333) April 10, 2014
Our leaders are such! Bravo Rape ke liye faansi ki saja galat, ladko se galtiya ho jaati hai- Mulayam Singh Yadav #IndiaElections

— Prashaant Garg (@Prashaantgarg) April 10, 2014
Rape cn also be promoted 4 votes 2day provd by Mulayam Yadav..shame on those hu will vote this party aftr reading this tweet #BackingRapists

— sher bahadur singh (@DrS_B_singh) April 10, 2014
This isn't the first time Mulayam Singh has expressed concern with India's rape laws. He won't be understood this time either. Stupid words.

— Vidyut for #SWARAJ (@Vidyut) April 10, 2014
Is anyone shocked, let alone surprised, by Mulayam Singh Yadav's comments on rape. I am not...pretty much par for the course for him

— Seema Goswami (@seemagoswami) April 10, 2014
'Ladkon se galti ho jaati hai' Mulayam Singh Yadav's gem on rape. His govt will change the law he says..

— Anubha Bhonsle (@anubhabhonsle) April 10, 2014
One wonders which voter base is Mulayam Singh targeting with him making light of an offence as heinous as rape...

— Kartikeya Tanna (@KartikeyaTanna) April 10, 2014